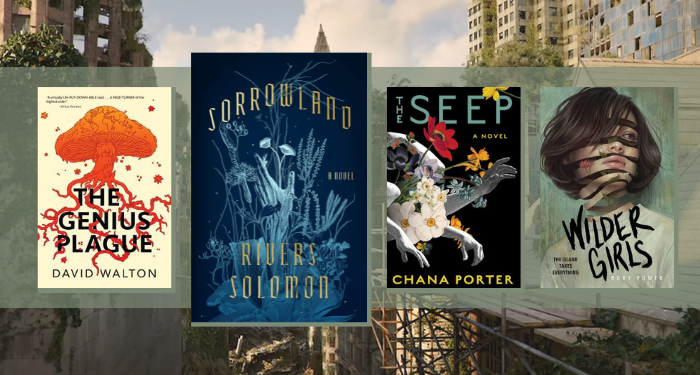 This content contains affiliate links. When you buy through these links, we may earn an affiliate commission.
Who knew fungal horror was going to be the next big thing? Well, the creators of the video game The Last of Us probably had a pretty good idea, especially when they saw just how well Pedro Pascal and Bella Ramsey could bring their characters to life in HBO's new adaptation of the award-winning game. But video games and TV shows aren't the only ones bringing fungal horror and apocalyptic infections to life. Books like The Last of Us are everywhere, if you only know where to look. I've been reading books that feature zombie-like fungal infections and apocalyptic pandemics for years, even if I didn't notice the pattern at first.
But the standout feature of The Last of Us isn't the Cordyceps infection. Sure, that's equal parts fascinating and horrifying and depicted in really compelling ways in the series. But what really stand outs in The Last of Us are the human relationships. It's the growing bond between Joel and Ellie. It's the complicated relationship between Joel and his brother. It's the enduring love story of Bill and Frank and the blossoming feelings between Ellie and Riley even as the world falls apart around them. Human relationships are what make The Last of Us stand out from some run-of-the-mill zombie thriller. And those sorts of relationships are what's key in these books, too. Yes, there's horror and infection and societal collapse, but there's also family and friendship and love and, hope and heartbreak. And if there is some road tripping through an apocalyptic landscape along the way, well then, all the better.
So even as the show comes to an end, these books like The Last of Us can keep your love of the apocalypse alive. Just don't forget it's the people that make any apocalypse worth fighting for.
Vern is on the run from a cult, not a fungal infection, but the dangers coming after her are very real. Seven months pregnant, she takes to the forest and gives birth to twins. But she's being hunted. And as her body begins to change in strange and remarkable ways, it becomes more and more clear that there was something in the water at the cult — something that the cult leaders don't want getting out. Along with her babies, Vern will have to flee the forest and fight back if she wants to expose the people who did this to her.
The ways in which fungi alter the mind is one of the scarier aspects of The Last of Us, and it's also a central theme in this fungal retelling of "The Fall of the House of Usher." When a retired soldier returns to his childhood friends' home, both they — and it —prove to be very much changed. Fungal growths surround a simmering lake and possessed animals scurry in the underbrush. Could these horrors have anything to do with the changes taking place to the Ushers? And, perhaps more importantly, is it too late for Alex Easton to stop it?
Canada Promotions Newsletter
Sign up to receive special offers, new products, and interesting bookish stuff, just for Canadian readers!
Thank you for signing up! Keep an eye on your inbox.
By signing up you agree to our terms of use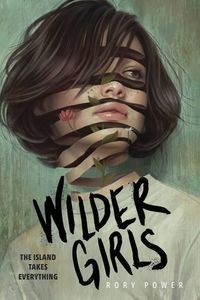 It's not a fungus infecting the girls at Raxter; it's something else. But nonetheless the changes taking place to the students and teachers there are strange and immutable. Quarantined from the outside world, the surviving girls must learn how to survive on their own in their strange new bodies. And when one of them is kidnapped, her two best friends set off into the deadly forest outside the school's walls to find her.
A girl named Melanie goes to class each morning after being awakened at gunpoint from her cell. Her teacher, Miss Justineau, is heartbroken anytime she talks about her future. Melanie is told that she's special. Dr. Caldwell calls her a genius. But what exactly makes her that way? And why are all the adults so terrified of her and the other children? There's a world outside these walls. But when Melanie finally gets to see it, she finally understands the horrifying truths being withheld from her all this time.
An alien invasion calling itself "the Seep" might not be the catastrophic event humanity always imagined, but it forever alters the course of Trina's life all the same. At first, she and her wife life happily under the Seep's utopian new society. But when Deeba decides to be reborn as a baby to begin life anew, Trina is left behind and begins to fully self-destruct. The Seep can't understand why she craves conflict and won't assimilate to the happiness their technology brings. Like The Last of Us, it's about an inextricably changed world, but its main focus is on the grief and human emotions that come along with that.
When a military experiment is unleashed during a security breach, the world is changed in an instant. The survivors do what they must to survive. FBI Agent Brad Wolgast knows that all too well. He's still haunted by the things he's done. But when the opportunity to protect a young girl who was part of the experiment that triggered the apocalypse is set before him, he feels it might finally be his chance to do something right. And that means doing whatever it takes to protect this girl from those who set this all in motion and those who would do anything to get their hands on her now. In terms of a proxy dad figure shepherding a child through the apocalypse, this book is the closest it gets to The Last of Us.
A misunderstanding between humanity and invading aliens led to mass destruction after humans were deemed dangerous. Emotional expression in humans is now closely monitored and controlled. Ellie finds solace in keeping a secret library of books and music, something that is extremely illegal. When one of her books goes missing, found by a lab-raised alien honor bound to turn her in, she assumes her fate is sealed. But M0Rr1S finds himself falling in love with human music, and soon the two set out on a road trip that could be their salvation — or their doom. Road trip through the apocalypse? Hell yes!
Zone One by Colson Whitehead
Following a pandemic that devastated the planet, there are two types of people remaining: those who are infected and those who are not. The uninfected are attempting to rebuild society, and their sights are set on Manhattan. Mark Spitz is part of a team trying to rid the city of the last of the infected, particularly the stragglers that exist in a sort of catatonic state. But coming to terms with this new world, especially in the grips of Post-Apocalyptic Stress Disorder, is no easy task. Especially when things start to go terribly, catastrophically wrong.
Manhunt by Gretchen Felker-Martin
Bill doesn't have anything on Beth and Fran. They survive by harvesting the organs of feral men in order to ensure they never fall to the same fate. But when they meet Robbie, another survivor, their lives suddenly become intertwined. Navigating the apocalypse and murderous TERFs is almost easy compared to dealing with the awkward new dynamics of their little found family. But when you're faced with the end of the world, you do what it takes to survive — even if it means learning to trust other people.
A mind controlling fungal infection that imbues the infected with enhanced cognitive abilities tears two brothers apart in this dystopian thriller. After his mycologist brother is infected by a fungus on a trip to the Amazon, Neil notices it's not just his mind that's different. Paul is working toward some nefarious goal. And he's not the only one. Throughout the world, more and more infected emerge, from regular citizens to entire governments. And their one desire seems to be the eradication of human free will.
Something strange is taking place across America: sleepwalkers, unable to be woken, are setting out on a journey to an unknown destination. Shana, like so many others whose loved ones have become sleepwalkers, follows their path in order to protect the little sister she can't wake up. As fear and violence leap up in the wake of this strange new epidemic, it becomes clear that it may not be the sleepwalkers but the fear of them that threatens to tear society apart.
In a dystopian world where the Tiger Flu ravages the male population and survivors attempt to escape with technology and drugs, a doctors seeks salvation for her dying family along with retribution against the patriarchal city that brought death to their door. A young girl desperate to save her family from the pandemic might be exactly the solution Kirilow has been looking for, but before that can be decided they're both kidnapped by a group of men looking to cure the mind of the fragile human body it inhabits.
The Marigold by Andrew F. Sullivan (April 18)
Unchecked urban development, climate change, and body horror collide to create something truly terrible in The Marigold. Something toxic is growing underground — something that threatens everyone in the unfinished Magnolia condo in Toronto. Following a cast of characters from the developers already at work on construction of Marigold II to a health inspector investigating a toxic mold rotting the city's infrastructure, this book explores a fungal outbreak from all the angels.
The dystopian nightmares don't have to end here! Check out more recommendations that should appeal to fans of The Last of Us: