Before I started reading manhwa and webtoons, I was watching Korean dramas. Korean dramas give me things that no other shows give me. Nowadays, streaming services create TV shows with 8–10 episodes. And to be honest, that's not enough for me. Sometimes questions are left unanswered in the plot line of the show, and that's so annoying. When it comes to K-Dramas, you know you're getting a plot, good development, an intriguing storyline, and characters that can easily become favorites. But did you know that there are K-Dramas that were originally manhwa and webtoons? Check out eight of the best K-Dramas that are based on manhwa and webtoons that you might have read already.
As soon as I started reading manhwa, I wanted to see these stories come to life on screen. Be it as a TV show, a movie, or even an animated show, I craved more content from these stories because the writers and illustrators managed to make me care so much about the characters and their lives, I just wanted more. It's the same with romance books for me; if you tell me it'll have an adaptation, I'm definitely going to be there on release day, ready to watch it from start to finish. Adaptations can be a sore topic of conversation, or maybe a difficult one, because fans want them to be a perfect copy of the source. And that's impossible, let me tell you the truth. Whether you like them or not, I think it's a good thing we have a selection of adaptations to choose from.
Where can I watch it? Netflix.
When I think about the K-Dramas of 2022, A Business Proposal comes up immediately. This is the drama of the year! A fascinating, entertaining rom-com about a woman who, to help her friend, goes on a blind date with her friend's date and ends up meeting her company's CEO.
Where can I watch it? Viki.
This popular webcomic just debuted the third season, so it's the perfect time to catch up. Or if you want to start this story by watching the TV show, you can also do that! So many options, not enough time, right?
In Semantic Error, two college students, Sangwoo and Jaeyong, couldn't be more different. This causes them to constantly butt heads while working on school projects together. But their intense dislike for each other also hints at mutual respect and, as they grow closer, their relationship grows dramatically.
Where can I watch it? Netflix.
Another recent release is Once Upon a Small Town which came out on Netflix in September. If you're a fan of small towns, this story is quite perfect for you.
Once Upon a Small Town follows a veterinarian from the big city who has to move to the countryside after being tricked by his grandfather. Nothing seems to be working out for him until he reunites with his childhood crush.
The Stack Newsletter
Sign up to The Stack to receive Book Riot Comic's best posts, picked for you.
Thank you for signing up! Keep an eye on your inbox.
By signing up you agree to our terms of use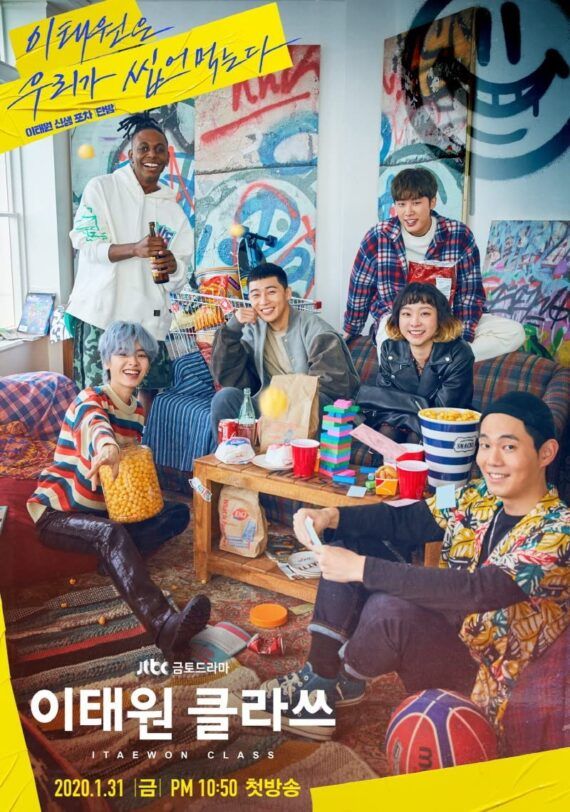 Where can I watch it? Netflix.
This show kept us company when the worst of the COVID-19 pandemic was happening. And it sure brought a smile to our faces when we needed it the most. Itaewon Class tells the story of an ex-con who opens up a bar in Itaewon while also seeking revenge on the family responsible for his father's death. There's found family, a little bit of romance, and moments that will stab you in the heart!
Where can I watch it? Viki.
This story is so very unique in the way that you get to see the main character's feelings and inner thoughts whenever she's interacting with someone close to her. Yumi is an ordinary office worker who, after suffering a horrible recent breakup, has her love-cells fall into a coma. The sudden arrival of Goo Woong might help revive them though.
This live animation drama is one of a kind! I also recommend the webtoon, which is super fun as well.
Where can I watch it? Viki and Hulu.
One of the best romcoms out there, hands down, this drama is a ball of sunshine filled with sprinkles and chaos. Probably, one of the main reasons this show works is because of the main leads: Park Seo-joon and Park Min-young. They have the best chemistry that many couldn't replicate.
But before it was a hit drama, What's Wrong With Secretary Kim started as a webtoon. Yeong Joon is a stoic CEO who always gets what he wants. But when his secretary tells him she's going to quit, he'll try his hardest to make her stay.
I just wanted to let the big TV companies out there know…let Park Seo-joon keep doing these incredible webtoon adaptations. We will keep watching!
Where can I watch it? Viki.
This high-school drama is ready to pull at your heartstrings. Cherry Blossoms After Winter is based on the webtoon of the same name and is a story about a boy who, after his parents' death, moves in with an adoptive family who has a son of the same age. Things are running smoothly until he ends up in the same class as Jo Tae Seong. Suddenly, they're spending a lot of time together, both at home and at school!
Where can I watch it? Netflix and Viki.
Touch Your Heart is a drama and manhwa about a star actress whose whole career implodes after a horrifying scandal. To move on from it, she needs a new role in this legal drama everyone is auditioning for. The thing is, Oh Jinshim is more famous because of her looks than her actual acting. So, she decides to work as a real-life legal secretary to learn more about the role. But her boss, Kwon Jungrok, doesn't understand her situation! He's so grumpy and cold-hearted, but why is she starting to feel things for him?
If you have no idea what manhwa or webtoons are, start reading them as soon as possible. It's a wonderful world you need to be part of immediately. You won't be able to stop when you begin, I can assure you of this. If you're a big fan of Korean dramas, you'll find out that maybe half of them are adaptations of well-known works.