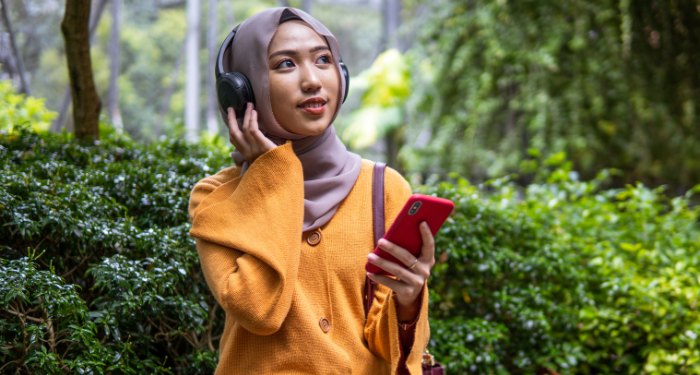 This content contains affiliate links. When you buy through these links, we may earn an affiliate commission.
Even if I'm exhausted, in a reading slump, and/or don't feel like picking up a print or ebook, I can always listen to an audiobook. The format has saved me countless times, and the boom in excellent productions recently is a perfect example of how everyone benefits from accessibility. There are a bunch of reasons that I will pick up the audiobook format of a book — including a full cast narration — but my top reason for must-listen is when an author narrates their audiobook.
You get to read/listen to the book in the literal voice it was written in, and that just can't be beat. It's also really helpful when a book is from a culture different from mine, so I get to hear the intended pronunciations. And, while it used to be that author-narrated work was mostly just for memoirs, with all the growth the format has seen in recent years, we now get great author narrations in fiction too.
So, if like me, you are a huge fan of author-narrated audiobooks — or just want to give one a try — I put together a great list of recent releases to dive into that spans genres and categories.
I am so glad that Jiménez narrated this novel about the women in the Ramirez family, because it shows the diversity among Latin American people — different countries, cities, and regions have very distinct language, and when you mix that with different time periods and immigration, people have very distinct ways of speaking.
We follow the Ramirez women as they live their lives, years after one of them went missing. That is, until they swear they've spotted her on a reality show. This is a great book about grief, family, the struggles of life, and how the past shapes us.
Now you might be questioning why a book from 2017 is on this "recent releases" list, and it's because the audiobook format didn't release until the end of 2022. I am so glad it finally did! This is an exceptional book of essays, and hearing it in Abdurraqib's voice places an extra star on something that already has all the stars. Also, he has brief intros in a few places where, with the distance of a handful of years, he's able to say that some things have changed since he wrote the essay. He's not changing the essay, but provides an updated thought/feeling. It left me wondering, how many other authors would place intros with amended thoughts on past essays?
Hanif Abdurraqib is a poet, which is probably why I could listen to him read me a car manual and I'd hang onto every word.
Audiobooks Promotions Newsletter
Sign up for Audiobooks Promotions to receive special offers, new products, and interesting listens from the world of audiobooks!
Thank you for signing up! Keep an eye on your inbox.
By signing up you agree to our terms of use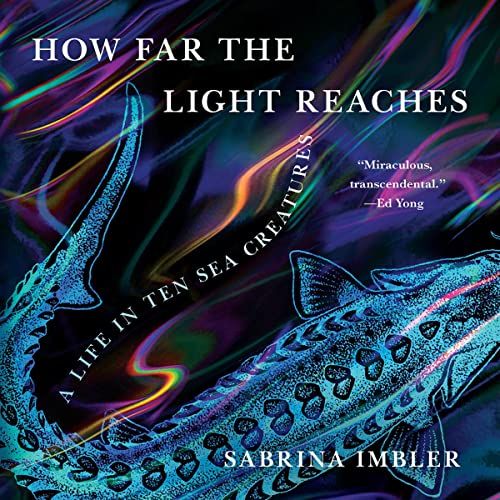 I will never stop thinking and talking about this book. Sabrina Imbler has written a gorgeous and thought-provoking essay collection that uses sea creatures that have had to thrive and survive in inhospitable places to examine their own life. This is the kind of work that I always, no matter what, grab in audio when read by the author, and Imbler does not disappoint. They deliver an exceptional narration.
It's easy to pick up a memoir by a celebrity or public figure in print or ebook and already be able to hear their voice. But there are so many fantastic stories from people who are not famous, and for me, the best way to get to know their voice is through their self-narrated audiobook. Gomez has written a poignant and funny memoir about their life in the U.S., growing up in a culture full of machismo and having to navigate being gay and Latinx. You get a lot of great and insightful stories, from the opening, where they were sent to Nicaragua as a teen to man up, to the reference in the title of the obstacles they went through in trying to get PrEP.
If you think I'm going to pass up on a YA novel about a teen's journey into being a drag queen, written and read by a drag queen, you don't know me at all. Right from the start you get a strong character voice, and the narration does a great job in giving you the character's internal voice. It feels like a performance — as it should.
I especially love books that are written with humor read by the author, because you really get the timing and rhythm they intended. Erdrich has some dark comedy throughout that made me cackle quite a few times, and I loved her delivery. Being that Erdrich is a Pulitzer Prize and National Book Award-winning author, she doesn't need me to sell her books, but for readers who love books in books, you get an independent bookstore setting. And a ghost.
There are people who you swear you can feel them smile in their voice, and that's how I felt about Gay's narration. This book excels in the very difficult take of dealing with tough topics while showing that joy still exists during those times. It's a beautiful collection of essays because Gay is a poet.
Jacqueline Woodson introduced me to novels in verse, and her book Brown Girl Dreaming was so fantastic that it's one of the only books that as soon as I finished it, I turned right back to the first page and started it over. Since then, I've tried to keep an eye out for novels in verse and always grab the audiobook version when it's narrated by the author. That's why I jumped at the chance to listen to Mendez's narrated novel about a Dominican American swimmer whose mother forbids her from the water because of her own past trauma. I loved hearing the rhythm of the novel and Mendez's animated voice as she brings beautiful Ani to life.
Shout-out to Long Way Down by Jason Reynolds and Elizabeth Acevedo's The Poet X, which are two other novels in verse I can't recommend highly enough.
If Michael W. Twitty has yet to cross your path, you should absolutely know him. He's in a great episode of Taste the Nation with Padma Lakshmi (Hulu) and wrote the multi-awarded The Cooking Gene: A Journey Through African American Culinary History in the Old South.
I love books that can't be categorized as just one thing, and here you get a mix of history and memoir and food and culture and intersectionality — to name some of the topics covered — all narrated by Twitty's gentle and soothing voice.
P.S.: Don't worry, you get a PDF file with the audiobook for any recipes. But a tip from my own reading life is that if you can, some books are great to get in audiobook and print so you can listen with one and mark up the other.
Looking for more recent audiobooks? Here are the 10 most preordered audiobooks of 2023.