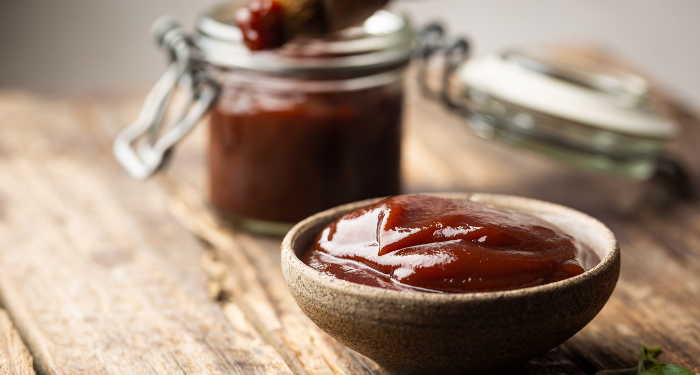 This content contains affiliate links. When you buy through these links, we may earn an affiliate commission.
Ah, summer. The season of backyard barbecues. Any time I smell something sweet and savory roasting over a charcoal grill, I'm like Pepé Le Pew, following the scent straight to its source and begging for a plate. But what barbecue sauce you use can make all the difference in your cookout. I grew up in the South, where a bad barbecue sauce could ruin a friendship. BBQ sauce recipes are also a great way to judge a cookbook and find out if your tastes are in sync. In this cookbook showdown, I tested five BBQ sauce recipes from popular cookbooks to find out which ones could take the heat. Read on to see which sauce was the best of the batch.
What is BBQ Sauce?
Barbecue sauce's history is as long and complicated as the arguments over which style is best. It's likely been around since the 17th century, when the first written references to it can be found from the American colonies. Like much of American culture, it comes from a combination of Native American, African, and European ingredients and techniques.
What constitutes BBQ sauce? Well, it depends on who you ask. Generally, it's a versatile sauce that can be used as a marinade, a basting sauce, and a condiment for meat or vegetables. It's typically got an array of flavors combined into one tasty whole, hitting notes of salty, sweet, spicy, and smoky. Regional tastes in BBQ vary widely, with vinegar-based sauce in North Carolina, mustard-based sauce in South Carolina, Kansas City style tomato-based sauce, smokey and peppery sauce in Texas, and all sorts of combinations and unique takes in between.
I grew up in Arkansas, which is a bit BBQ sauce nondenominational, favoring a blend of Texas, Kansas City, and Tennessee styles. In truth, I eat and love them all. So when I decided to perform this experiment, I looked for a variety of flavor profiles across the barbecue sauce spectrum. I picked cookbooks by Patti LaBelle, Carla Hall, Caroline Hennessy, Nicole A. Taylor, and Bill Kim to put to the test.
But I knew that in testing and judging these recipes, I'd need to do so with respect to all the ways BBQ sauce can be enjoyed. So I tested each sauce as both a marinade for grilled chicken breasts and as a dipping sauce for fried chicken bites. I invited four friends to join me on this flavorful journey because no cookout is complete without good company. Let's see what sauce won us all over.
Audiobooks Promotions Newsletter
Sign up for Audiobooks Promotions to receive special offers, new products, and interesting listens from the world of audiobooks!
Thank you for signing up! Keep an eye on your inbox.
By signing up you agree to our terms of use
Cookbook Showdown: BBQ Sauce
Patti LaBelle became a household name as a singer and actor, but if you haven't tried out her cookbooks, you're missing out on all the magic Ms. LaBelle has to offer. LaBelle Cuisine, first published in 1999 and reissued in 2021, is a wonderful resource for delicious down-home cooking. The recipes feel like classic Southern fare, and they're made even more endearing with LaBelle's personal stories about eating them with family and celebrity friends. Her recipe shined in the Mac & Cheese Cookbook Showdown. But how does her barbecue sauce compare?
Patti LaBelle's "Bodacious Barbecue Sauce"
LaBelle grew up in Philadelphia, and her barbecue sauce doesn't self-identify with any particular region, but its ketchup base aligns it with more of a Kansas City style. It's sweetened with brown sugar, spiced up with hot sauce and ground cayenne, balanced with cider vinegar, mustard, garlic, and lemon juice, and finished with a dash of liquid smoke. It's simmered on the stove to give the flavors a chance to meld.
The recipe was really simple to follow, and I already had most of the ingredients for it in my kitchen. The sauce is extra thick, which makes it a great texture for dipping, but maybe a little tougher to penetrate meat as a marinade. Let's break it down for scores.
Patti LaBelle's BBQ Sauce Scores
Flavor: 3.5/5 — To be honest, it tasted a lot like fancy ketchup, which it kind of is? It's mostly ketchup with some add-ins. The liquid smoke brings a nice complexity and the lemon squeeze brightens it up.
Texture: 3.5/5 — Very thick, similar in texture to ketchup. It's nice and smooth.
As a Marinade: 2/5 — Was the chicken tasty? Yes. But the sauce burned while cooking because of its thickness and high sugar content.
As a Condiment: 3/5 — Much better texture for dipping than basting, but it really does taste like fancy ketchup. I would like dipping fries in this more than chicken.
Difficulty: Easy — Combine a lot of easily accessible ingredients in a sauce pan and simmer. It's definitely an approachable recipe for all skill levels.
Overall: 3/5 — For a fancy ketchup, this is amazing. For a barbecue sauce, it doesn't have the versatility I expect.
If you're a fan of foodie TV, you've likely seen Carla Hall competing on Top Chef seasons 5 and 8, co-hosting The Chew, or judging various competitions on Food Network. She's known for her delicious soul food and for elevating classic flavors with perfect execution. This cookbook is jam-packed with fascinating flavor combinations, family feasts, and vegetable-forward dishes. She made an impressive showing in both the Fried Chicken and Mac & Cheese Cookbook Showdowns. When it comes to barbecue, I figured she wouldn't let me down.
Carla Hall's "Barbecue Sauce"
Hall was born and raised in Nashville, where the barbecue is primarily flavored with dry rub and served with a spice-heavy tomato and vinegar sauce for topping and dipping. The sauce recipe in Carla Hall's Soul Food combines a lot of flavors with a ketchup and apple cider vinegar base. It starts with sautéing onion, garlic, and serrano chile, then brings the ketchup and vinegar together with cumin, coriander, brown sugar, molasses, and mustard. There's a fair amount of crossover in ingredients from Patti LaBelle's recipe, but I found the final results quite different. Hall's sauce is thin enough to make a great marinade or glaze but still thick enough to use as a condiment. And without being blended, it's got flavor bombs of onion, garlic, and serrano chile.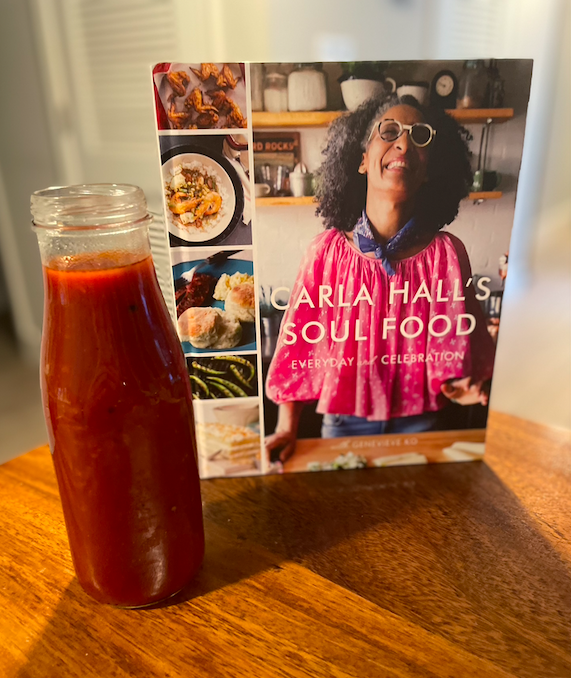 Carla Hall's BBQ Sauce Scores
Flavor: 5/5 — This sauce is really complex. You notice a different note every time you try it. It's really balanced across sweet, savory, and spicy without being at all boring.
Texture: 4/5 — It has little bits of onion, garlic, and chile, so it's not smooth, but it still worked well on both grilled and fried chicken.
As a Marinade: 4/5 — This sauce also burned a bit while grilling, but in a way that felt appropriate for barbecue. A lot of the flavor came through in the chicken.
As a Condiment: 5/5 — Exactly what you want in a dipping sauce. Strong flavor, thick, and tangy.
Difficulty: Easy-Moderate — It's not a technically challenging recipe, but does involve a few more steps and ingredients than others.
Overall: 4.5/5 — This is a fantastic, versatile sauce that works well with a variety of flavors.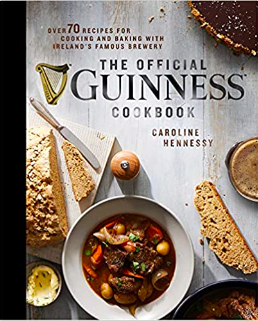 Who doesn't love cooking with beer? And when it comes to beer as a secret ingredient, Guinness stout often packs the most flavorful punch. This cookbook shows just how versatile the various Guinness brews can be, using them in everything from stews to ribs to chocolate cake and more. It's written by Irish chef and food blogger Caroline Hennessy. And I'll be honest: I might have been a little skeptical about Irish barbecue sauce. I'm sorry! I'm not trying to be prejudiced here! The two just don't really go together in my mind! But did I give it a shot anyway? Of course.
Caroline Hennessy's "Foreign Extra Stout Barbecue Sauce"
This recipe calls for Guinness's Foreign Extra Stout, which Hennessy says brings a roasted barley flavor and lots of bitter depth to the sauce. It's cooked on the stove, starting with chopped onion and garlic, then deglazed with the beer. It also includes ketchup, maple syrup, balsamic vinegar, brown sugar, paprika, cumin, and cayenne pepper. It hits the same notes as the first two sauces — sweet, savory, spicy — but in some slightly different ways. The smell of the sauce while it was simmering was incredible. And when I stole a taste, I realized immediately that I had no business judging Irish barbecue sauce as lesser than.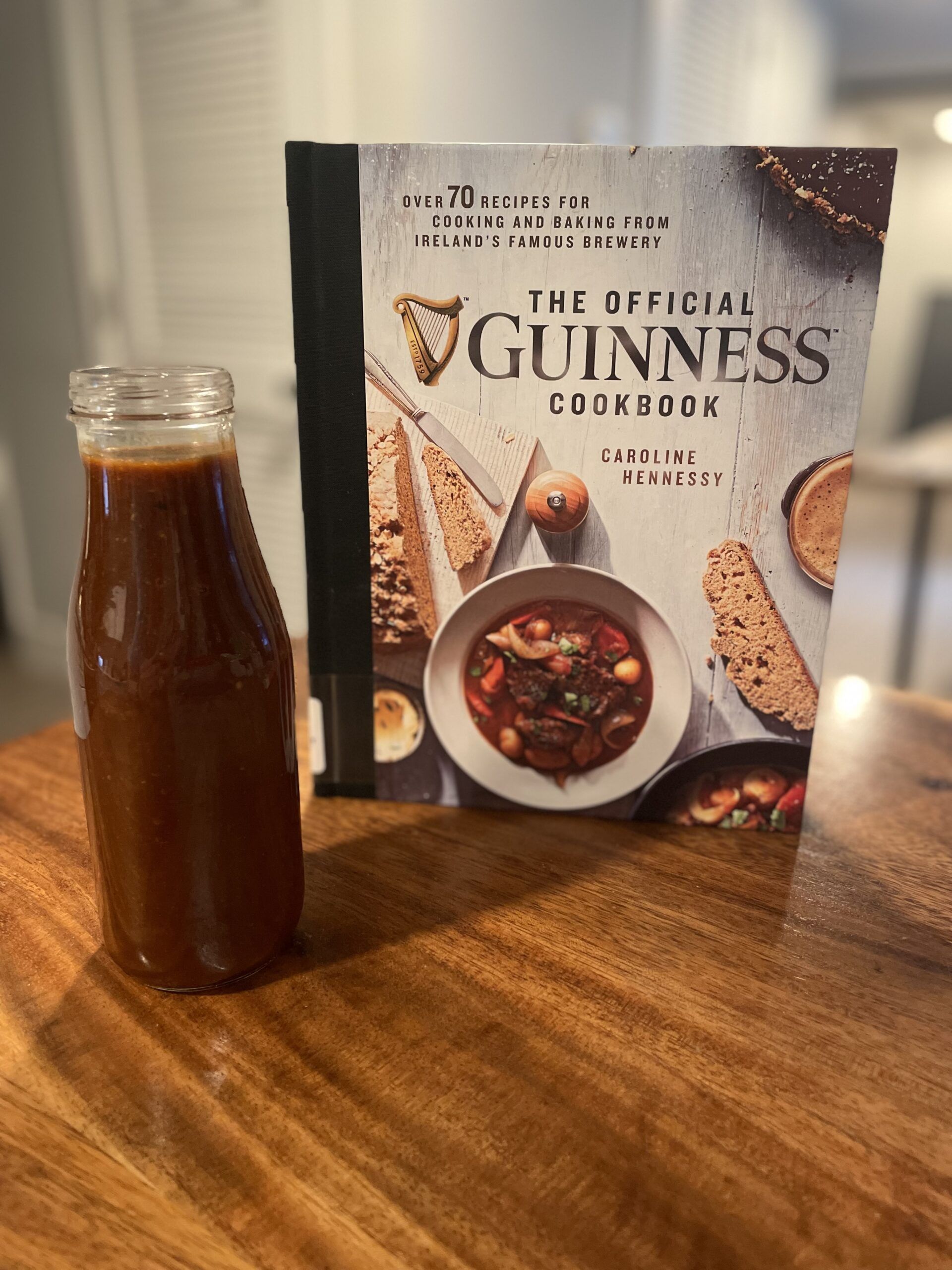 Caroline Hennessy's BBQ Sauce Scores
Flavor: 4.5/5 — Complex, bitter and sweet, nutty and almost chocolatey from the richness of the Guinness.
Texture: 5/5 — This one was smoothed out with an immersion blender and had a perfect medium thickness.
As a Marinade: 3.5/5 — This sauce also burned quite a bit while grilling, and since it already had a lot of bitterness, even more of that came out. But still very tasty!
As a Condiment: 5/5 — I would absolutely use this as a dipping sauce regularly. It's a great texture and combination of flavors for a variety of dishes.
Difficulty: Easy-Moderate — Again, not a super challenging recipe, but it does involve some extra ingredients and tools.
Overall: 4.5/5 — While the first two sauces were more traditional in terms of BBQ sauce flavors, the Guinness in this one gave it a unique twist I really enjoyed.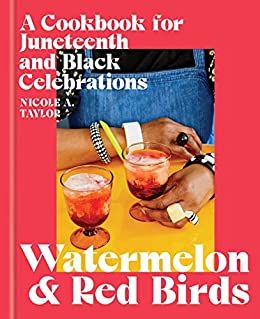 Can you believe it took until 2022 for traditional publishing to release a Juneteenth inspired cookbook? It's a holiday that involves a lot of delicious food, typically barbecue and Texas-centric dishes that hold a special place in African American history. Nicole A. Taylor, a food writer and podcast host, crafted the recipes with a combination of historical traditions, her own family celebrations, and modern flavors. Even better, it includes a guide to BIPOC-owned food brands! Although I was intrigued by the rhubarb barbecue sauce recipe in the book, I chose instead to include Taylor's vinegar-based sauce with figs for this cookbook showdown.
Nicole A. Taylor's "Fig Vinegar BBQ Sauce"
Taylor, who grew up in Georgia, created this recipe as a play on Carolina vinegar barbecue sauce, but sweetened with fresh figs rather than brown sugar. It's got the shortest list of ingredients of any recipe I tried: apple cider vinegar, water, tomato paste, figs, salt, pepper, and red pepper flakes. It's also the easiest to prepare: place all the ingredients in a jar and shake it up. I love a recipe I can make in only a couple minutes! As I would expect from a vinegar-based sauce, this is the thinnest of the sauces I made, making it super easy for a marinade and a little trickier as a condiment.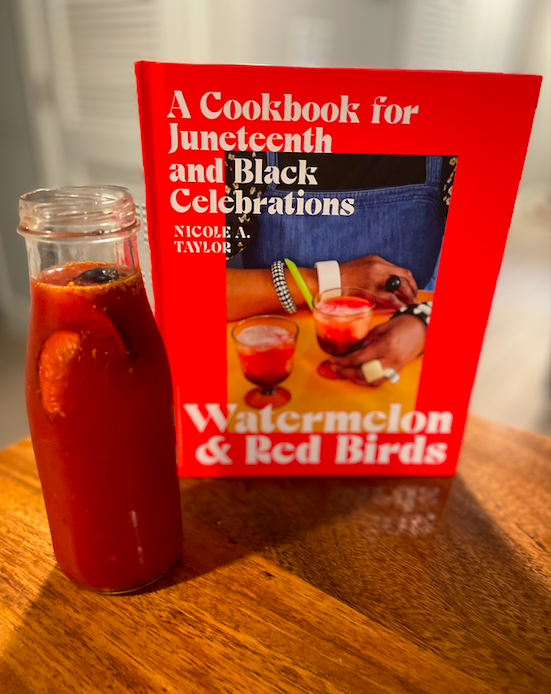 Nicole A. Taylor's BBQ Sauce Scores
Flavor: 4/5 — If you're into a vinegary flavor profile, this one does it right! Sweet and spicy and nicely sharp.
Texture: 2.5/5 — I think this is an unavoidable struggle for vinegar-based sauces, but it's really thin. And with the floating figs and pepper flakes, it was a little difficult to pour.
As a Marinade: 5/5 — This sauce made for the most tender, juicy, delicious grilled chicken. I imagine it would also be incredible with other meats.
As a Condiment: 2/5 — I did enjoy the flavor of this sauce while dipping fried chicken bites, but it's so thin that it soaked right into the breading and made it soggy.
Difficulty: Easy — It really doesn't get any easier than putting a few ingredients in a jar and shaking it up!
Overall: 3.5/5 — A winning marinade recipe, but doesn't bring the full versatility I expect from a BBQ sauce.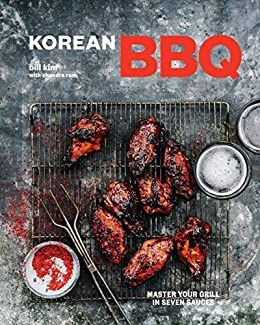 Award-winning chef and restaurateur Bill Kim found the perfect intersection of the food from his upbringing in Korea and the American Midwest: barbecue. In this cookbook, Kim combines Korean and American flavors and techniques to make delightfully delicious dishes. It's a sauce-forward book, including lots of sauces used as building blocks for other recipes in the book. I wanted to make them all, but instead stuck with the classic Korean barbecue sauce right up front.
Bill Kim's "Korean BBQ Sauce"
Kim's barbecue sauce comes from a combination of the American barbecue sauce he encountered as a cook in Atlanta and his mom's recipe. It's got some classic ingredients — onion, garlic, brown sugar — along with some other ingredients not found in the other recipes I tested, including soy sauce, toasted sesame oil, fresh ginger, Asian pear, and kiwi. It's made by throwing everything in a food processor and running it until smooth. I could tell immediately that this is a sauce you have to shake up before using; the fruity bits rise right to the top when it sits still. But I don't mind a little shake if it comes with big, juicy flavor!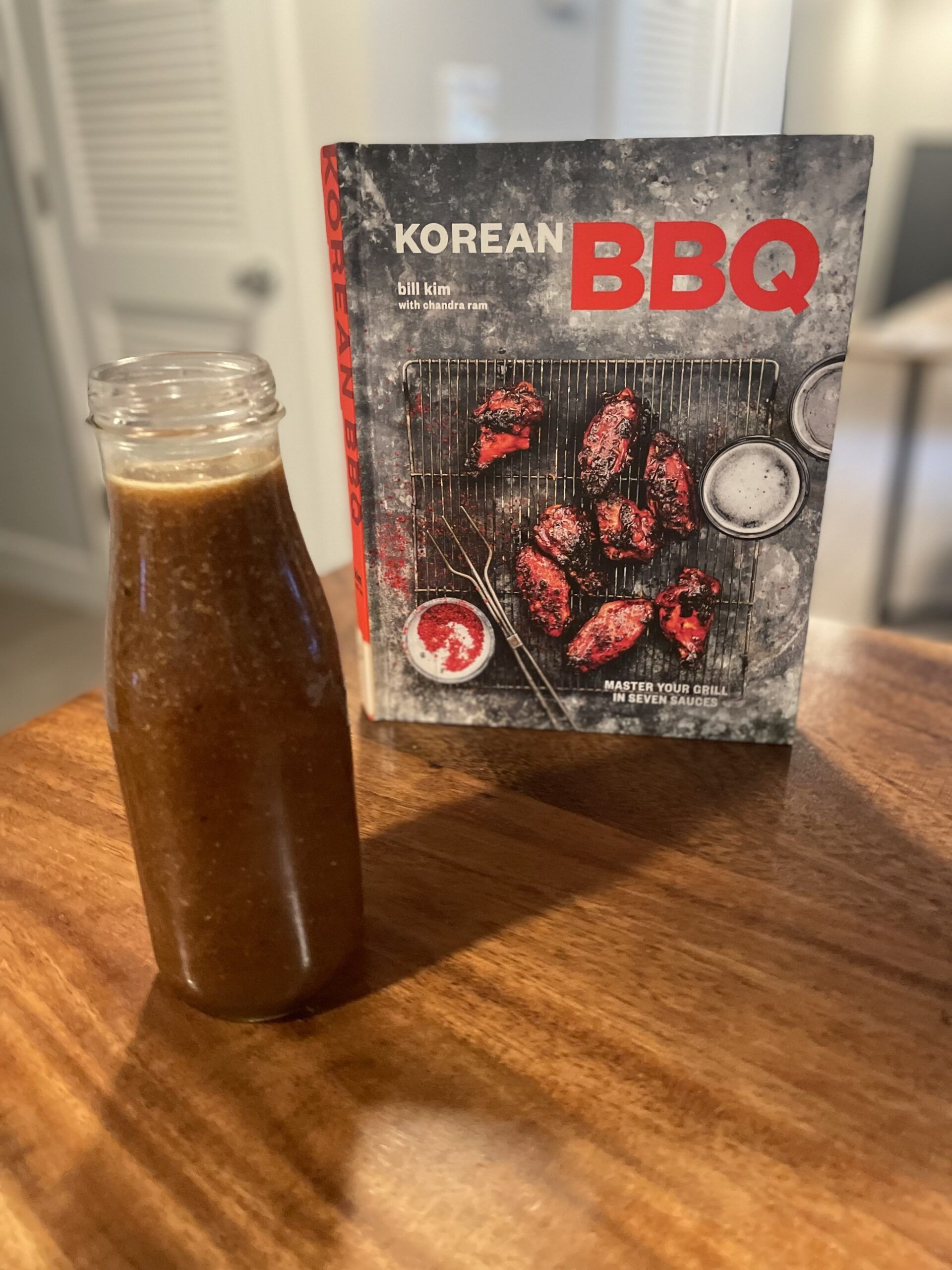 Bill Kim's BBQ Sauce Scores
Flavor: 5/5 — Wow! The soy sauce, fresh ginger, and fruitiness punches you right in the face (in a great way).
Texture: 2.5/5 — The pear and kiwi didn't fully break down, giving it a bit of a grainy mouthfeel, and the sauce separates after only a minute of sitting still.
As a Marinade: 5/5 — Truly, deeply delicious grilled chicken. The toasted sesame and ginger come across really nicely.
As a Condiment: 3/5 — While the flavor is great for dipping, the texture is a little unusual. It didn't stop me from going back for more, though.
Difficulty: Easy — Throw it in a food processor and you're done!
Overall: 4/5 — This is a really tasty sauce and fantastic for marinating, but I think the texture might be improved by simmering it.
Final Reflections
Honestly, I loved every single one of these sauces, and each of them has at least one amazing application. Patti LaBelle's fancy BBQ ketchup is perfect for fries or on a meatloaf. Nicole A. Taylor and Bill Kim's sauces make stunning marinades. Carla Hall and Caroline Hennessy's sauces are the most traditionally barbecue-y, but I could easily add them to a wide variety of dishes. So how to pick a winner?
I took a vote among the friends who participated in my experiment. There was a long debate. It was contentious. Insults were hurled, as were pieces of popcorn chicken. We tasted the sauces again and still couldn't come to an agreement on a clear winner. So instead, we crowned three winners: best marinade, best condiment, and best overall.
Best BBQ Sauce for Marinating: Bill Kim's "Korean BBQ Sauce" from Korean BBQ
The grilled chicken marinated in Bill Kim's barbecue sauce packed such a punch of flavor. You really got all the notes, including the soy sauce, fresh ginger, toasted sesame oil, Asian pear, and kiwi. It's a real treat for the tastebuds. It's used across many recipes in the cookbook, so if it was so delicious in a simple grilled chicken breast, I can't wait to see how the flavors pop in his other dishes.
Best BBQ Sauce for Dipping: Caroline Hennessy's "Foreign Extra Stout Barbecue Sauce" from The Official Guinness Cookbook
With a smooth but thick texture and rich, complex flavor, Caroline Hennessy's BBQ sauce kept me coming back for more. I would use this as a condiment on meat, potatoes, vegetables, and sandwiches. I might even eat it plain. This is definitive proof that Guinness makes a great secret ingredient.
Best BBQ Sauce Overall: Carla Hall's "Barbecue Sauce" from Carla Hall's Soul Food
Do you want a barbecue sauce that can do it all? A real Swiss army knife of a sauce? This is the one for you. It's incredibly versatile while also having a strong, complex flavor. That's a difficult balance to strike, and Carla Hall pulls it off with ease. And although I was a bit skeptical of leaving the chunks of onion, garlic, and chile in the sauce instead of blending it, it actually added something to the experience and made it stand out from store bought BBQ sauces. Carla Hall's Soul Food is a cookbook that has impressed me with every recipe I've tried so far.
We hope you enjoyed this culinary adventure! You can find more adventures in recipe testing in our king cake, chocolate chip cookie, and fried chicken cookbook showdowns.