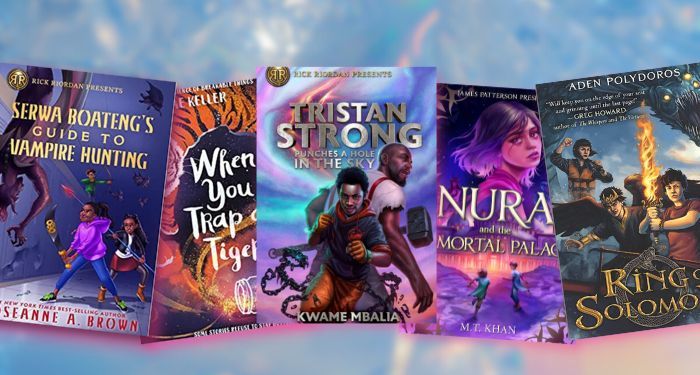 This content contains affiliate links. When you buy through these links, we may earn an affiliate commission.
Religion and mythology have often been part of fantasy novels. Whether they're written as allegories (Lewis's Narnia series), embedded more deeply in the themes (Tolkien's books, per his own descriptions of the books in his letters), or full of references (L'Engle's Wrinkle series), many fantasy books have elements of Christian mythology in them. Science fiction and fantasy (SFF) is a genre that practically lends itself to incorporating religion and spirituality into it: gods and mortals, miracles and plagues, tales that are larger than life and fantastical — what more could you want? (Although I realize that many people who are devoutly religious would feel the complete opposite, and see this as an abomination).
I admit that I've never read any of the Narnia books (at least that I remember), and all of the religious allusions in A Wrinkle in Time passed me by as a child. I'll be reading Tolkien with my son in the near future for homeschool, so I'll see about that one. But then again, when I was growing up, SFF never much appealed to me. As a teen — and even as a younger adult, I admit — when I thought about SFF, things like Narnia and Lord of the Rings were the first thing I thought of. I didn't even think of the Wrinkle series as SFF until embarrassingly late in life. It's only been fairly recently that I've embraced the genre, and especially with the explosion of more diverse stories. I don't think this is a coincidence. And with more diverse authors and characters also comes diversity in these stories with religion, spirituality, folktales, and mythology, opening up so many different worlds to explore.
While of course in YA and adult books there's Octavia Butler, Lavie Tidhar, N.K. Jemisin, Tomi Adeyemi, Naomi Novik, and many more authors exploring different kinds of mythologies, there are some really amazing middle grade SFF (especially fantasy) being written right now, too. I have whole stacks of middle grade fantasies piled up, waiting for me to have the time to read them all.
I've compiled some immersive middle grade fantasy novels that aren't rooted in Christian mythology, but instead, draw from a variety of different cultures and religions. This list barely scratches the surface of the books that are out there, but it's a good place to start.
This Newbery Medal–winner is based in Korean folktales, with a family story you won't soon forget. Lily and her family move in with her ailing Halmoni (grandmother). But when she starts seeing a tiger around, Lily's reminded of stories her Halmoni used to tell her. She finds out that her grandmother stole something from the tiger long ago — can she get it back and help bring Halmoni back to health?
The Kids Are All Right Newsletter
Sign up to The Kids Are All Right to receive news and recommendations from the world of kid lit and middle grade books.
Thank you for signing up! Keep an eye on your inbox.
By signing up you agree to our terms of use
This story is inspired by Hmong mythology, with a delightful heroine and great characters. Eleven-year-old Pahua is considered to be a little weird — she sees spirits, and her best friend is a cat spirit that no one else can see. After accidentally setting free an angry spirit, her brother becomes sick and falls into a deep sleep and nothing will wake him up. Can Pahua get the spirit back to where it's supposed to be and save her brother?
Mbalia weaves an action-packed, compelling story with Black American folk heroes and West African gods in this first book in a trilogy. After losing his best friend in a bus accident, Tristan feels guilty for surviving and is sent to his grandparents' farm for a month to help heal. But his first night there, he has a fantastical encounter and punches a hole in a tree, accidentally opening a portal to the MidPass, where monsters are hunting people in this world. Can he help save the world before it's too late?
You might want to get the second book, Tristan Strong Destroys the World, too, because you're going to want to start it immediately after you've finished this one!.
The first book in a trilogy, this adventure-filled book about a queer boy and his family is full of Jewish joy and mythology. When Zach and his sister buy a ring for their mom at a local flea market, weird things start happening: he can talk to animals, and monsters are roaming around. But then the ring summons Ashmedai, King of the Demons — or, in this current iteration, Ash, a tween boy — who might just be able to help Zach fight a secret society who plan to trigger an apocalypse.
Momo's turning 12, and all she wants is to be "normal." She's tired of having to take care of her widowed mother, and is embarrassed that she keeps mixing up reality and the fairytales her mom told her, in front of her classmates. But when her mom gets really sick and she encounters a death hag and a talking fox, right out of the stories her mom told her, maybe there's something real about the stories after all. Momo learns that her mother is a Shinto goddess who used to protect a passageway to the land of the dead that is now being attacked, with the possibility of evil spirits being set loose upon the earth. Can she help save the world?
Fireflies are just fireflies, right? Well…maybe not. Serwa knows that some of them are really adze — shapeshifting vampires. She should know — she's the best adze slayer her age. After her parents go off on a quest to find the witch who destroyed their house, leaving Serwa at her aunt's house, Serwa starts to get used to a "normal" life…until an adze invades her new school. Can she save the day? This is a fun adventure that's rooted in Ghanian folklore, and definitely NOT your typical vampire slayer book!
Inspired by her own Pakistani Muslim heritage, Khan has written a transportive fantasy about Nura, who works in the mica mines to help her family earn money. Legend has it that there is buried treasure somewhere in the mine, and if Nura finds it, it could change her family's life forever. Except things go horribly wrong when the mines collapse and children are trapped inside — including her best friend Faisal. Nura refuses to give up and digs through the dirt to find him, but instead discovers a portal to the world of the jinn.
Zipporah, or Zippy, is preparing for her Bat Mitzvah, but she's also a witch. When she conjures a girl with angel wings named Miriam, she knows they're connected in some way, but isn't sure how. Miriam doesn't have any memory of who she is or where she came from, and it's up to Zippy to help her. Rooted in Jewish folklore and mythology, this is a touching story about faith, family, love, and growing up.
Which one will you try first?
If you're looking for even more middle grade fantasy, check out this post on 20 of the best middle grade fantasy books, and this post on why adults should read middle grade books (with some recs!).