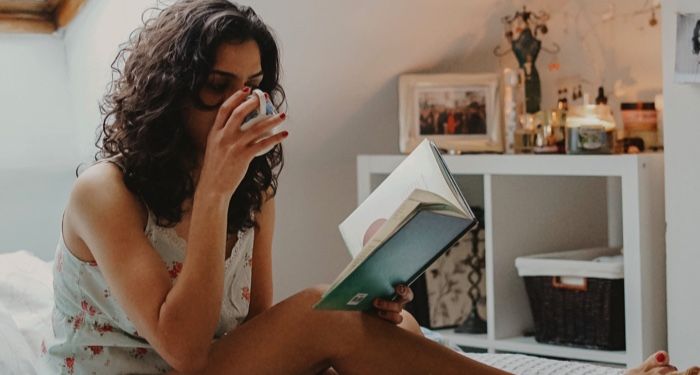 This content contains affiliate links. When you buy through these links, we may earn an affiliate commission.
Hey, did you know the writers here at Book Riot collectively read a lot of books? It's true! And while we try to jam as many recommendations as we can into posts, newsletters, and podcasts, and messenger pigeon missives, sometimes we want to just tell you what we've read and loved lately without having to fit it into a theme.
That's where our Riot Roundups come in! Our contributors are each sharing their favorite book they read in the least quarter. It wasn't necessarily necessarily published then: some of these are backlist and some haven't even come out yet. They represent a range of genres and age categories, so there's something for everyone! Let's jump in!
Babel by R.F. Kuang
In this alternate history fantasy novel, Robin Swift was born in China under unusual circumstances. When his mother dies, he's taken away to England to learn translation and silverworking. Silver, in this world, is imbued with magic, powered by translation, and is the cornerstone of the British Empire. But not everyone loves the empire, and there are forces working to pull it down. Those forces need Robin's help. Magic, Oxford, and word nerdiness make this an incredible novel.
—Chris M. Arnone
Big Swiss by Jen Beagin (Scribner, February 7, 2023)
Do you love darkly humorous novels with messy protagonists making questionable decisions? Then this is the book for you! Ever since it was announced many months ago that the adaptation of Big Swiss was going to be Killing Eve star Jodie Comer's next television show, Comer's fans have been trying to get their hands on this book. Seriously, I know booksellers who have been offered money for their galleys. (Which they declined.) It's wild. It's now readily available to book reviewers, and I have to say, I don't think I have read a book as fast as I read this one. It's set in Hudson, New York, and follows a restless middle-aged woman named Greta, who works as a transcriber for a sex therapist. Greta knows a lot of secrets about many people she sees every day in her town, since she spends her days listening to the recordings and typing them down. But it's not until she starts transcribing the sessions of "Big Swiss" that she crosses boundaries in a big way. Big Swiss, a nickname given to a particular married patient by Greta, is the most fascinating person Greta has ever "met." And when a chance encounter leads them to actually meeting IRL at the dog park, Greta lies about her identity, and the two begin an affair. How far will Greta go before she confesses the truth? This is a screamingly funny and also heartbreaking book about trauma, love, violence, and sex. It's really funny, really filthy, slightly disturbing, and so refreshingly weird and honest. I can't wait to hear what other people think about it!
—Liberty Hardy
When fairies return to a small Irish village, they bring with them something else, something sinister. Now, a group of friends must work together to stop their home from being destroyed. This is a fantastic middle grade novel brimming with Irish folklore!
—Lucas Maxwell
Book Deals Newsletter
Sign up for our Book Deals newsletter and get up to 80% off books you actually want to read.
Thank you for signing up! Keep an eye on your inbox.
By signing up you agree to our terms of use
This historical romance is set against the backdrop of 1889 Paris. Luz Alana is a rum heiress and distiller who is looking to expand her family's business into the European market. She knew it would be hard, but most people still  aren't willing to do business with a woman, let alone a woman of color. After an initially frosty meeting, whisky manufacturer Evan Sinclair, Earl of Darnick, finds himself drawn to Luz and agrees to help her out. And when both Evan and Luz find themselves in legal situations where they each need to get married in order to fully control their inheritances, a delightful marriage of convenience romance ensues!
—Alison Doherty
Florence is already having a really bad week when her beloved dad dies suddenly: she's the ghostwriter for a famous romance author and her book is very late; not only that, but she saw her shitty ex who's the reason she no longer believes in love and promptly made out with her new editor in an alley. Which is when she got the call from her mom. She travels home to her family's small town funeral parlor, where, oh yeah, she and her dad were both able to communicate with ghosts, and sees the last ghost she expected: her editor. The one she just made out with. He was hit by a car, and she has to figure out how to help him move on, while also carrying out her father's complex funeral wishes. Unfortunately, she really likes spending time with him. This novel deftly balances grief, heartbreak, writer's block, and falling in love, somehow making it seem like a ghost romance could have a happy ending. (Spoiler: it does.)
—Annika Barranti Klein
This middle grade verse novel by Puerto Rican author Andrea Beatriz Arango is a gorgeous, nuanced portrayal of mental health and trauma. Iveliz hopes everything will be better for her first year in middle school. Her father died in her last year in elementary school, and now she has PTSD. Only one friend has stood by her side through the last year of grief, though he is a jewel of a friend. When her grandmother with Alzheimer's comes to live with her and her mother from Puerto Rico, Iveliz is thrilled. She loves her grandmother so much. However, her grandmother fails to understand why Iveliz takes medication and mocks her. Meanwhile, Iveliz's mental health is spiraling, and she keeps losing parts of her day, especially when she gets angry — and she gets angry a lot. I listened to this beautiful book on audio, and Alyssa Bermudez's narration was lovely. However, the print version also has illustrations, so I'm hoping to get my hands on a copy of the illustrated version too!
—Margaret Kingsbury
Just Like Magic by Sarah Hogle (October 4, Putnam)
This romantic comedy really leans in to the humor and chaos of its premise. I loved it so much. It was the perfect comfort read: emotionally healing and so much fun.
When struggling celebrity Bettie Hughes accidentally plays a vinyl of Mariah Carey's "All I Want for Christmas is You" backwards, she summons Hall — a humanized spirit of the holidays. The more Bettie and Hall spend time together, the happier she becomes — and the more she falls in love with him. But if Bettie becomes happy enough, Hall's mission will be fulfilled and he will have to return to the realm of holiday spirits.
—CJ Connor
The Memory Police by Yoko Ogawa and translated by Stephen Snyder
While I normally don't think of dystopia as soft and gentle, that description somehow fits this novel set on an unnamed island. The narrator interweaves episodes of collective forgetting with mundane events as she navigates a world that is surreal on multiple levels. While there are many ominous moments, reading this feels like walking in a peaceful landscape. Everything is somehow present and held at a distance at the same time. Despite this inherent distance, the story feels so contemporary that I was shocked to find it was published in 1994 (yes, I know that wasn't that long ago, but still) and only translated to English in 2019. My immense thanks to Yoko Ogawa for her imaginative work and to Stephen Snyder for bringing Ogawa's thought-provoking novel to English readers around the world. Content warnings: rape, confinement.
—Summer Loomis
An adult film actress is surreptitiously cast in a holiday romance movie alongside an ex-bad-boy boyband member relaunching his career as a family-friendly celeb. Ingenue Bee Hobbes has a successful career as Bianca von Honey, a fat adult film star. Her favorite producer, Teddy, is diversifying his income with holiday movies, but to do so, he needs to keep his adult film company a secret, even with some of his old colleagues on set. Just one problem: Bee has always had a major crush on Noah Shaw, her new co-star, and he is a loyal fan of her ClosedDoors account. Falling in love with a time-traveling duke on screen is hard enough, but now, Bee and Noah also have to pretend their relationship is not warming up behind mostly closed doors. I highly recommend this Christmas romcom with unique intimacy, hilarious banter, and a bisexual couple who is absolutely too cute for this world.
—R. Nassor
Our Missing Hearts by Celeste Ng (October 4, Penguin Random House)
Twelve-year-old Bird has limited memories of his mother, a Chinese American poet who went missing three years ago. But he's not the only person wondering what happened to a loved one after a law was passed encouraging Americans to report their neighbors for "unpatriotic ideals," particularly people of Asian descent. When Bird receives a curious drawing he believes is from his mother, he goes on a dangerous journey to find her. I was completely drawn into this stunning book from page one and never wanted it to end. It's quite different from Celeste Ng's other books, more dystopian and frightening, especially considering how closely her story tracks with the real-time dissolution of our democracy and humanitarian crises. But it's masterfully crafted, perfectly weaving together political turmoil, magical folk tales, and complicated family dynamics. The last few chapters are some of the best writing I've read in a decade.
—Susie Dumond
Partners in Crime by Alisha Rai (October 18, Avon Books)
I. Love. A heist. Make it a heist that is also a second chance and forced proximity romance, and there's no way I couldn't love this book. Not to mention it's written by the amazing Alisha Rai. Mira and Naveen were set up by an Indian matchmaker a few years ago, but one of them chickened out. When Mira walks into Naveen's small family practice after her estranged aunt died, it's obvious the attraction between them wasn't the problem. Mira's past was always hazy to Naveen, and when the two end up kidnapped together because of her late father's shady dealings, he starts to understand why she was hesitant to open up. Let the adventure begin! Over the course of each task they must complete, the two learn more about each other and start to question if they could possibly try again. If they make it out of this alive, that is. Add this book to your preorder list now because as soon as it arrives, you won't be able to put it down.
—Nikki DeMarco
This has been a pillar of the science fiction genre for a while, so I was delighted to finally carve out time to read it! And oh my gosh am I so glad I did. This book starts during the height of the Chinese cultural revolution and doesn't stop pulling punches. When signals from an alien planet reach Earth, a terrible choice is made, one that will shape humankind for centuries to come. Earth must prepare for the worst: full scale invasion and takeover. It's up to a team of scientists to figure out what's happening, and hopefully give humanity a fighting chance. This book absolutely swept me off my feet; the writing, setting, and characters were all fantastic, and the pacing of the story was so fast I finished the book in one weekend. I am looking forward to when I have time again so I can devour the sequel.
—Mara Franzen
Book Twitter is the best. I keep getting these incredible recommendations and this one made my heart explode. Two childhood friends, Sam and Sadie, rekindle their friendship in a chance meeting in a Boston subway and eventually decide to make a computer game. Thus begins their immense partnership to make genre-defying games alongside Sam's roommate, Max. It follows 30 years of the trio's partnership to change the world of gaming as they know it. I'm not a big gaming person, but I was drawn to Sam, Sadie, and Max as they worked to find themselves and each other. While it is a love letter to what computer games can do, it's also a story about love. But as the official blurb best says, "Yes, it is a love story, but it is not one you have read before."
—Elisa Shoenberger
Undercover Latina by Aya de León (Candlewick Press, October 4)
I wish this book had existed when I was a kid. I'm glad that I got to read it as an adult. I hate that it will be banned in a bunch of states' schools.
Imagine finding out one day your parents are spies working for a world organization. Now imagine that at 14, you're given your first assignment, because this is the Hail Mary and you're the only person in the organization who fits the age range and can pass as white. That's Andréa Hernández-Baldoquín's life right now. She's moved to California with her mom to go undercover at a high school in order to befriend the estranged son of a white nationalist. But stripping her identity, even for a good cause, comes with a lot of questions and soul searching for Andréa, who immediately has to drop the accent from her name, keep her mouth shut about xenophobic comments, and shelve her Spanish. Cue crush on target's Latino roommate…
You get so much from this book, including action, friendship, a first crush, a tight family unit, spies, and fandom. Bonus: Victoria Villarreal does a great narration on the audiobook!
—Jamie Canavés
As a former angsty youth who adored Go Ask Alice and everything else Beatrice Sparks published as various "anonymous" teenagers, I knew Rick Emerson's Unmask Alice would be my jam, but I had no idea how deep and winding the rabbit hole went. Sparks desperately wanted to be a writer, but struggled to make that happen — and when it did, her name wasn't anywhere to be found. She was fueled by satanic panic and homophobia, and the books served as cautionary tales about drug use, sex, cults, eating disorders, teen pregnancy, and the foster care system, among other things. Emerson dives deep into the stories surrounding the creation of the two most controversial of the books, Alice and Jay's Journal, as well as the cultural landscape when they were published. Unmask Alice reads like a thriller, forever chasing down this elusive woman who shaped the foundation of young adult literature.
—Ashley Holstrom
This Pulitzer Prize–winning memoir is all about Boyer's journey with breast cancer as a single mother and woman who refuses the classic, imposed narrative of what it means to be a "survivor." She breaks down the toxicity of pink ribbons, rages at the inadequacies of our medical system, its bias, and its lack of a plan for care, and talks vividly and honestly about the feelings of hopelessness, exhaustion, pain, alienation, and suffering that come from being ill in a capitalist, data-focused, and individualistic society. It's a poetic and rich book that had me hooked on every chapter. It's both a cry of rage and a sigh of pain. A must-read.
—Leah Rachel von Essen
I loved the hell out of this book. The story Barnhill weaves is about a world in which women, constrained into submissiveness, sometimes spontaneously transform into dragons. Because this transformation is tied to women's bodies, it is considered a taboo topic. (I mean, obviously.) Caught in between a mother who refuses to acknowledge the existence of dragons and an aunt who transformed into one, our young narrator struggles to find her way in a world that doesn't seem invested in her or in her dreams.
—Steph Auteri