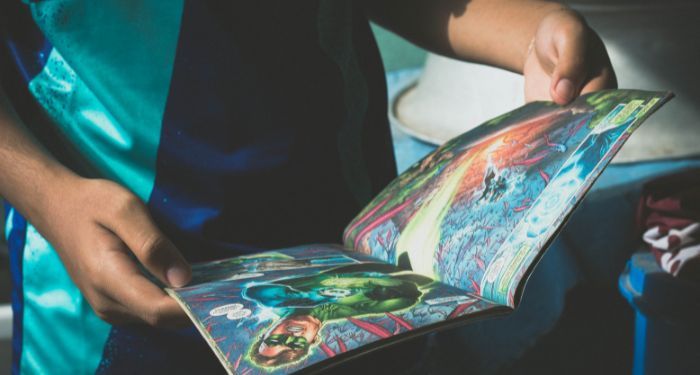 This content contains affiliate links. When you buy through these links, we may earn an affiliate commission.
Welcome, welcome to another edition of Riot Roundup! We've asked contributors to share the best comics, graphic novels, and manga they've read within the past few months. In this list, you'll find everything from battles with mental illness to battles with literal devils, journeys of self-discovery and journeys through the cosmos.
Some of the stories are raucous and bloody with nonstop action, while others are subtle and sweet portrayals of everyday life. Whether you decide to pick up one of the standalones mentioned here or one of a series, you'll want to move it up in priority on your TBR.
Denji. My poor, sweet Denji. He's a teenager who's forced to work for the Yakuza killing these things called devils because, even though his dad is gone, his dad's debt still looms over him. He's never really been loved, nor has he received an education, but once he's betrayed by someone he works with, the little devil dog he found, Pochita, saves his life by fusing with him. Now he's part devil, and his life is about to change.
This is such a wild ride of a manga. My mans Denji has literally the simplest dreams and his life is anything but. Plus, if you like anime, the anime adaptation of Chainsaw Man is one of this fall's most anticipated, and if you get into the manga now, you could read it in time to watch it become beautifully animated by the same studio that did Jujutsu Kaisen and the last season of Attack on Titan.
— Erica Ezeifedi
Wash Day Diaries by Jamila Rowser and Robyn Smith
This is basically the extended version of the award-winning mini comic Wash Day. It's a slice-of-life comic that actually feels like a slice from my life. Seriously, the hair care routines, the different friendship dynamics, right down to the text conversations all feel like things I've experienced. Readers are dropped right into the lives of four Black female friends living in the Bronx — Kim, Tanisha, Davene, and Cookie. A chapter is dedicated to each woman, and uses her hair care routine to show how she relates to herself and the world. I loved the art style, which is distinct, cute, and colorful, and how each character seemed to have their own color palette. I need more slice-of-life comics showing everyday Black life!
—Erica Ezeifedi
Debbie Tung knows how anxiety and depression can make every day feel like an uphill battle, and she uses this graphic memoir to illustrate how they impact her life. It's a powerful conversation starter about mental health, as well as a book to help readers feel seen and remember that better days are ahead. The art is simple and has a huge impact. I really appreciate Tung using her own experience to destigmatize mental health issues in this beautiful, life-affirming book.
—Susie Dumond
The Stack Newsletter
Sign up to The Stack to receive Book Riot Comic's best posts, picked for you.
Thank you for signing up! Keep an eye on your inbox.
By signing up you agree to our terms of use
Kristen Radtke has such a gift. Every section of this compelling graphic essay collection — about laugh tracks in sitcoms, Harry Harlow and his isolated monkeys, the typical "loner" descriptor of mass shooters — is gentle and nuanced. Seek You stands as a reminder that humans are a social species, and without human connections, we will crumble.
—Ashley Holstrom
"What if the hellscape that is the dystopian planet of Apokalips was also a high school, with bullies and cliques…and MURDER?" sounds like a ridiculous idea that should never, ever work, but somehow Johnson and Isles pull it off. This take on Jack Kirby's Fourth World is brilliant and charming, with an utterly lovable teen Scott Free (Mister Miracle) at its heart. Whether you're a diehard New Gods fan or have absolutely no idea what I'm talking about, you should pick it up. Bonus: Scott Free and Big Barda are one of my all-time favorite DC couples, and this might be the swooniest take on their relationship I've seen yet.
—Jess Plummer
The Low, Low Woods by Carmen Maria Machado, illustrated by Dani
El and Vee are two queer girls who grew up in a small mining town in Pennsylvania called Shudder-to-Think. All their lives they've heard stories of the town's oddities, from its constant burning to its women, who, once they come of age, begin waking up in odd places missing their memories. One day El and Vee wake up in a movie theater and know something is wrong. In getting to the bottom of what is happening in the decaying town, they come up against monstrous men with no skin, deer women, and festering sink holes where wombs should be. Yeah, it's a lot, but the monster stuff might not actually be what sticks with you.
I find myself still thinking about the ending of this story — what caused the monsters and the burning — and it is really disturbing. Most of all because I think it's not too far from reality.
— Erica Ezeifedi
Flamer by Mike Curato
Aiden Navarro is at summer camp before the start of junior high. It's an intense summer of hanging out with his friends, navigating bullies desperate to make him feel bad about himself as a half Asian boy, and coming to terms with the fact he might be gay.
One night, when Aiden kisses his best friend and campmate, things shift immediately. Has he forever lost the trust of his friend Elias? Did that kiss mean anything romantic? Was it an accident?
This is a moving, heartfelt story and one that will resonate with younger (and older!) teens. It's about traversing that tricky space between what faith might tell you is right, what it might tell you is a sin, and how you come to accept yourself as you are.
—Kelly Jensen
I love reading about the writing process from writers, but I've never read about it from a mangaka (or manga artist). This is about Akiko Higashimura, author of Princess Jellyfish, and her high school years as she starts trying to make her way as a manga artist. She has hopes of becoming super famous while she's still young, and like many people at that age, she thinks she has everything figured out. Once she realizes she'll need to get better at drawing before this happens, she decides to attend the art classes her friend tells her about. Thing is, they're way far out in a quiet town by the ocean, and they're run by a man who Akiko thinks is a little too harsh. This is a more subtle slice-of-life kind of story, and I love how honest Higashimura is about her skill level in the beginning. It has both funny (her sensei is beyond extra) and inspiring moments. I bought the other volumes and am excited to read the rest.
—Erica Ezeifedi
Bingo Love by Tee Franklin, Jenn St-Onge, and Joy San
As a fan of historical stuff and queer stuff, I was delighted to discover Bingo Love! Such a sad yet ultimately sweet story. It follows two Black girls who fall in love during the inhospitable '60s. Though separated by their families, they end up finding their way back to each other on a long, difficult, rewarding journey toward true love.
—Eileen Gonzalez
Free Comic Book Day 2022 brought with it the first glimpse of the Bone Orchard Mythos, a line of standalone horror comics and limited comic series by Jeff Lemire and Andrea Sorrentino that would exist within the same universe. In reading about the horror stories that were about to unfold over the next few years, my dark, morbid little heart grew (at least) three sizes. The Passageway released this past summer, and is about a geologist who is sent to a remote lighthouse to check out an odd phenomenon: a deep pit that has appeared out of nowhere. Where does it come from, and does the lighthouse keeper know more than she's revealing? The creep factor here was pitch perfect, and I can't wait for the next book in this horrific universe.
—Steph Auteri
In what amounts to an Elseworlds story (it's more complicated than that, but let's avoid spoilers), an aging Clark and Lois are raising Jon Kent in the very house Clark grew up in. The tale spans Jon's teenage years, with Jon hearing the screams of people across the universe and butting heads with Clark on how to deal with them. The story is beautiful, touching, and tragic. It really hits on the Messiah Complex of being Superman from two different perspectives, which is so fresh and wonderful.
—Chris M. Arnone
Starstruck by Elaine Lee, Michael William Kaluta, and Lee Moyer
Starstruck is a delightful space opera that enchants the reader from the very first panel. This graphic novel follows some of the most colorful characters in the entire galaxy, and brings the reader along to the most mind-boggling locations there are. With a plot so intricate it defies synopsis, and scenarios so absurd they actually make sense, this comic is for any reader who loves to do close reading and be taken on a journey. Not to mention the artwork is absolutely breathtaking. I'm so glad I found this book because it's already a book I keep coming back to to just to look at, and to reread.
—Mara Franzen
Allergic by Megan Wagner Lloyd & Michelle Mee Nutter
I adored this sweet middle grade graphic novel about pet allergies, a problem I also have. Ten-year-old Maggie loves animals and dreams of one day becoming a vet. She's been begging her parents for a dog for years, and they've finally capitulated. She and her twin brother pick the perfect puppy at the humane society. However, Maggie immediately begins having allergy problems that culminate in a severe allergic reaction. An allergist confirms her worst fears: not only is she severely allergic to dogs, but she's also allergic to all furred animals. Maggie tries out many other pets, but none are the same. Meanwhile, she has trouble making friends at her new school and her mom is pregnant, but when she befriends a new neighbor, they hatch a plot to find Maggie a pet. I also love animals, have pet allergies, and receive allergy shots, so I really appreciated seeing this representation on the page. And it's such a good story!
—Margaret Kingsbury