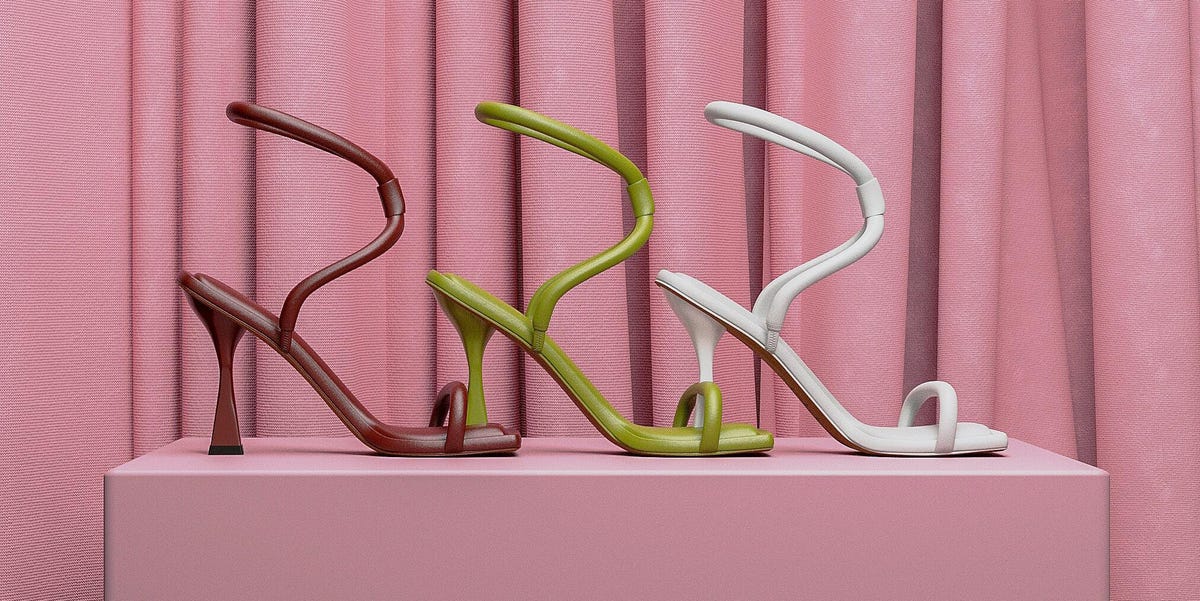 1 Hanifa Launches Footwear
Who: Hanifa
What: Footwear debut
Where: Available online at hanifa.co
Why: Hanifa is a contemporary ready-to-wear brand founded by Anifa Mvuemba with the intention of creating comfortable and colorful wardrobe staples that are uncompromising in their strong point of view and wide range of sizes. Mvuemba is taking the next step to make Hanifa a "one-stop shop" by introducing footwear. Mvuemba spoke exclusively to ELLE.com about the expansion of her brand: "I tried to get into footwear a few years ago, but we really did not have capacity or financials to really front a footwear collection," she started. "I love shoes. I'm completing the story for my customer. We've done a good job with apparel. Now is a good time to launch footwear [and] continue to create looks for our customers and build their wardrobe."
The two styles include a heeled sandal, the Zeta, featuring sheepskin leather intricately wrapped around the foot in three colors that complement the hues Mvuemba has built her brand on—bold yet readily mixable into any wardrobe. The knee-high boot, the Zoe, comes in black and white and features a sturdy design and stresses comfort above all. "I really wanted something that was really comfortable," Mvuemba said. "That was key."
2 Melissa Battifarano Debuts TONY 1923
Who: Melissa Battifarano
What: TONY 1923
Where: Available online at tony1923.com
Why: After twenty years of experience under her belt creating sportswear for industry heavyweights from PUMA to Polo Ralph Lauren, Melissa Battifarano finally branched out on her own. TONY 1923 is Battifarano's debut collection of luxurious athleisure named as an homage to her late father's birth-year. Serving as her source of design inspiration as well, her father is referenced through lambskin appliqués on monochromatic tracksuits and slogan t-shirts emblazoned with "ITALIANS DO IT BETTER." Battifarano introduces a dash of sex appeal to her lineup of 90's-inflected silhouettes with a lambskin bralette and mesh bodystocking. Not ready to bear it all? Cozy up in a reversible plush bathrobe featuring a luxe paisley print. To showcase the first collection, TONY 1923 hosted a party at New York's Forlini's restaurant. VIP guests including fashion designer Adam Selman, James Johnson of the Brooklyn Nets, and model Alva Claire, sipped on cocktails and mingled while viewing the collection via a deconstructed fashion show.
3 Homage Year Announces Ova Manifestation Bag Drop
Who: Homage Year
What: Ova Manifestation bag drop
Where: Online at homageyear.com on Oct. 31
Why: Homage Year was created in 2014 by wunderkind Antoine Manning, a Bronx-born, Atlanta-based designer whose Ova Manifestation Bags were featured in the fall/winter 2021 Black Fashion Fair—and sold out in two days. The circular, utilitarian bags come with a deeper message, something Manning imbues into everything he creates. Each color carries with it a specific mood: blue for intuition, pink for passion, yellow for protection, brown for solidarity, red for control, purple for abundance, orange for growth, and green for tranquility. Homage Year will be dropping its largest selection of the Ova Manifestation bags on Halloween; the mini retails for $150 and the regular rings in at $275. Pick your energy fighter for the rest of the year (we'll be carrying the Abundant bag into 2022).
4 Telfar Joins Forces with Moose Knuckles
Who: Telfar
What: Collaboration with Moose Knuckles
Where: Available for purchase online at mooseknucklescanada.com and telfar.net on Monday, Nov. 1
Why: Outerwear magnate Moose Knuckles is bringing its know-how on all things winter gear to a very special collaboration with NYC darling Telfar. Telfar's unassailable knack for New York cool meets the expertly created puffer technology that Moose Knuckles has perfected. The 17-piece capsule includes short coats, trenches, a bomber jacket, and the coolest fur-trimmed puffer pants that are simply too sexy to pass up. The collection naturally wouldn't be complete without a puffer-ized Telfar tote stamped with mini Telfar logos.
5 Dolce & Gabbana Partners with Donnafugata to Create Wine
Who: Dolce & Gabbana and Donnafugata
What: Wine
Where: Available online at us.dolcegabbana.com
Why: Bring a taste of la dolce vita stateside with Dolce & Gabbana's new collection of fine wines. Created in partnership with Sicilian winemaker Donnafugata, there are two options to delight your inner sommelier. The first, Isolano, is brought to life from a selection of vintage Carricante grapes from 2019. Inspired by Sicily's coastal landscape, Isolano blooms with delightfully zesty citrus and aromatic herbs. The second is Cuordilava, a rich red composed of Nerello Mascalese grapes. Extensive aging allows this wine to intensify, expressing headier notes of fruit and spice. Both productions were cultivated at the Donnafugata vineyard located on the slopes of the Etna volcano on the east coast of Sicily. The high altitude and rich soil bring forth a unique mineral character in the wines produced in the region. The exquisite tastes of Isolano and Cuordilava are only matched by their cheeky packaging—Dolce & Gabbana added its signature flair to each bottle. Primary colored motifs inspired by classic Italian textiles means these wines will have a shelf life that outlasts the last drop. We'll drink to that!
6 The Last Line Introduces New Tablewear
Who: The Last Line
What: Party line
Where: Available online at thisisthelast.com
Why: The Last Line is a cult jewelry brand that offers everything from the perfect everyday hoop to neon, rainbow, and fluorescent necklaces and earrings that pack a serious punch. Now, co-founder and creative director Shelley Sanders is taking her eclectic eye for color and pattern to her first tabletop collection, aptly titled "Party." On designing her first tableware line, Sanders told ELLE.com, "We made sure to incorporate some popular jewelry details like bold colors and collections like flowers and zodiac so everything just flows. The collection is literally the accessories your table needs, even if it's a party of one and takeout." Pictured here are the perfect tea sets for hosting your friends, or enjoying your morning espresso solo. There's no limit to when and where these plates can be used, so feel free to mix and and match.
7 Fendi and Skims Announce Joint Capsule Collection
Who: Fendi x Skims
What: Capsule collection
Where: Online at fendiskims.com on Nov. 9
Why: Skims,Kim Kardashian West's solutions-based line of technically constructed shapewear, has taken the world by storm. Most recently swept up in the craze? None other than Fendi. Led by creative director Kim Jones, the Italian fashion house jumped at the opportunity to collaborate with West. "Both Fendi and Skims have a cultural power very different from each other, but equally as strong," Kardashian West ​said in a press release. "We share a desire to push boundaries, think differently​, and challenge convention." Fendi's rich historical archives served as the genesis for the collection—specifically sketches by the late Karl Lagerfeld dating back to 1979. These manifested into curve-hugging dresses in engineered velvet, reversible knits, undergarments emblazoned with the Fendi x Skims hybrid logo, and oversized bomber jackets crafted from recycled nylon. As far as accessories ​go, Fendi reimagined staples from the Peekaboo to the Baguette Chain and the Sunshine Shopper in ​a 3D FF logo, while a new shearling hiking sandal injects a distinctly west coast vibe.
8 Collina Strada and Ssense Collaborate on Swimwear
Who: Collina Strada x Ssense
What: Swimwear capsule collection
Where: Online atssense.com
Why: If the cold, grey days of autumn have you dreaming of your next tropical vacation, you'll want to make the debut swimwear collection from New York-based designer Hilary Taymor's cult label Collina Strada a priority on your holiday wish list. Created in collaboration with luxury e-tailer Ssense, the range includes seven styles in 12 electrifying colorways. From sporty one-pieces in pastel tie-dye to early aughts-inspired strappy bikinis, each bathing suit is crafted from recycled materials and is meant to serve as a base with which to layer to your heart's content. Take inspiration from Strada's unconventional approach to fashion and throw on a pair of low-rise cargos and a printed mesh top, taking you from the pool to the street in a flash.
9 Wempe Drops Playlist By Kim Collection
Who: Wempe
What: Playlist By Kim
Where: Online atwempe.com
Why: If your love for accessories is only matched by your love for great music, Wempe's new collection has you covered. The Hamburg-based watchmaker is debuting new wares as a part of its fine jewelry arm, By Kim. Cheekily titled Playlist, the lineup features 28 geometric stacking rings inspired by the rebellious vitality of popular music genres. "For Playlist By Kim, we let ourselves be guided by this free spirit, and we translate it into modern pieces of jewelry," Fatima Massalme, Wempe's brand manager for jewelry, said in a press release. If you prefer punk, try layering the 18k rose, white, and black rhodium-plated gold stacking rings with reckless abandon to toughen up your ensemble. More drawn to the delicate harmonies of classical music? Let a single ring sprinkled with brilliant-cut diamonds—the ultimate in understated glamour—catch light as you dance. A matching necklace, two bangles, and two hoop earring styles are also available, allowing you to assemble a complete jewelry look. Go forth and march to the beat of your own style drum!
10 Staud and New Balance Release New Collection
Who: Staud x New Balance
What: Fourth collection
Where: Online at staud.clothing and newbalance.com
Why: Sneakerheads and gym rats​, rejoice! New Balance has ​once again teamed up with Los Angeles-based brand Staud. The fourth collection features apparel, accessories, and covetable iterations of New Balance's 574 and 57/40 sneaker silhouettes, this ​time reimagining the best tropes of '80s workout wear with a nostalgic ad campaign fronted by model Valentina Sampaio. Conventional wardrobe staples like the puffer vest, tracksuit, and crop top and legging set get an instant lift thanks to zingy primary hues. Whether you find yourself lounging at home or pushing it to the max at the pilates studio, New Balance and Staud's lineup arrives just in time to brighten up gloomy winter months ahead.
11 Dudley Stephens and Polartec Launch Limited-Edition Fleeces
Who: Dudley Stephens x Polartec
What: 30th anniversary capsule collection
Where: Online atdudley-stephens.com
Why: ​Womenswear brand Dudley Stephens, ​beloved for its cozy and sustainable fleece pieces, is debuting an exclusive capsule collection in partnership with Polartec in celebration of the latter's 30th anniversary. Inspired by the bold colors and baggy silhouettes of '90s streetwear, this collab introduces two new styles to keep you cozy all season long: the Wynn and the Blee​cker pullover. Available in neon pink, yellow, and cobalt, these fleeces will add a dash of vintage nostalgia to any ensemble. The post-consumer recycled plastics used to create Polartec's signature shaggy shearling, however, is a contemporary update. Polartec's innovative fabrics have been at the heart of Dudley Stephens' collections since the brand's inception in 2015. "Dudley Stephens has been an incredible, long-standing partner of Polartec," Polartec president Steve Layton said in a press release. "We're inspired by the way they reinterpret our performance fabric technologies for everyday essentials." ​Fashion meets function; we love to see it.
12 Vince Celebrates the Art of Craft
Who: Vince and Nordstrom
What: Crafted by Vince
Where: Inselect Nordstrom locations and online at nordstrom.com
Why: Vince has become a go-to for effortless pieces that you're guaranteed to go back to again and again (and again). Building on this ethos of longevity, the new Crafted by Vince capsule collection takes inspiration from both the ease and glamour of coastal California living and spins it into knitwear gold. Crafted by Vince was created in collaboration with Nordstrom and will feature luxurious styles for both women and men. "Quality and craftsmanship have always been intrinsic to the Vince brand and this partnership allows us to build upon our DNA of luxury knitwear and share it exclusively with our loyal Nordstrom customer," said Caroline Belhumeur, Vince's chief creative officer. Stock up for winter with chunky ribbed turtlenecks and a hand-knit cardigan coat as well as gloves, scarves, hats, and accessories for the home. The best part? The color palette of cream, beige, and camel ensures infinite styling possibilities.
13 Still Here Introduces Capsule Collection
Who: Still Here
What: Capsule collection
Where: Available at Bergdorf Goodman and Net-a-Porter and online at stillhere.nyc
Why: Designed in New York City and handcrafted in Los Angeles, Still Here injects personality into its timeless denim silhouettes with signature novelty embellishments. From chainstitch embroidery to woven appliqués and hand-painted stripes, Still Here denim has mastered the art of artsy jeans. Now, the brand is bringing its homespun aesthetic to a new fabric: leather. Debuting exclusively at Bergdorf Goodman, Net-a-Porter, and Still Here's website, the capsule collection marks the brand's first foray into vegan leather. Each piece was developed with sustainability in mind, crafted from post-consumer recycled polyester. Highlights include the sleek Tate pant and the Americano shaket—the perfect late fall pairing.
14 Farfetch Debuts There Was One Collection
Who: Farfetch
What: There Was One debut collection
Where: Available at farfetch.com
Why: Farfetch first innovated the way we shop for clothes by bringing together a vast network of retailers to one single online marketplace. Now, the luxury giant is switching roles, going from the business of selling clothes to making them with a debut collection, There Was One. Created in tandem with New Guards Group, the line combines Farfetch's vast network of consumer analytics, allowing for the creation of styles that put the needs and desires of the customer first. There Was One features an assortment of sustainably manufactured, elevated basics meant to serve as building blocks with which to layer the designer offerings already available on Farfetch's site. From a moto jacket in buttery black leather to a cream-colored trench coat, perfectly roomy men's shirting to pleated midi skirts and ribbed knit dresses, the mission of this collection makes the hunt for elusive wardrobe staples a thing of the past.
15 Pangaia Expands Into Denim
Who: Pangaia
What: Pangaia Denim
Where: Online at pangaia.com
Why: Pangaia is a global collective of scientists, designers, and technologists, working side by side to create eco-conscious lifestyle products with a mission to save the planet—while also making some of the most covetable hoodies around. On Oct. 19, the brand will debut Pangaia Denim—a tightly curated collection of unisex straight leg jeans and roomy, '90s-style trucker jackets imagined by the brand's own Jonathan Cheung. Their innovative denim is cut from wild Himalayan nettle and bonded with organic Indian cotton, making use of nature's abundance and enhancing it through high-tech human processes. The Himalayan nettle, created in collaboration with Italian denim mill Candiani Denim, is dyed using Candiani's water-and-dye saving method, then woven on a shuttle loom before resting. These spa-like treatments enhance the quality and integrity of the product, representing the ultimate in slow fashion. "The goal is to promote biodiversity and regenerative agricultural systems, while creating resilience in the supply chain," said Pangaia Chief Innovation Officer Dr. Amanda Parkes. Pangaia doesn't stop there. The jeans are made entirely of recyclable products and, in a move toward greater transparency, each feature a 'digital passport,' allowing customers to see the unique journey of their chosen garments as well as their environmental impact.
16 Maje Teams Up With Varley
Who: Maje x Varley
What: Capsule collection
Where: In Maje stores and online at maje.com
Why: Varley, the activewear company founded in Los Angeles and developed in London, is about to conquer its third fashion capital: Paris. On Oct. 15, the brand will debut a capsule collection designed in collaboration with French retailer Maje that fuses the former's knack for performance with the latter's eye for trend-setting style. The collection takes its cues from 1980s excess, featuring leopard prints and metallic accents in a playful palette of khaki and black, offset by violet, emerald green, and touches of cheery yellow. Play it cool in a matching cotton set or go full-on Flashdance in a curve-hugging unitard complete with a lurex belt. Whether you're planning to hit the gym or the street, complete your look with Varley and Maje's unique wristbands, caps, and mats.
17 Natural Diamond Council Launches the Emerging Designers Diamond Initiative on Moda Operandi
Who: Natural Diamond Council
What: Emerging Designers Diamond Initiative trunkshow
Where: Exclusively online at modaoperandi.com
Why: The Natural Diamond Council launched the EDDI (Emerging Designers Diamond Initiative) with the goal of giving you unique, high-quality jewelry while supporting a collective of BIPOC jewelry designers. Created in Jan. 2021 in partnership with jewelry designer Lorraine Schwartz, the initiative provides opportunities, education, and resources for emerging diamond jewelry designers. EDDI's first batch of talent is now featured on Moda Operandi in a dedicated digital Emerging Designers Diamond Initiative trunkshow. Expect to shop Jameel Mohammed of Khiry, Dorian Webb, Constance Polamalu of Birthright Foundry, Marvin Linares of Marvin Douglas Jewelry, Malyia McNaughton of Made by Malyia, and Lisette Scott of Jam + Rico. Each one brings their own aesthetic and unique craftsmanship to shoppers.
18 Gucci and Comme des Garçons Create a Third Tote Bag
Who: Gucci x Comme des Garçons
What: Limited-edition tote
Where: Exclusively on vault.gucci.com starting Oct. 15, as well as in Dover Street Market and CDG locations worldwide and the DSM e-shop
Why: Gucci and Comme des Garçons have created several totes before, combining the distinct aesthetics of each fashion house to create a synergy that is both covetable and utilitarian. The third rendition of the classic CDG shopper features the iconic Gucci tri-stripe in red and green down the middle of the bag, channeling the casual notion of Gucci's way of dress as well as the sleek and simple sophistication of CDG. Get yours before they're gone, because once they're gone, they're not coming back!
19 Loro Piana Joins Forces With Hiroshi Fujiwara On First-Ever Collab
Who: Loro Piana
What: Capsule collaboration with Hiroshi Fujiwara
Where: In Loro Piana boutiques worldwide and on loropiana.com
Why: Italian luxury mainstay Loro Piana is entering unchartered territory courtesy of its first-ever product collaboration with Japanese streetwear legend, designer, and producer Hiroshi Fujiwara (who consequently is also lending his name to a collab for the first time). The ten-piece, gender neutral capsule embodies the timeless elegance and craftsmanship Loro Piana is known for with the streamlined Japanese sensibility that Fujiwara has honed over the years. The muted color palette coincides with relaxed yet impeccably made streetwear pieces; highlights include the reversible bomber jacket and cashmere sweater in an interlocking pattern. The global and unisex feel render the collection timeless and instantly wearable.
20 Attersee Drops Collection II
Who: Attersee
What: Collection II
Where: Exclusively online at shopattersee.com
Why: The key to the perfect fall wardrobe begins with the right foundations: timeless basics you can freely mix, match, and layer. This idea of a functional system for dressing was the genesis behind New York-based luxury label Attersee's second collection. With streamlined silhouettes and a balanced color palette of rich neutrals, Collection II will take the stress out of your daily routine as each piece can be easily dressed up or down. Layer the tuxedo-bib tunic under a blazer for the office, or over the label's fluid drawstring trousers for dinner. Other must-haves in the lineup include a wrap coat cut from Loro Piana cashmere complete with velvet ribbon and a sleek satin midi dress with fringe at the hemline.
21 Francesca Miranda Launches The Gloria
Who: Francesca Miranda
What: Launch of The Gloria
Where: Exclusively online at thegloria.co
Why: Luxury Colombia-based womenswear brand Francesca Miranda ventures into the lifestyle and digital space with its latest project, The Gloria. A new online destination for everything bridal—and not just the brand's gorgeous couture and ready-to-wear offerings for brides—the website brings together the best of Colombia, featuring homeware and furniture made by local artisans, skincare, and fine jewelry. The Gloria also offers guides and vendor recommendations for Latin American destination weddings, embracing the Latin American culture with open arms. This new, all-encompassing wedding guide marks a new direction for Francesca Miranda as a lifestyle brand honoring its rich Colombian heritage and embracing the future.
22 Figue Reveals Resort 2022
Who: Figue
What: Resort 2022 Collection
Where: Online at figue.com
Why: Figue, the go-to brand for stylish jet-setters in need of vacation wear, was recently bought out by its biggest fan: fashion designer and entrepreneur Liz Lange. Oct. 12 marks the debut of Lange's first collection. Longtime fans of Figue need not fret, as the breezy kaftans and romantic florals for which it has become synonymous with will not be going anywhere. In fact, Lange plans to further build out Figue's offerings, launching additional silhouettes as well as a line of accessories. For Resort 2022, Lange played with patterns. "Cher is my springboard this season," she said. "She takes flamboyance and theatricality and makes them totally chic, effortless, and compelling. This is the magic of Cher: never boring, always dramatic, and stylish." We don't disagree. With retail pricing from $295-$1,000, there is something for everyone in search of a little wanderlust, whether you're sunning in Cannes or hanging in your backyard.
23 Malone Souliers Unveils Make Your Mark
Who: Malone Souliers
What: Make Your Mark
Where: Exclusively online at malonesouliers.com
Why: On the hunt for your solemate, but unable to find the perfect pair? London-based shoe brand Malone Souliers has you covered with Make Your Mark, a new digital made-to-order platform. Choose from a vast array of silhouettes such as the sophisticated Maureen heel, or the more playful Marion flat. You can play with heel heights, color palettes, textures, and straps—the platform offers a whopping 6,000 possible combinations. You can even add a monogram to the soles for an extra personal touch. "A pair of shoes can express so much about a person," said creative director Mary Alice Malone. "I'm delighted that our customers everywhere now have the opportunity to create their own designs for maximum self-expression."
24 K-Swiss Teams Up With EleVen by Venus Williams
Who: K-Swiss x EleVen by Venus Williams
What: Retro Collection
Where: Online at kswiss.com and elevenbyvenuswilliams.com
Why: Call it a match made in tennis heaven. Following the heels of its May 2021 "Glow Up" collection, heritage brand K-Swiss will team up once again with tennis champion Venus Williams. The power duo's third capsule collection, titled "Retro by EleVen x K-Swiss," launches Oct. 12 and includes 17 pieces that meld timeless silhouettes with contemporary details (think: a crisp white short set in a cozy yet luxe rib knit and chunky-soled sneakers). The Eleven in Legacy joggers and hoodie, which come in color-blocked cobalt or pink, call to mind the heyday of American sportswear: the 1920s. Whether you're searching for hardcore performance gear or simple athleisure pieces, Retro by EleVen x K-Swiss has you covered.
25 Heaven by Marc Jacobs Introduces Capsule 3
Who: Heaven by Marc Jacobs
What: FW21 collection featuring The Virgin Suicides
Where: Available in Marc Jacobs stores and online at marcjacobs.com
Why: Heaven by Marc Jacobs debuts its third collection, FW21, with a capsule honoring Sofia Coppola's cult classic The Virgin Suicides. The angsty teen rebellion film marries perfectly with the youthful grunge aesthetic Heaven has been honing since its inception. The collection includes tees, skirts, handbags, and notebooks, with a dedicated Virgin Suicides-themed pop-up shop at the Fairfax store. Plus, $18 from every "Just Like Life" baby tee sold will be donated to The LGTBQ Community Center, supporting and uplifting the lives of queer youth.
26 Ganni Debuts First Size-Inclusive Drop
Who: Ganni
What: Size-inclusive capsule in partnership with 11 Honoré
Where: Available now in select GANNI stores, on ganni.com, 11honore.com, and nordstrom.com
Why: Danish fashion brand Ganni announces its first-ever size-inclusive capsule in partnership with 11 Honoré. The drop includes 10 core styles that encapsulate the Ganni girl DNA, including floral separates and feminine dresses. The new sizing has been rigorously tested by the team at 11 Honoré through months of fittings to ensure the fit is consistent throughout the entire size offering. Sizes range from EU32-52 across RTW and swimwear, while shoes will include sizes EU35-42 with selected core styles ranging up to EU44. This marks a turning point for the brand in its journey to become more inclusive and sustainable.
27 Re/Done Joins The Jean Redesign
Who: Re/Done
What: The Jean Redesign project
Where: Available at Re/Done stores, select retailers, and online at shopredone.com
Why: Re/Done has been at the forefront of restoring vintage jeans and making them new and fresh, increasing the circularity of denim consumption, as denim takes gallons of water to create. In its latest step towards closing the production circle, Re/Done has adapted rigorous standards courtesy of Ellen MacArthur Foundation's Jeans Redesign project guidelines. This newest effort is the brand's most sustainable original denim offering to date. The collection consists of three pairs of jeans designed with responsibly sourced, 100 percent organic cotton, recycled hardware, bio-based patches, and biodegradable packaging. Each pair comes with a unique QR code that allows the wearer to access a full traceability report. Circularity has never been so chic.
28 Acne Studios Releases Distortion Bag Line
Who: Acne Studios
What: The Distortion handbag line
Where: In Acne Studios stores worldwide and on acnestudios.com
Why: Acne Studios is releasing its Distortion handbag line, featuring graphic takes on some of its most iconic bags, including styles that debuted on the runway last March. Three distinct bag shapes, including the Musubi bag and the Audrey tote bag, take on new life with different angles and sizes, altering the silhouette entirely. These sleek bags, all made in Italy, are guaranteed to make people look twice.
Kevin LeBlanc Kevin LeBlanc is the Fashion Associate at ELLE Magazine.
This content is created and maintained by a third party, and imported onto this page to help users provide their email addresses. You may be able to find more information about this and similar content at piano.io