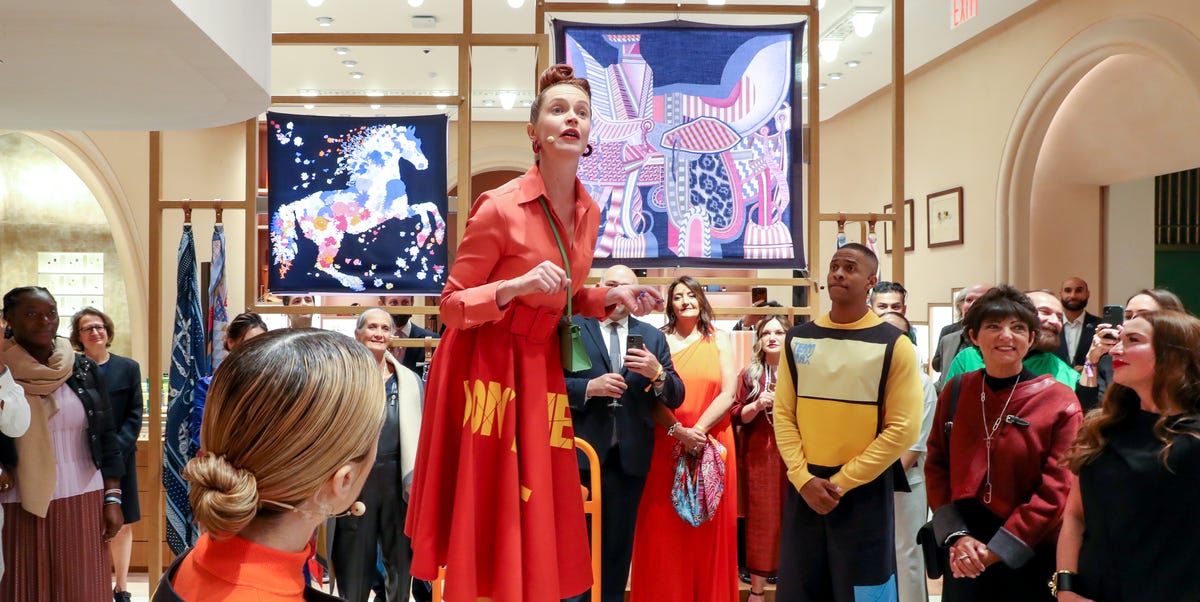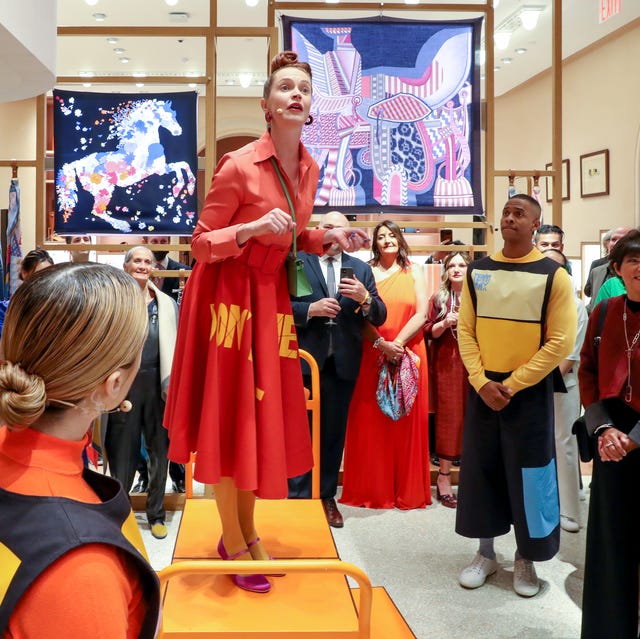 BFA
Summer is great and all, but it goes without saying that fall is the best season, sartorially speaking. We can all thank Meg Ryan—and Billy Crystal, for that matter—for passing down the seasonal style bible of chunky sweaters, loose trousers, and loafers. Now is the time to get comfortable, autumnal, and decidedly less sweaty. With that in mind, like every month, we rounded up the fashion news you need to know (and add to cart ASAP). From Hermès' new Madison Avenue flagship opening in NYC to Mansur Gavriel's latest bag silhouette, there's something for everyone here.
Advertisement – Continue Reading Below
1 Hermès Celebrates Madison Avenue Flagship Opening
Who: Hermès
What: Opening of new Madison Avenue flagship
Where: 706 Madison Avenue, NYC
Why: Hermès is moving on up…to the Upper East Side. And you'd better believe the French luxury house celebrated accordingly. To fête its new flagship store at 706 Madison Avenue—one of the brand's largest retail locations in the world—Hermès threw a party in the palatial 20,250-square-foot space with a rousing musical performance, titled Love Around the Block, complete with pastrami sandwiches from Katz's. SNL's Chloe Fineman, Nicky Hilton, and ELLE editor-in-chief Nina Garcia were all in attendance. A New York moment, indeed.
2
Mansur Gavriel
Mansur Gavriel Drops the M Frame Bag 3 Moncler Celebrates 70 Years With Epic Performance in Milan
Who: Moncler
What: Extraordinary Forever 70th anniversary celebration
Where: Piazza del Duomo, Milan, Italy
Why: This year, Moncler celebrates 70 years of being simply extraordinary. The Italian house's illustrious celebration kicked off, fittingly, during Milan Fashion Week, when 1,952 (the year Moncler was born) performers took over the iconic Piazza del Duomo in the heart of the city for a dance choreographed by Sadeck Berrabah. With all cast members clad in white, donning the iconic Maya jacket, the show was visually striking, grounded in rich brand history while always looking forward. Anne Hathaway and Pharrell Williams were in the audience to take in the first of a 70-day string of celebratory events for the brand. Cheers to 70 more.
4
Hill House Home
Hill House Home Introduces Outerwear 5
Ashya
Ashya Unveils Third Drop of Heritage Collection 6
Theophilio
Theophilio Releases Jamaica-Inspired Capsule With Luxury Stores at Amazon 7
Rothy's
Rothy's Launches Unisex Styles 8 Polène Opens New York Store
Who: Polène
What: First international store in New York
Where: 487 Broadway, NYC
Why: For the uninitiated, Polène is a French leather goods brand based in Paris with a cult following (seriously, Emily wears one of the bags in Emily in Paris). Now, you can shop the brand IRL at its first-ever international store in NYC's Soho. The sleek, minimalist space dreamed up by architect Valeriane Lazard features a nine-foot-long table made of leather scraps—and, of course, tons of covetable bags.
9
CDLP
CDLP Debuts Women's Underwear Line With Net-a-Porter 10
Brunello Cucinelli x Neiman Marcus
Brunello Cucinelli Partners With Neiman Marcus for New Campaign 11
Sister Love x Flipper's Roller Boogie Palace
Mary J. Blige, Liberty Ross and Simone I. Smith Design Jewelry For Flipper's Rink Girls 12
Chloë Sevigny x Warby Parker
Chloë Sevigny Teams Up With Warby Parker 13 Costa Brazil Hosts Post-NYFW Spa Getaway
Who: Costa Brazil and Canoe Place
What: Intimate luncheon and spa getaway
Where: The Canoe Place Inn & Cottages in Hampton Bays, NY
Why: Just when everyone was desperate for some R&R after the chaos of NYFW, Francisco Costa swooped in and hosted a restorative lunch at the newly restoredCanoe Place Inn & Cottages in the Hamptons. On the menu: gazpacho, niçoise salad, and Neapolitan pizza from the property's restaurant, Good Ground Tavern, and spa treatments at the on-site ONDA Spa (with Costa Brazil products, natch).
14
Apple Watch Hermès
Apple Unveils New Hermès Watch (and More Must-Have Products) 15
Celine
Celine Debuts the Matelasse Monochrome Bag 16
Apple Watch Hermès
Apple Unveils New Hermès Watch and More 17
Salvatore Ferragamo
Salvatore Ferragamo Introduces the Aura Bag 18
Gant x Wrangler
Gant Collaborates With Wrangler on Rodeo-Ready Collection 19
Ba&sh x Veja
Ba&sh and Veja Team Up on Sneakers 20 Bulgari Debuts Inside the Dream at the Toronto International Film Festival
Who: Bulgari
What: Inside the Dream documentary debut
Where: Debuting at the Toronto International Film Festival and streaming on Amazon Prime worldwide
Why: Have you ever wondered how the most dramatic and expensive jewelry came to be? Bulgari is letting you in on the world of high jewelry making, from conception to sourcing and creating the final product. Creative director Lucia Silvestri has a knack for collecting the best gemstones in the world, traveling all over to create moments like Zendaya wearing the nearly 94-carat emerald necklace on the Venice Film Festival red carpet last year. Silvestri's ability to bring the women of the world together with her adventurous and luxurious eye is unmatched; now, you can watch her story unfold exclusively on Amazon Prime.
21
Sky High Farm Workwear x Balenciaga
Sky High Farm Workwear Taps Balenciaga for Final Collaborative Capsule 22
Future Collective
Target Taps Kahlana Barfield Brown for New Brand 23 Dolce & Gabbana Brings Italian Flair to Neiman Marcus' Crystal Charity Ball
Who: Dolce & Gabbana and Neiman Marcus
What: Runway show and luncheon celebrating the 48th Crystal Charity Ball and luncheon
Where: Neiman Marcus NorthPark, Dallas
Why: Dolce & Gabbana, a longtime Neiman Marcus partner, headed south to the retailer's HQ for the 48th anniversary of The Crystal Charity Ball. There, the Italian label showed its fall/winter 2022 collection to distinguished guests, followed by a luncheon where 10 best-dressed honorees were recognized for their sartorial savvy. Donations from the ball will benefit a group of local charities. All in day's work to look good and do good.
24
Fossil
Fossil Introduces the Heritage Collection 25
Cara Loves Karl
Cara Delevingne Designs Capsule Collection for Karl Lagerfeld 26
Roxanne Assoulin
Roxanne Assoulin Expands Into Enamel Rings 27 Bottega Veneta Partners With The Strand
Who: Bottega Veneta
What: Collaboration with The Strand
Where: Available exclusively at Bottega Veneta's Soho store and online at bottegaveneta.com starting Sept. 15
Why: When you think of The Strand, you likely conjure images of endless book stacks, and, of course, the totes. A staple accessory of NYC, the tote is a tried-and-true classic, and one that Bottega Veneta creative director Matthieu Blazy is putting his spin on with three different versions rendered in the label's luxe Italian leather. Blazy has also curated a list of his favorite books at the store, which will be available to shop until the end of the month. Consider your fall reading list handled.
28
Everlane
Everlane Releases Power of 10 Capsule 29
Frame x Ritz Paris
Frame Drops Second Collab With Ritz Paris 30 Lele Sadoughi Opens West Village Boutique
Who: Lele Sadoughi
What: Store opening
Where: 387 Bleecker Street, NYC
Why: Downtown NYC is about to get a bit of Blair Waldorf-inspired sartorial flavor, because Lele Sadoughi is bringing her signature headbands to the West Village. The designer's new store, now officially open on Bleecker Street, features bold and bright interiors by Sasha Bikoff, and feels like you've literally transported to a jewelry box, in the best way.
31
Guest In Residence
Gigi Hadid Launches Cashmere Label Guest In Residence 32
LaQuan Smith
Nordstrom Introduces the "New New York" Center Stage 33
RIXO
RIXO Now Offers Extended Sizing 34
Tommy x Simon
Tommy Dorfman Teams Up With Simon Miller 35
Theory Project
Theory Debuts Capsule By Lucas Ossendrijver 36
Puma x Palomo Spain
Puma Releases Genderless Collab With Palomo Spain 37
Gabriela Hearst
Gabriela Hearst Opens Paris Pop-Up 38
Kate Young x Monica Vinader
Kate Young Collaborates With Monica Vinader 39
Tommy Hilfiger x Richard Quinn
Tommy Hilfiger Enlists Richard Quinn for Print-Heavy Collab 40 Loewe Reopens New York Flagship Store
Who: Loewe
What: Reopening of New York flagship
Where: 79 Greene Street, NYC
Why: Attention shoppers! Loewe's two-floor flagship in the heart of NYC's SoHo has reopened with a brand-new look. The main floor, which hosts womenswear and leather goods, is reimagined in dusty pink tiles, while the men's offerings are located upstairs, replete in forest green. Perfect timing to peruse the fall/winter collection which is now in stores. Get your balloon shoes while you can.
41
Raey x Suzanne Koller
Raey Taps Suzanne Koller for Fall Capsule Collab 42
Aerin x Tanner Krolle
Aerin and Tanner Krolle Join Forces on Chic Travel Collab 43 Sabyasachi Brings Baubles to Bergdorf Goodman
Who: Sabyasachi Mukherjee
What: High jewelry pop-up at Bergdorf Goodman
Where: Available at the Bergdorf Goodman Jewelry Salon
Why: Hot off the heels of opening his transportive NYC boutique (it's over 5,000 square feet and feels more like a palace than a retail space), beloved Indian designer Sabyasachi Mukherjee is bringing his latest high jewelry collection, dubbed "Bengal. Byzantine. Broadway." to the iconic New York retailer through Sept. 22. The maximalist designs echo the ornate saris for which the designer is well known, and aim to bring back the grand legacy of Bengal's history of handcrafted jewelry.
44 Mara Hoffman Brings the Relaxed Vibe of Her Upstate NY Home to West Elm
Who: Mara Hoffman
What: Collaboration with West Elm
Where: Available at West Elm
Why: "We share the same ethos around care, focusing on the planetary and human-centric side of the work," says designer Mara Hoffman of West Elm and her choice to partner with the retailer for her expansion into home goods. The 28-piece debut collection runs the gamut from case goods to lighting and features the same earthly (and versatile) palette of Hoffman's Upstate New York residence, where she now spends the majority of her time. For the designer, the items she has created are not merely beautiful but transformative: "When
you wake up and connect to something that makes you feel a higher frequency of beauty and love, you tend to see that in other people," she says.
45 Mirth Launches Knitwear
Who: Mirth
What: Knitwear launch
Where: Available at Mirth

Why: Founded by sisters Erin Breen and Katie McClure in 2016 after an inspiring trip to India, Mirth quickly became a go-to brand for tastemakers who shared Breen and McClure's love of caftans and appreciation for artisanal details. In no short order it grew into a full-fledged resortwear brand with the globetrotting duo traveling far and wide in search of the most unique textiles while always maintaining a commitment to ethical production. This season brings us to Peru, where the siblings developed their first collection of hand loomed knits in cozy mixes of alpaca and merino which will keep you in your breezy Mirth dresses well through the colder months. The best bit? Sales will benefit Awamaki, a Peruvian charity that supports female artisans.
Claire Stern Deputy Editor Claire Stern is the Deputy Editor of ELLE.com. Kevin LeBlanc Kevin LeBlanc is the Fashion Associate at ELLE Magazine.
Advertisement – Continue Reading Below