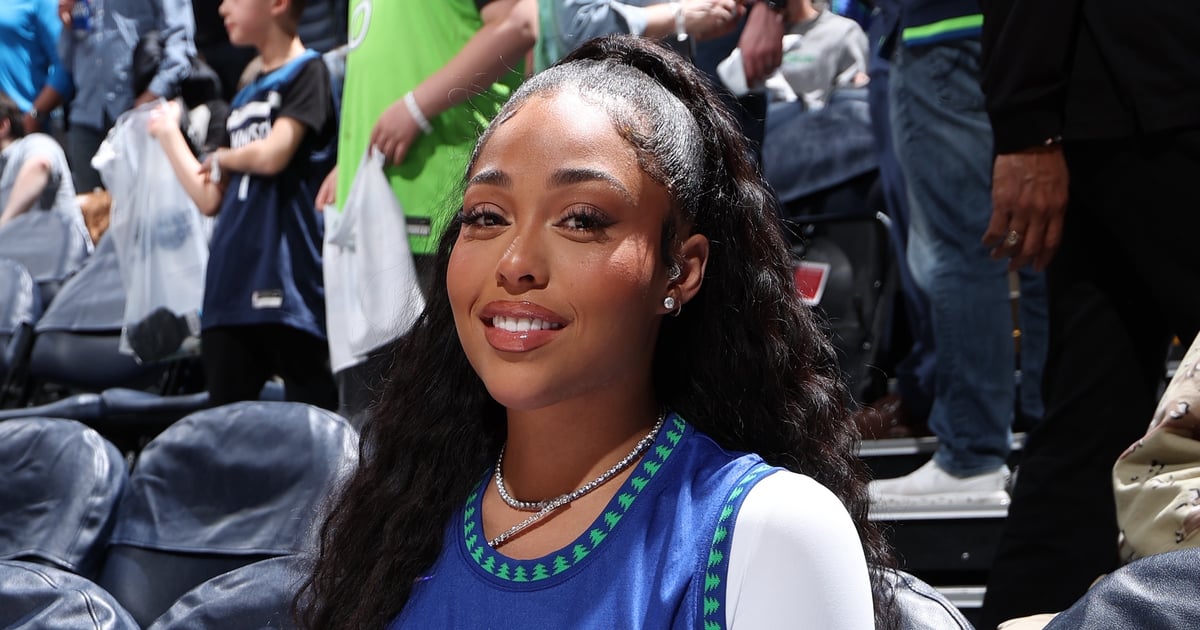 Jordyn Woods is setting the standard for courtside style. While attending boyfriend Karl-Anthony Towns's basketball game against the Los Angeles Clippers on April 12, the model showed her support by wearing a Minnesota Timberwolves No. 32 jersey. It wasn't just any ol' jersey, though — it was completely decked out with silver and green crystals on the front and back. Hand-customized by Rachel Saunders Soule, the bedazzled jersey sparkled as Woods sat in the front row and cheered on Towns's team to victory.
Woods's dedication to repping the Timberwolves' colors didn't stop there; she also rocked a pair of Balenciaga's famous "pantashoes" in royal-blue velvet. Hailing from the luxury fashion house's spring 2017 collection, the two-in-one leggings feature belt loops, a zipper, a button at the waist, and pointy-toed boots attached at the bottom. She layered a spandex long-sleeved shirt under her jersey for a sporty touch and amped up the glam with her accessories: a white Balenciaga shoulder bag, several layered bangles, diamond earrings, a sparkly necklace, and the diamond-encrusted watch Towns purchased for her 24th birthday.
It was an important game for Towns, as it took place one day before the two-year anniversary of his mother's passing due to COVID-19 complications. In an Instagram photo of herself embracing Towns on the court, Woods wrote, "This moment was so special to us because today is the 2 year anniversary of Jackie passing and I know how tough it's been doing all of this without her ️ so proud of you @karltowns … it's deeper than basketball!!"
Keep reading to see footage of Woods looking fashionable courtside.