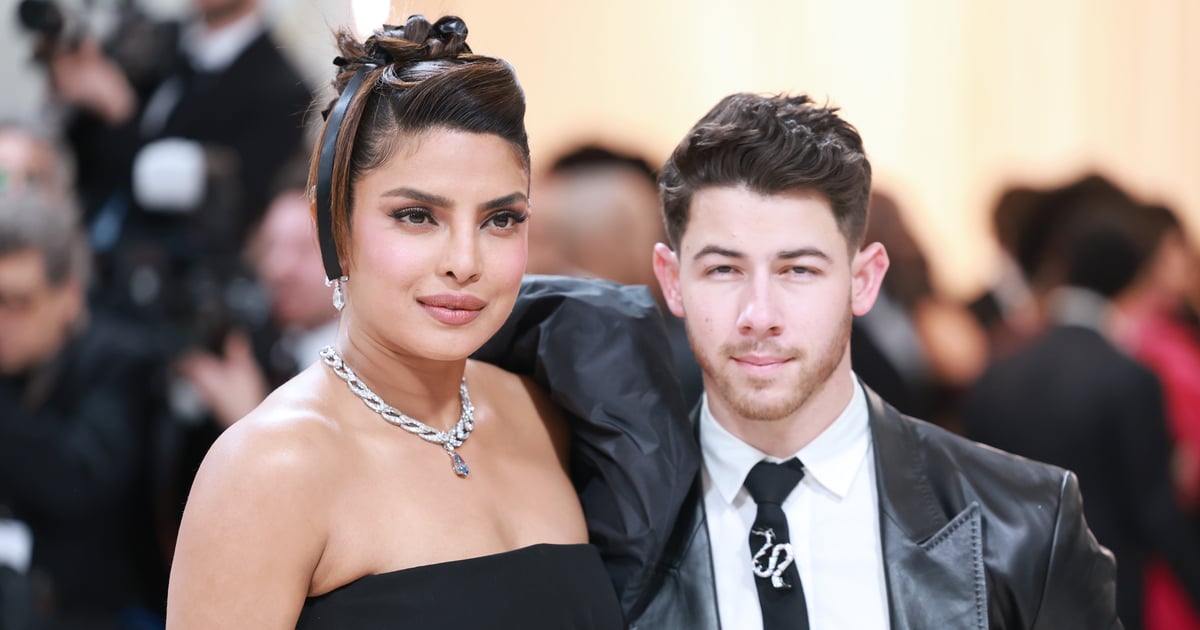 When it comes to Priyanka Chopra's style, she loves to show a little bit of subtle skin, and tonight's 2023 Met Gala red carpet was no exception to the rule. Stepping onto the red carpet with her husband, Nick Jonas, Chopra wore a hip-high-slit gown with a black-and-white voluminous cape. Her dress — which she styled with a diamond necklace, ankle-strap platforms, and a regal updo — felt like a tribute to Lagerfeld's signature color palette of black and white. By her side, Jonas wore a black leather blazer with a skinny black tie, another look worn often by the late designer.
Indeed, this year's exhibit is being held in celebration of Lagerfeld, who sat at the helm of major fashion houses such as Chanel, Fendi, and his own namesake label, to name a few. His style had been both classic and tailored as well as ethereal and light, making the fashion at this year's red carpet a true retrospective of his work. Chopra's look was fitting for the event, which stands as the opening of the Costume Institute's Karl Lagerfeld exhibit at the Metropolitan Museum of Art.
Be it a sheer gown or sliver of skin with a crop top and midi skirt, Chopra loves alluring trends that are chic and refined yet romantic at the same time. And whether she's celebrating the opening of a Culture Centre in India or on a tourist trip with her husband in Rome, she's mastered the look with ease.
Ahead, see Chopra's Met Gala 2023 look from several different angles.