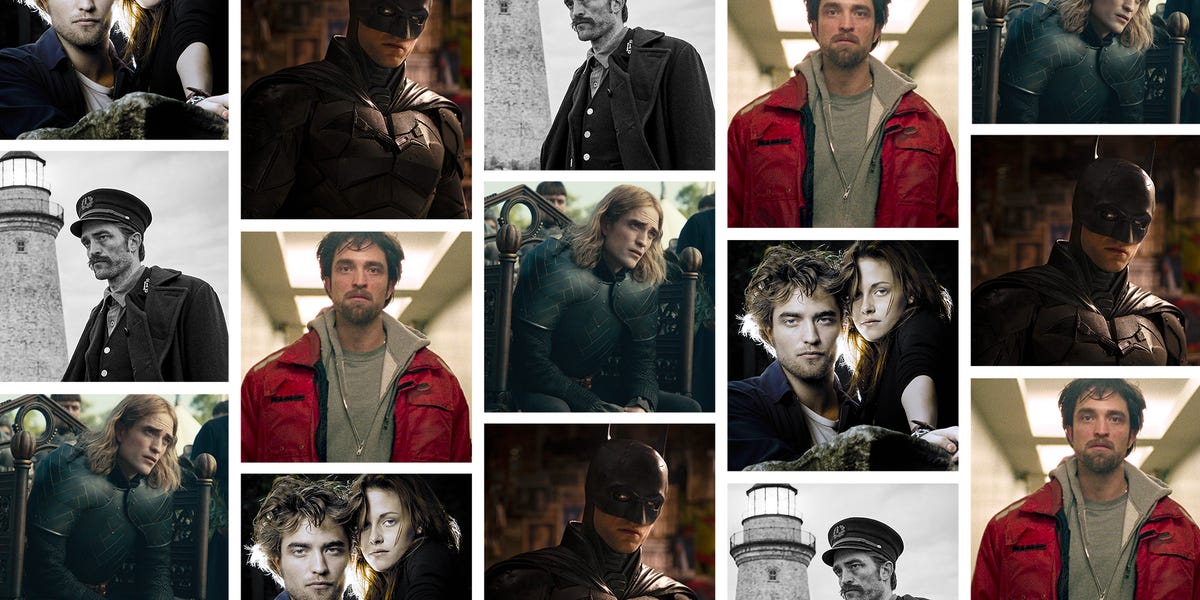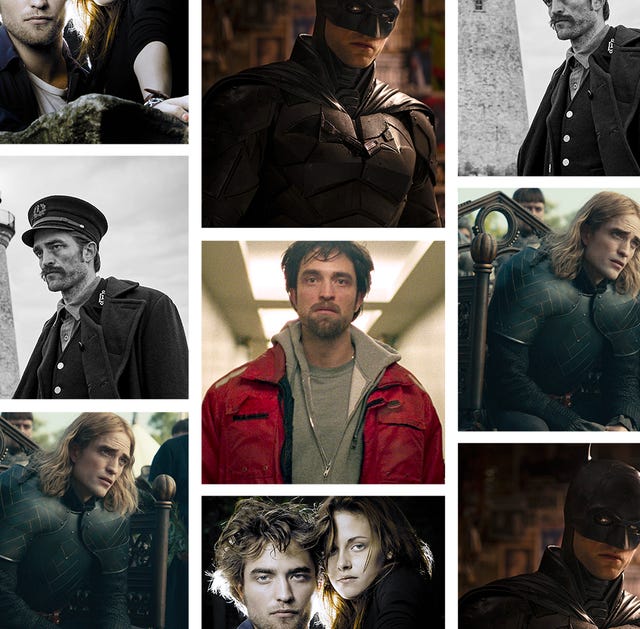 Everett / Getty Images / Netflix / Warner Bros.
After Robert Pattinson's role as Cedric Diggory in Harry Potter and the Goblet of Fire first put him on the map in 2005, Twilight catapulted the actor into global fame and transformed him into a full-blown Hollywood star. The last decade has seen Pattinson steer clear of big budget, mainstream productions in favor of working on the independent circuit. While his five movie run as romantic blood-sucker Edward Cullen has been the subject of much ridicule, Pattinson has since established that he is, in fact, a very good performer (and great liar) with a streak for making unpredictable choices.
Pattinson has proven time and time again that he can be both an indie darling and blockbuster leading man; from brooding vampire to bank robber, corrupt preacher to caped crusader, R-Patz can do it all. In his post-Twilight career, the British actor has consistently taken on unique roles that continue to push our expectations for him. He has worked with some of the most interesting filmmakers in the industry, including horror genius David Cronenberg, international auteurs like Claire Denis and Werner Herzog, and indie masterminds Robert Eggers and the Safdie Brothers.
To celebrate his return to the Hollywood blockbuster with The Batman's much-anticipated release in theaters, ELLE.com has ranked Pattinson's 10 best performances to date.
Advertisement – Continue Reading Below
Tenet marked Pattinson's return to big-budget productions after a string of indie films (who would pass up the chance to work with Christopher Nolan?). As Neil, Pattinson stars opposite John David Washington's The Protagonist (yes, that's the character's actual name) in this time-bending epic that charts the pair's journey as they fight terrorism and attempt to stop a possible world-ending catastrophe. It's a divisive film that rarely ever makes sense—Pattinson himself even admitted that he had no clue what Tenet was about—and doesn't give Pattinson much space to showcase his acting abilities to the fullest, but it does allow him to show that he can seamlessly lead action vehicles and auteur-driven films, all the while convincing us that he understands what's going on.
9 The Devil All the Time (2020)
The Devil All the Time should've worked—director Antonio Campos helmed the adaptation of Donald Ray Pollock's novel with a promising all-star cast including Tom Holland, Bill Skarsgård, Riley Keough, Sebastian Stan, and Eliza Scanlen—but the bleak, scattered Southern gothic ultimately doesn't. The highlight of this otherwise underwhelming film is the incredible set of performances; in particular, Pattinson's portrayal of Preston Teagardin, an insidious small-town preacher who grooms teenage girls from his congregation. Pattinson approaches the role and film in an energetic and almost comedic way that's starkly different from the rest of the ensemble, and his choice to have a high-pitched Southern accent, while inaccurate, serves as the best part of why he stands out.
Watch The Devil All the Time on Netflix
David Mîchod's 2019 retelling of a handful of plays from William Shakespeare's Henriad centers on the rise of Henry V (Timothée Chalamet) in the aftermath of his father's death. While this is Chalamet and his bowl cut's film, Pattinson nonetheless becomes the ultimate scene-stealer as Louis, The Dauphin. Introduced nearly an hour into The King, Pattinson's hilarious and borderline deranged portrayal of bob-sporting Louis is easily the film's most entertaining element and serves as the comedic relief of this otherwise serious historical drama. Pattinson has as much fun as possible by putting his own twist on the character, plus, his French accent is perhaps one of his many great contributions to cinema.
7 The Twilight Saga (2008-2012)
It's been nearly 15 years since Pattinson's pale white, brooding vampire Edward Cullen turned him into a teen heartthrob and bonafide movie star. Over the course of five bonkers movies based on Stephenie Meyer's wildly popular YA series, Edward goes from being entangled in a dramatic love triangle with Kristen Stewart's Bella Swan and Taylor Lautner's Jacob Black to having a chaotic marriage to Bella, all the while battling the many vampire-related issues that arise in their seemingly small town. While Pattinson's acting abilities throughout this series can certainly be doubted (and have been), there's no question about the impact his role as Edward had on pop culture (see: the decades-long debate between Team Edward and Team Jacob, and the Twilight resurgence as of late). Without Edward Cullen, Pattinson's career likely would've taken a much different path, and he's since embraced the cultural significance of this lucrative series after years of notoriously having a love/hate relationship with it.
Watch the Twilight saga on Peacock Premium
The first of Pattinson's collaborations with David Cronenberg (the second being 2014's Maps to the Stars, which featured him in a smaller yet memorable role), Cosmopolis was released the same year as the final Twilight installment, The Twilight Saga: Breaking Dawn – Part 2, serving as his transition out of the mainstream and into what would become a passion-driven career. In this adaptation of Don DeLillo's 2003 novel, Pattinson is Eric Parker, a loathsome billionaire tech bro who, while riding around New York City in a stretch limo, watches the world around him fall apart but never seems to be phased by it. Pattinson delivers a nuanced and minimalist performance that proved he had the range to tackle any sort of film.
5 The Lost City of Z (2016)
An adaptation of David Grann's novel of the same name, The Lost City of Z follows British officer Percy Fawcett's (Charlie Hunnam) decades-long quest for an undiscovered civilization in the depths of the Amazon jungle in the 1920s. Taking on the rare supporting role, Pattinson plays Corporal Henry Costin, Fawcett's deeply loyal and equally committed second-in-command. As Costin, Pattinson disappears behind a thick beard and gives a restrained performance that proves he can be a character actor just as well as he can carry a film. His screen time in this James Gray film is limited, but Pattinson makes the most out of his sparse presence to portray a fleshed-out character.
Watch The Lost City of Z on Amazon Prime Video
In Matt Reeves' gritty interpretation of Gotham City, Pattinson fills the shoes of reclusive billionaire Bruce Wayne and his caped alter-ego Batman. It's difficult to take on a role that has already been portrayed by a handful of top-tier actors, including the likes of Michael Keaton and Christian Bale, but Pattinson succeeds at putting his own compelling twist on Batman, capturing the masked, smoky-eyed vigilante in all of his emo glory. Not to mention, the chemistry between Pattinson and the mesmerizing Zoë Kravitz—who perfectly plays Selina Kyle a.k.a. Catwoman—is off the charts, and we hope to see more of them in action in the future.
Here, Pattinson collaborated with French genius Claire Denis on her English-language debut, High Life. In this hypnotic and chilling sci-fi thriller, he plays Monte, a convicted prisoner sent to space on an experimental mission on which everyone besides he and his infant daughter, Willow (Scarlett Lindsey), dies. As Monte faces the challenges of fatherhood in isolation while hurling towards a black hole, Pattinson imbues him with subtlety and serves as High Life's emotional core.
In Robert Eggers' black-and-white psychothriller with horror elements, Pattinson and Willem Dafoe make a powerful on-screen duo as two depraved lighthouse keepers, Ephraim Winslow and Thomas Wake, respectively, stranded together on a remote New England island. Fully committed to the increasingly unhinged story as the men slowly descend into madness, Pattinson embraces the intense physicality of the role while never overpowering the film's overall tone. The Lighthouse is an epic showcase of both Dafoe and Pattinson's talents, and it feels like an encapsulation of every role Pattinson has played leading up to this film.
Watch The Lighthouse on Amazon Prime Video
As low-level criminal Connie Nikas in this visceral Safdie Brothers film, platinum blonde Pattinson is equal parts terrifying and charismatic. After Connie and his mentally disabled brother, Nick (Benny Safdie), fail to rob a bank, Nick ends up getting arrested and Connie spends the rest of the film frantically rushing through the underbelly of New York City to help free him from Rikers Island, manipulating everyone—from his older girlfriend (Jennifer Jason Leigh) to a teenage girl (Taliah Webster)—in his path. This gritty, panic attack-inducing film marked a new chapter in Pattinson's career, and similar to the career-best performance drawn out of Adam Sandler in Uncut Gems, the Safdies showcased Pattinson's best performance to date.
Jihane Bousfiha Jihane Bousfiha is a Florida-based entertainment writer whose work has appeared in Paste Magazine, Vulture, W Magazine, Thrillist, and more.
This content is created and maintained by a third party, and imported onto this page to help users provide their email addresses. You may be able to find more information about this and similar content at piano.io
Advertisement – Continue Reading Below