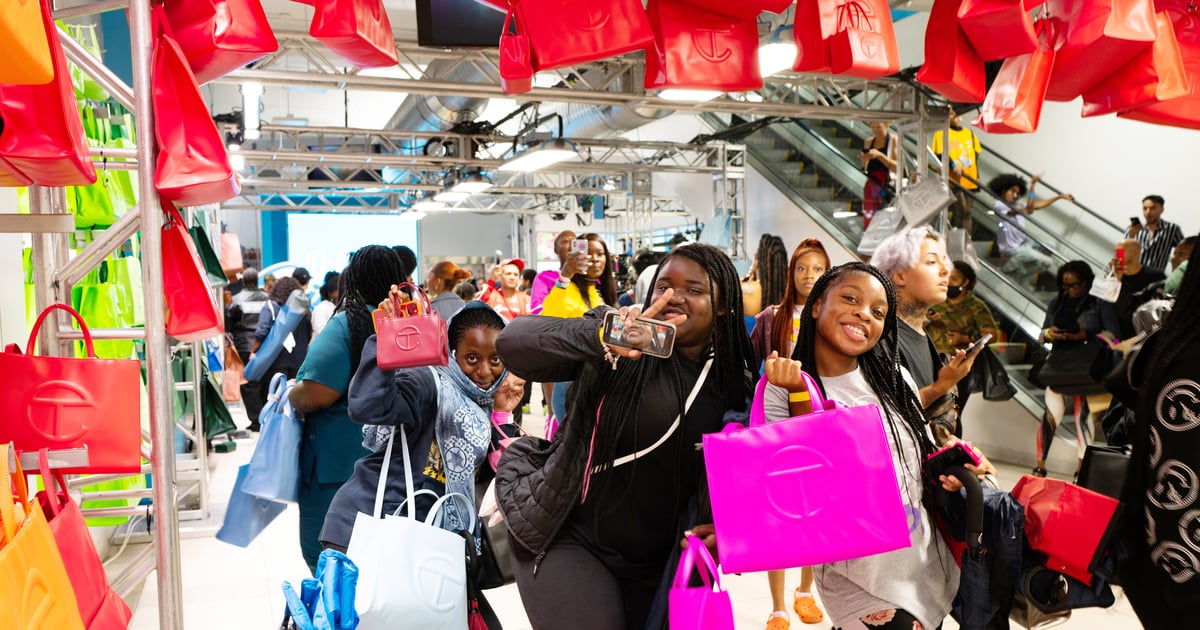 Following a successful event at the Rainbow store in Brooklyn on September 11, Telfar is bringing the Rainbow drop that had thousands of customers lined up at the Fulton Street mall online. Those who missed the physical sale will have the chance to snag up to five bags per customer, in any color or size while supply lasts starting Friday, September 23 at 12pm ET. There is no pre-order, everything will ship immediately.
The brand shared the news on Twitter, and fans couldn't hold their excitement. "Girl! I wanna run up a check hunny!," one user wrote. Another person echoed the sentiment, writing, "Me calculating how much i wanna spend vs how much im gonna spend" alongside a funny math meme. Meanwhile, others suggested keeping the news secret. "Delete this so I have a better chance lol," someone else replied under the announcement tweet.
The Rainbow drop is the latest in a series of releases customers simply can't get enough of.Telfar's Shopping Bag, commonly known as the "Bushwick Birkin," is an It bag like none other. Featured on shows like "Insecure" and endorsed by celebrities like Beyoncé and Lil Nas X, the rectangular carryall is not only a hot commodity, but for many, it's also a powerful symbol of representation. When Liberian American founder Telfar Clemens launched his unisex label in 2005, he specified in his mission statement that he aims to redefine luxury. Rather than create a culture of exclusivity, his approach to luxury is "not for you, for everyone." And with Shopping Bag styles retailing from $150 to $257, Clemens is indeed making luxury more accessible and inclusive.
All of this, plus the fact that the bags are vegan friendly and extremely functional, causes every Telfar bag drop to sell out in a matter of seconds, whether it's a new colorway or an entirely new design. So fast, in fact, that the brand launched the Bag Security Program to ensure everyone who wants a Telfar bag can purchase one. Through the Bag Security Program, customers can buy as many Shopping Bags as they desire; the items are then made to order and shipped by a certain date.
There's never been a better time to secure the bag, so read on for everything you need to know about purchasing a Telfar style of your own.