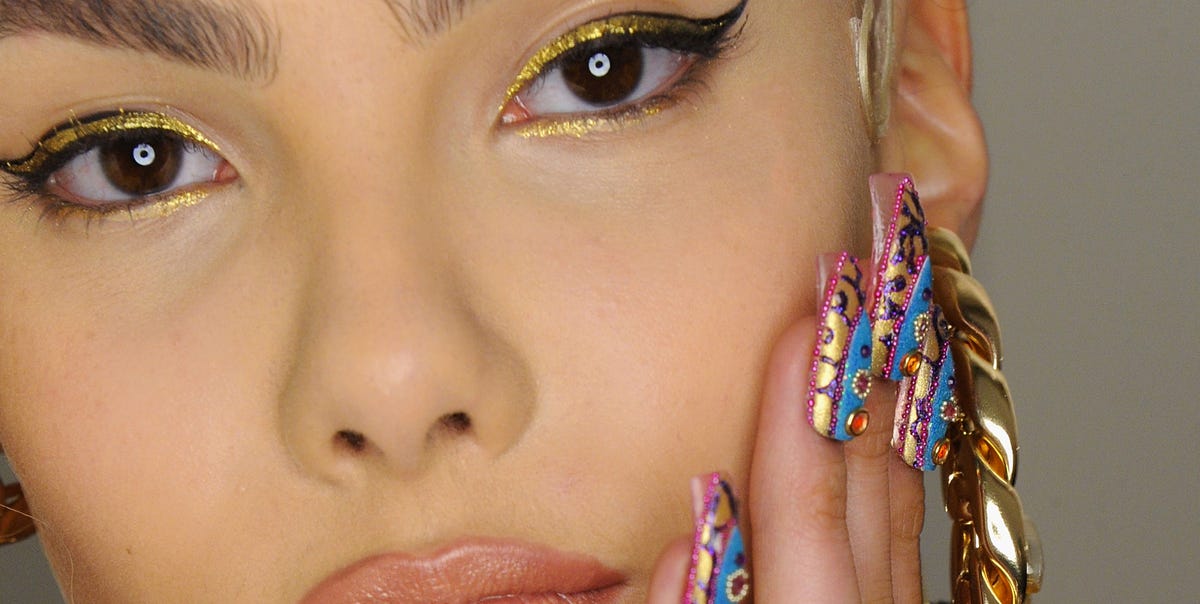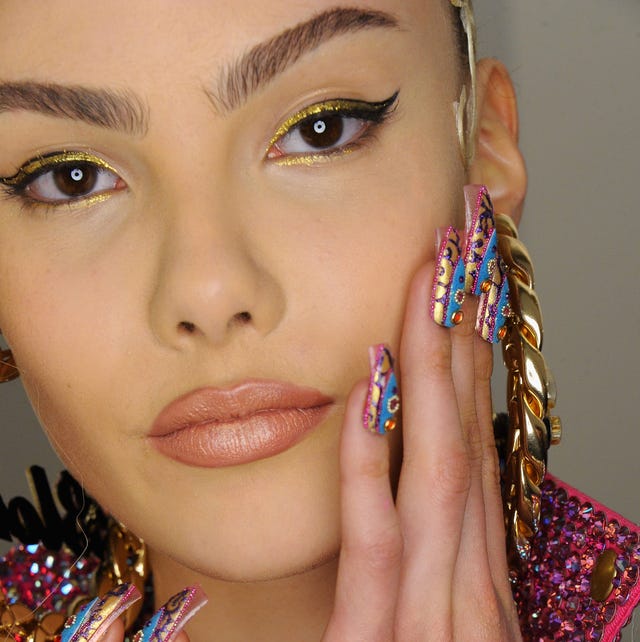 Jennifer GraylockGetty Images
Here's an overview of what happens when I try to grow my nails long: They start looking dirty almost immediately, they slowly move past my nail bed at a snail pace, and as soon as my nails get to a length where chicness is on the horizon, they break. Of course, I could head to a salon for some expertly done nail extensions, but who has the time? Besides, as much as I love having long nails now and then, I can't deny that they make typing or buttoning up jeans slightly more complex. What I want is an easy, inexpensive, temporary set of claws that won't rip off the top surface of my nails when they come off.
Enter press-ons, once hailed by girls in the early '00s but quickly forgotten, along with low-rise jeans and butterfly clips. Seeing as we're having an early naughts revival, press-ons are once again back in center stage, this time with a new level of cool and chic that they didn't have a few years ago. Below, find nine of the best press-on nails that you can plop on and take selfies with all summer long.
Advertisement – Continue Reading Below
1
Best Overall
Glamnetic
Reusable Press On Nails 2
Best For The Minimalist
Static Nails
Square Pop-On Reusable Manicure Set 3
Best For Beginners
Edary
Oval False Nails Geometric Lines Press on Nails Abstract 4
Best For Nail Art
Chillhouse
Checked Out Chill Tips 5
Best For No Mess
KISS
imPRESS Color Press-On Manicure 6
Best For Sizing
Olive & June
The Instant Mani Press-On Nails 7
Best For Selfies
Quickies
Loverboy Press On Nail Set 8
Best For A Budget
Lottie London
Abstract Swirl Press On Nails 9
Best For Damaged Nails
Dashing Diva
Magic Press on Nails Stay Palm 10
Best For Events
Clutch Nails
Press On Nails 11
Best For Fancy Nails
Tip Beauty
Selfie Luxury Artificial Nail
What is the best way to apply press-ons?
"The best way to apply press-on nails starts with prepping your nails," says Mcferran. "Push down on your cuticles and clean your natural nails with the alcohol pad in the kit. Then find press-on nails that fit your nail. Apply glue on both your nail and press and nails and apply."
What's the best way to remove press-ons?
"The best way to remove your press-ons would be to soak your hands in warm water with oil and dish soap for 10 minutes," says Mcferran. "Then grab either your cuticle stick or use the edge of a press-on nail to gently pop off your the press-ons on your nails. Never force the nails to pop off because that can result in damage. If a press-on nail is being stubborn, soak for 5 more minutes before trying again."
How can people make their press-ons look more natural?
"Definitely prep and clean your cuticles to ensure a seamless look. Also making sure to pick press-on nails that are slightly smaller than your real nails will help with sizing," says Mcferran.
How can people avoid damaging their natural nails when applying press-ons?
"Making sure to follow the removal steps can help people avoid damage to your real nails," says Mcferran. "Also following up with cuticle oil and lotion to keep your hands hydrate will also help."
Tatjana Freund Beauty Commerce Writer Tatjana Freund is a Beauty Commerce Writer, covering makeup, skincare, and haircare products and trends.
Advertisement – Continue Reading Below