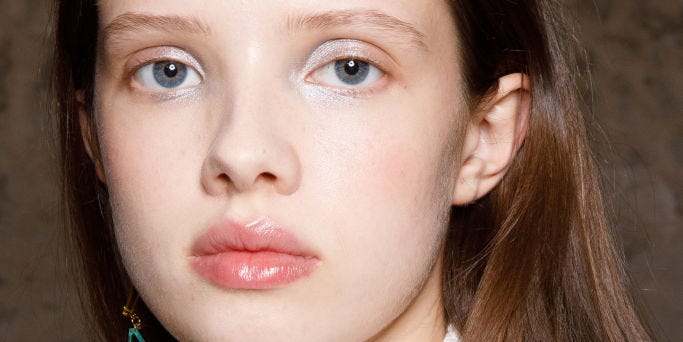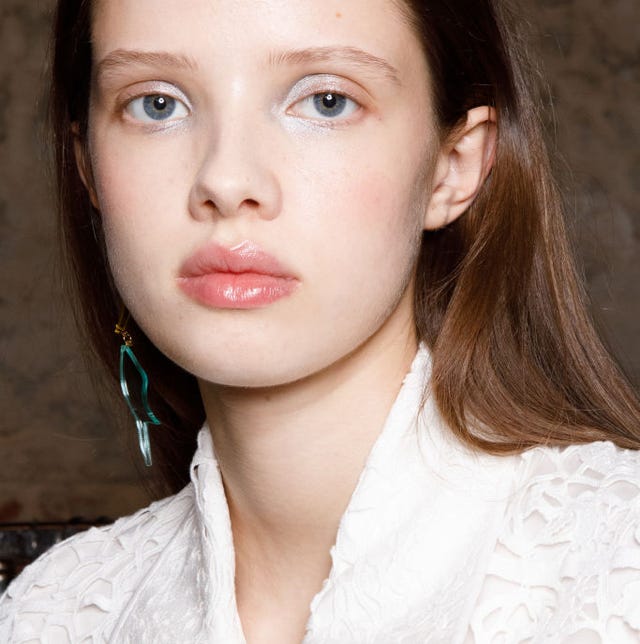 Rosdiana CiaravoloGetty Images
Keeping my lips super hydrated is one of my top beauty priorities, not only because I love the sheen of a glossy pout, but also because when my lips are dry, I compulsively pick at them, which leads to patchiness and somehow, even more dryness. I'm the person who can't fathom leaving the house without a lip balm in my purse (or several). In my endless search for kissable lips, I've stocked up on quite a few lip masks—thicker creams that really last. But what are lip masks, exactly? Dermatologist Dr. Karan Lal is here to explain.
What's the difference between a lip balm and a lip mask?
"Lip balms are commonly used to treat dry chapped lips," says Dr. Lal. "Lip balms are meant to prevent further water loss like a sealant. Lip masks on the other hand are meant to hydrate the lips overnight." Ingredients like mineral oil, petrolatum, shea butter, cocoa butter, beeswax, and carnauba wax are all great ingredients to look for in these thicker lip products that help banish flaking and chapping.
Who should use a lip mask?
"Anyone can use a lip mask. They help hydrate dull and dry-appearing lips," says Dr. Lal. According to Lal, in addition to soothing dryness, lip maks can also make lips look more plump and full. "I look for lip masks that have sunflower oil, vitamin E, coconut oil, and hyaluronic acid," Lal adds. You can [also] simply use petrolatum oil or natural sunflower oil at night and get phenomenal results."
Here are 15 of our favorite lip masks for totally kissable lips.
Advertisement – Continue Reading Below
A fan favorite amongst, well, everyone, this overnight lip mask comes in a range of scents and flavors. It uses hyaluronic acid, antioxidants, vitamin C, and plenty of natural extracts to deeply moisturize your lips.
A personal staple, this super-thick lip mask ensures that your lips are hydrated all night long. It uses camellia oil, squalane, and Japanese pear extract to get the job done. I don't leave my house without this in tow.
3 Sugar Advanced Therapy Recovery Lip Mask
With berry wax, shea butter, and hyaluronic acid, this treatment contains the holy triad of moisturizing ingredients. Use it at night for lips that will feel replenished by morning, or continuous deep moisture, dab some on throughout the day like a standard balm.
4 Lip Wrap Overnight Treatment
While hyaluronic acid keeps your lips hydrated, papaya enzymes gently remove dead skin cells and dry patches from your lips. That means your lips will be less likely to get dry over time.
5 Buttermask Lip Smoothing Treatment
This mask uses mango butter and coconut oil to leave your lips feeling soothed and hydrated throughout the day. Plus, it smells so yummy, you'll be excited to reapply.
6 Boost Your Radiance Day Lip Treatment & Sleeping Mask
This is a mask, balm, and lip gloss all in one. Using shea butter to moisturize and collagen-bosting peptides to plump, you'll be amazed that your lips can feel–and look–this good.
7 Agave+ Intensive Vegan Lip Mask
For truly intense recovery, this mask uses natural and vegan extracts like soothing agave and antioxidant-enriched acai to protect lips. The treatment also comes in a tinted version that doubles as a super hydrating lip stain.
8 Sweet Lips Overnight Lip Mask & Balm
With shea butter and healthy waxes, this mask smells good enough to eat. It's a great dupe for some of the pricier lip masks on the market, and truly seals in moisture while you sleep.
9 Forget The Filler Overnight Lip Plumping Mask
While shea butter and hyaluronic acid moisturize your lips, this mask also comes with incredible plumping capabilities that intensify your lip's natural volume. Moisture and plumping all at once? Sign me up.
With a cocktail of shea butter, cupuacu butter, and hyaluronic acid, this mask has everything you need for intensely hydrated lips. It's also a great product to put on while you're doing your makeup to prep for a matte lipstick.
If your lips have been through a lot, this mask taps hydrating aloe vera to soothe aggravated skin. You'll immediately notice a difference when you put it on, and the results only get better with time.
12 Melatonin Overnight Lip Mask
This treatment uses a blend of antioxidant-rich extracts like goji and blueberry to breathe some life and hydration back into dry lips. You'll feel prepared for any smooching sessions or just trying out a new lipstick.
If you want a product that works hard for you, this lip mask is it. The formula contains shea butter, vitamin E, and coconut oil to soften, protect, and hydrate dryness.
14 Ageless Phyto-Retinol Lip Mask
Lips are one of the first areas on our faces to show signs of aging. This mask uses a gentle, plant-derived retinol alternative to target fine lines specifically on the mouth. At the same time, hyaluronic acid in the formula hydrates and plumps your lips.
15 Overnight Conditioning Repairing Lip Mask
This mask contains a mixture of shea butter, vitamin E, castor oil, and hyaluronic acid to dramatically improve your lips' texture overnight. If you incorporate this product into your nightly routine, you'll notice a difference almost immediately.
This content is created and maintained by a third party, and imported onto this page to help users provide their email addresses. You may be able to find more information about this and similar content at piano.io
Advertisement – Continue Reading Below