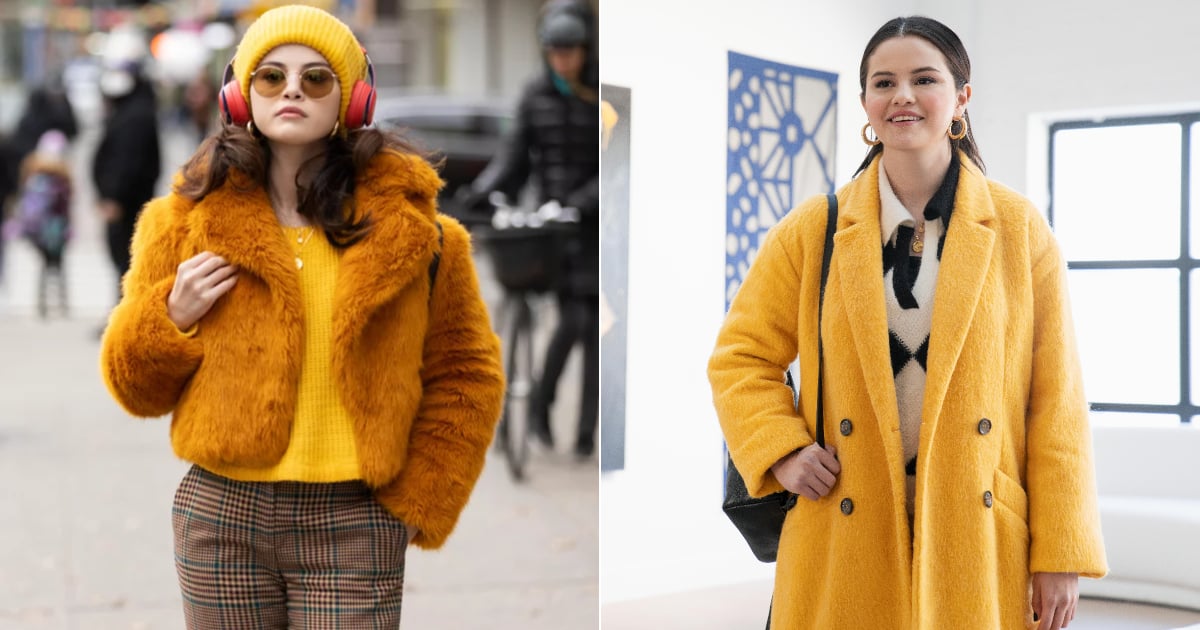 It would be hard to steal a scene from legends like Steve Martin and Martin Short, unless, of course, you're Selena Gomez's perfectly fuzzy coat in Hulu's "Only Murders in the Building." The show is back with season two plus a bundle of increasingly significant outerwear — and costumes in general — curated by Dana Covarrubias.
"This is no longer a show about murders in a building . . . this is a show about COATS!"
The series introduces new characters who step onto the scene and end up influencing Mabel's (Gomez) wardrobe. Alice (played by Cara Delevingne), for one, opens Mabel's eyes to the art world and encourages her to tap into her creative side in bold, splashy patterns. When they meet, Mabel is wearing a tangerine Nanushka dress, a sheer watercolor-print trench by Dries Van Noten, and knee-high boots from By Far that, according to an email exchange with Covarrubias, were put together to make her look like a painting. Covarrubias said that Gomez loved wearing the '70s-vintage, silver-sequined "disco ball dress," which was a new silhouette for Mabel, and, as expected, her lineup of vibrant, textured coats.
"In season two, we had an inside joke amongst the costume department crew that this is no longer a show about murders in a building . . . this is a show about COATS!" Covarrubias said. "The coat is an essential element to any detective's look. Each of our main characters has an iconic coat and a special relationship to their coat." Mabel, whose coat is her armor and a way to protect herself from the outside world, wears jackets sourced from The RealReal, The Outnet, Farfetch, local NYC thrift shops like Beacon's Closet, Bloomingdale's, and Saks Fifth Avenue.
Ahead, you can uncover even more secrets about the careful intention behind Mabel's outfits, color palette, and jewelry — and learn where you can shop her signature gold hoops and layered necklaces that have made their way from season one to season two.