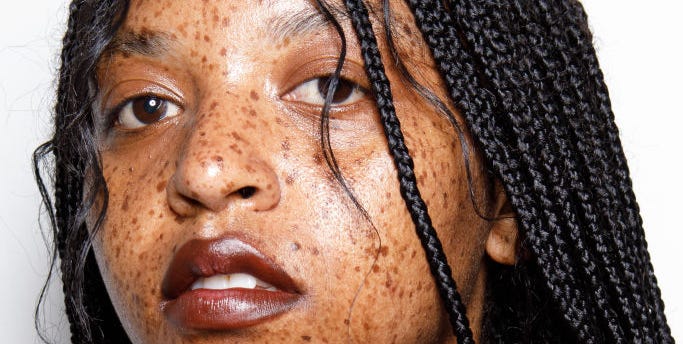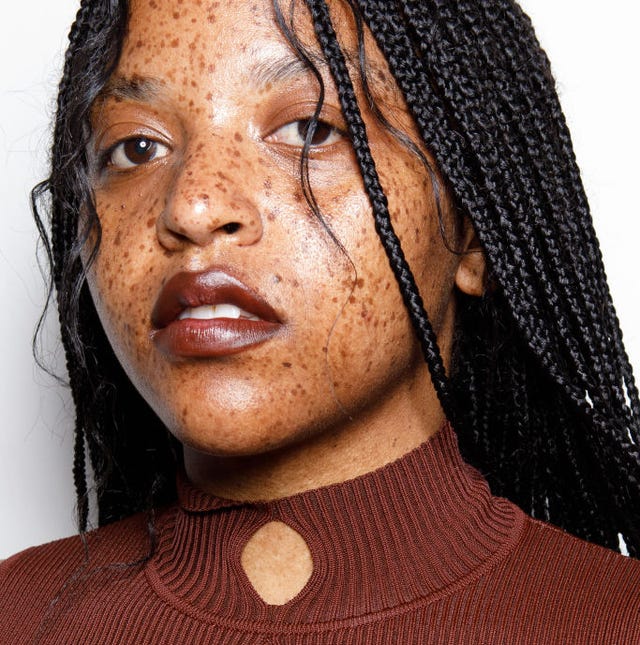 Rosdiana CiaravoloGetty Images
When it comes to skincare ingredients, there are very few that are as hyped-up as vitamin C. It brightens, fades, tightens, it probably files your taxes on time. With so much information out there–maybe too much—it can feel overwhelming, trying to figure out what's true and false about vitamin C . Should you choose a formula with clinical vitamin C or vitamin C derived from natural extracts? Should you go for a 5% formula, or 20%? Are you even a good candidate for this ingredient? I turned to Dr. Karan Lal, dermatologist and owner of some seriously glowing skin, to answer the most pressing questions about vitamin C serums.
What Is Vitamin C?
"Vitamin C is a topical antioxidant that has many beneficial properties. It reduces hyperpigmentation, stimulates collagen production, and acts as a cofactor for many cellular processes to maintain natural glowing skin," says Dr. Lal. "Most of all, it scavenges free radicals that we come in contact with every single day."
Is Vitamin C Safe?
"[Vitamin C] is a powerhouse ingredient but it is also one that is not universal in its efficacy," says Dr. Lal. "Vitamin C can be irritating at concentrations at or above 20%, so ideally pick a 10% concentration." In addition, Lal say to make sure you look for L-ascorbic acid which is the true active form of vitamin C. "Some products have vitamin C derivatives and claim to be a certain percentage but after application are actually not as strong."
"Vitamin C is photolabile which means it gets degraded with exposure to sunlight. It also degrades upon exposure to air. For this reason, keep your vitamin C product in a dark place and make sure you tightly close your bottle to prevent breakdown of the product."
Who Should Use A Vitamin C Serum?
"In truth everyone should be using a vitamin C product due to its reparative properties," says Dr. Lal. "However, those with dry sensitive skin, or acne, should be careful and start out slow to prevent breakouts." Lal also notes that serums are lightweight and usually combined with agents that allow for better penetration, whereas creams and lotions are meant to stay on top of the skin and work superficially. "Vitamin C serums take at least 12 weeks to take effect because it takes time for new cells to regenerate and for pigment to start clearing," she adds.
To get the glowing skin of our dreams, here are 24 vitamin C serums we love.
Advertisement – Continue Reading Below
1 Pure Vitamin C Face Serum
This serum does it all: It uses vitamin C to brighten and improve skin texture, hyaluronic acid to add moisture and plumpness to the skin, and salicylic acid to reduce oiliness that leads to breakouts. The end result is radiant, glowing skin that's hydrated and blemish-free.
With a cocktail of vitamin C, hyaluronic acid, vitamin E, jojoba oil, and witch hazel, this serum fights signs of aging by improving the skin's texture. Plus, the potent vitamin C also helps combat dark spots and hyperpigmentation.
3 Vitamin C Antioxidant Serum
This powerful yet gentle serum uses a version of time-released vitamin C in it's formula, so that the antioxidant effects of the ingredient last you throughout the day as you wear it. It's also made up of primarily naturally-derived ingredients, so you can be sure you're not putting your skin through too much stress.
4 Vitamin C+B+E Ferulic Serum Dr. Lara Devgan Scientific Beauty
This serum is a triple threat, using vitamins C, B, and E to target some of the skin's most common issues, like dullness, signs of aging, enlarged pores, and more. It's created by the incredible plastic surgeon Dr. Lara Devgan, and the before and afters she posts on Instagram are enough to convince any skeptic.
5 Vital C Hydrating Anti-Aging Serum
Environmental damage, like pollution, is often the culprit behind many of our skin's woes. That's why this vitamin C-infused serum actively fights and protects against environmental aggressors on your skin. That means a less inflamed, smoother, happier complexion.
6 C E Ferulic® with 15% L-ascorbic acid
Beloved by many a smooth-skinned celeb and knowledgeable dermatologist, this brightening serum contains vitamin C, vitamin E, and ferulic acid to replenish the skin. Because vitamin C can be very unstable in skincare, the addition of ferulic acid helps it last longer–and work better.
7 Vitamin C Serum with Hyaluronic Acid
For sensitive skin, this vitamin C serum is super lightweight and fragrance free, but still makes a powerful impact on your skin. It also contains hydrating hyaluronic acid, so your skin not only appears brighter and more even, but plumped and youthful.
8 Brightening Treatment Drops Triple Vitamin C Serum
With a combination of vitamin C, natural extracts, and pro- and prebiotics, this powerful serum wants your skin to look as radiant and bright as possible. Dull skin and dark spots don't stand a chance.
9 C-Firma Vitamin C Day Serum
To combat dark spots caused by sun damage, this vitamin C-packed serums works overtime to fade those marks, all while firming and plumping dull skin. To keep the serum working harder for longer, it comes in two parts that you shake together when the product arrives, to create your skin's favorite cocktail.
10 Universal C Skin Refiner
For fast and effective results, this serum contains 20% potent, stable vitamin C to brighten, firm, and smooth textured skin. It doesn't mess around, so be ready to notice results faster than you were expecting.
11 Squalane + Vitamin C Dark Spot Serum
While vitamin C helps fade dark spots on the skin, the combination of squalane and natural extracts protect the skin from future photo-damage. That means that overtime, you'll notice your skin tone becoming more even, and supple.
12 C.E.O. 15% Vitamin C Brightening Serum
In the short term, this powerful serum will help skin look radiant and glowy, like you just got a facial. But with continual use, the combo of vitamin C and glycolic acid fade dark spots, hyperpigmentation, reduce pore visibility, and smooth out the skin's texture.
13 Vitamin C Concentrated Serum
This fragrance-free serum combines vitamin C, hyaluronic acid, and aloe vera for potent yet gentle results. While the vitamin C brightens and soothes signs of aging, hyaluronic acid plumps and hydrates the skin. For an extra dose of relaxation, aloe vera soothes the skin and quells any irritation.
14 The Good C Vitamin C Serum
This celeb-favorite skincare line created a very powerful yet gentle vitamin C serum that's perfect for anyone with reactive skin. Using a combination of synthetic and naturally-derived vitamin C, your skin will be red carpet ready and glowing in no time.
15 15% Vitamin C and EGF Brightening Serum
For skincare minimalists, this targeted vitamin C serum brightens and reduces dark spots on the skin. It's also very lightweight, making it ideal for anyone concerned about clogged pores or breakouts.
16 LiftActiv Vitamin C Serum
With vitamin C, hyaluronic acid, and plenty of antioxidants, this anti-aging formula corrects and treats dullness, fine lines, and dry skin. With so many potent ingredients in one bottle, you can probably cancel your next facial appointment.
17 Violet-C Brightening Serum 20% Vitamin C + 10% AHA
To maximize your skin's glow, this serum contains both vitamin C and gentle chemical exfoliants to completely transform your skin's texture overtime. For anyone irritated by dark spots or slight scarring, this serum will definitely make a difference.
18 Rapid Tone Repair 20% Vitamin C Brightening Serum Capsules
These little ampoules contain a strong form of vitamin C to brighten and even skin discoloration. Not only are they fun to pop open and use, but the capsules are created using seaweed, and they are biodegradable in water.
Omorovicza uses vitamin C to stimulate collagen in your skin, leading to a more plumped, youthful texture. The milky formula absorbs quickly, while still leaving your skin feeling nourished and hydrated.
20 PlantGenius Brightening Survival Serum
This product uses a combination of natural extracts to give your skin an overhaul. With glycolic acid, lactic acid, hyaluronic acid, vitamin C, and the retinol-alternative bakuchiol, your skin will be so glowy that people will wonder who your facialist is.
With vitamin C, peptides, and vitamin E, this serum is resolved to brighten dull skin. Depending on your skin's sensitivity, you can either use the product alone, or add a few drops to your favorite moisturizer for a more diffused but equally as effective application.
This clean serum uses vitamin C, witch hazel, aloe, and jojoba oil to nurture and brighten the skin. It leaves the skin looking glowing and healthy, and also works great under makeup as a primer.
23 Radiant Reveal Clean Brightening Vitamin C Serum
For skin that's both dry and dull, Rose Inc.'s serum uses squalane and vitamin C to treat these common issues. Created by model Rosie Huntington-Whiteley, we can only hope that with consistent application our skin will transform into hers.
With a combination of vitamin C, collagen, and lavender oil, this serum is both efficacious and soothing in one. It brightens, smooths, and plumps all while smelling like the most luxurious spa.
This content is created and maintained by a third party, and imported onto this page to help users provide their email addresses. You may be able to find more information about this and similar content at piano.io
Advertisement – Continue Reading Below