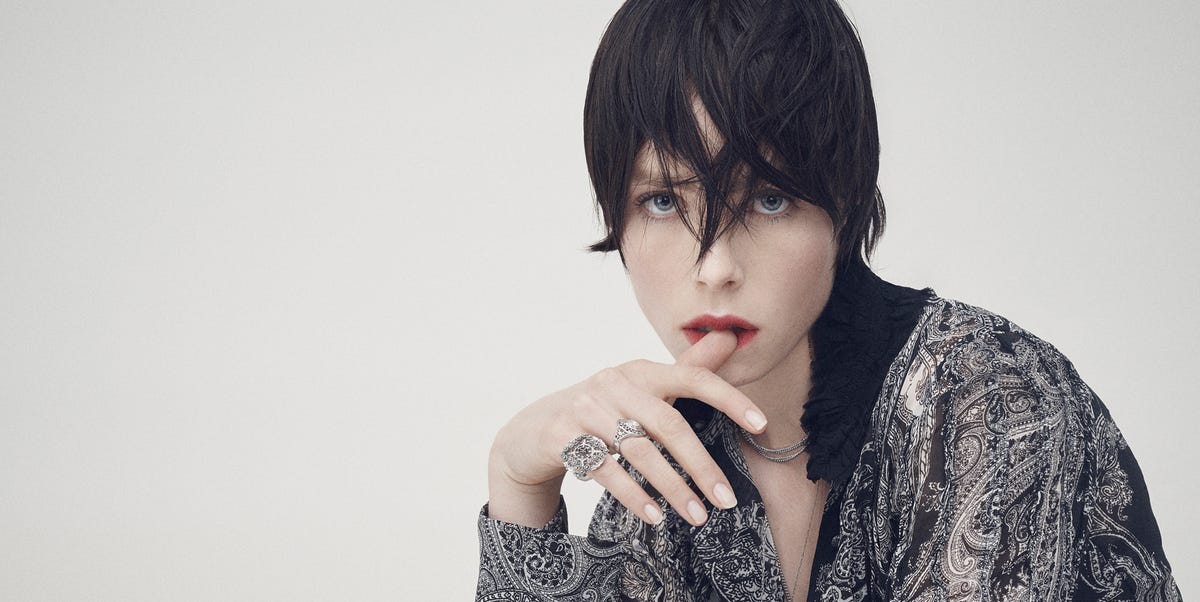 Spring is (finally) on the horizon, and the spectrum of transitional style is sure to bring a wide array of launches. As the ground thaws and flowers begin to bloom, keep an eye here for all of your up-to-date fashion news. From Zara Studio's new spring drop to Golden Goose's debut eyewear collection, here's what to look out for—and covet—this month.
1 Zara Studio Introduces Spring/Summer Collection
Who: Zara
What: Zara Studio SS22 collection
Where: Available online at zara.com and in Zara stores worldwide
Why: Zara Studio, Zara's premiere line focused on quality, craftsmanship, and elevated style, releases collections biannually, and spring/summer 2022 is finally here. Designed in close collaboration with creative director and style legend Karl Templer, the latest pieces have a more feminine bent than previous offerings, leaning heavily into lace, eyelets, and paisley, along with a muted color palette that is as refined as it is romantic. Studded boots, big belts, and razor-sharp tailoring perfectly counter the frilly, fanciful dresses and blouses. To sum it up, the new designs attempt to describe the Zara woman as someone who is feminine yet grounded in reality—just like its cast of models, including Edie Campbell, Tess McMillan, and Georgia Palmer.
2 Golden Goose Debuts First Eyewear Collection
Who: Golden Goose
What: Debut line of sunglasses
Where: Available online at goldengoose.com and in select stores worldwide
Why: Venetian luxury brand Golden Goose ventures into the eyewear category with its new vintage-inspired collection of sunglasses. Golden Goose Sunframes is an expansion of the brand's travel-focused essentials, made for folks who like to accessorize with a, ehem, personal flair while on the move. The distinctive detail on each pair of sunnies is Golden Goose's trademark star icon, sans dirt. The original five frames embody a range of trends from the past, from a mid-century-style shape to a revamped aviator. Take this launch as a golden opportunity to soak up the sun.
3 New Balance Launches Uni-ssentials
Who: New Balance
What: Genderless sportswear line
Where: Available online at newbalance.com
Why: Uni-ssentials, a brand-new genderless collection from New Balance, caters to both everyone and no one in particular. Comprised of modern sportswear and a reimagined edition of the XC-72 sneaker, Uni-ssentials moves past the limits of traditional sizing with a thoughtfully constructed approach to gender neutral clothing—mainly, unique size blocks based entirely on body shape, offering no preconceived notions of what is meant for who. As everyday basics continue to remain the foundation of modern style, this range is a step forward in gender-free expression. We love to see it.
4 Adidas and Marimekko Partner on Third Collaboration
Who: Adidas and Marimekko
What: Limited-edition collection for SS22
Where: Available online at adidas.com
Why: Third time's the charm for Adidas and Marimekko. The sportswear brand has once again teamed up with the Finnish lifestyle company on a limited-edition collection, just in time for your outdoor workouts. Marimekko's iconic Unikko (meaning "poppy") motif gives Adidas' performance pieces an extra dose of flower power with workout gear made to be Instagrammed. Featuring a vast range of apparel for just about every activity—cycling, yoga, running, etc.—with key pieces available in inclusive sizing, footwear (Marimekko's take on the Ultraboost!), and junior looks and accessories, the striking and playful styles are the definition of fashion meets function.
5 Loeffler Randall Reveals First-Ever Bridal Gown
Who: Loeffler Randall
What: New wedding collection
Where: Available online at loefflerrandall.com
Why: Loeffler Randall is ringing in wedding season with its first- ever bridal gown, designed to pair effortlessly with the brand's signature wedding and event accessory collection. Crafted from luxurious cream silk organza, the Suzette bridal gown features dropped puffed sleeves, ruffled detailing, smocking, and a dramatically flared skirt. Something new comes in the form of updated signature details—like pleats and bows on Loeffler Randall's event shoes—that are made to be loved and lived in for years to come. There are accessories for everyone in the bridal party, too, from feather and diamanté clutches to braided headbands—the perfect finishing touches for a very special day.
6 SSENSE Drops Third Collection with Petra Collins
Who: SSENSE and Petra Collins
What: I'm Sorry collection
Where: Available exclusively online at ssense.com
Why: Through her breakout Tumblr fame, Petra Collins has defined a generation of imagemakers and pop culture savants—and inspired myriad creatives (and definitely the visuals for Euphoria). Her feminine, sensual, and emotional work translates perfectly into a covetable clothing collection. Working closely with creative partner and stylist Dean DeCriscio, Collins created "I'm Sorry" for SSENSE around "what a character in my imaginary movie would wear…a young person who tries to move to the country but gets sucked back into digital life." Think: Paris Hilton and Nicole Richie in The Simple Life, slacking off on the farm, scrolling through TikTok, and online shopping on Depop (if the latter two existed back then). The result is girly crop tops, printed flare lounge pants, and silver jewelry made in collaboration with Jiwinaia that screams Y2K. Complete the look with an iPhone case via Wildflower Cases, emblazoned with an adorable cat drawn by artist Miigo (because, well, why not?).
7 Gentle Monster Debuts Second Collab with Blackpink's Jennie
Who: Gentle Monster and Jennie Kim
What: Collaborative eyewear collection
Where: Available online at gentlemonster.com
Why: Blackpink in your area—with brand-new eyewear from Gentle Monster and the K-pop group's own Jennie Kim. The duo's first collection, Jentle Home, inspired by Jennie's childhood, sold out almost immediately—and we have a feeling this one will be no different. The new Jentle Garden collection offers reflective metal designs of three optical glasses, three sunglasses, and one extra-special style with embellished crystal details. Jennie's personal flair is further realized in a mobile game for iPhones and Androids, as well as a series of pop-up installations in five select cities. The collaboration with the Korean eyewear brand accompanies Blackpink's recently announced comeback, so hopefully we'll see these shades on tour soon, too.
8 Kith Women Unveils Aaliyah-Inspired Collection
Who: Kith Women
What: New capsule collection
Where: Available online at kith.com
Why: When it comes to women in music, it doesn't get more legendary than Aaliyah. Though she left us far too soon, the R&B singer made a mark in the music and fashion industries with her iconic sound and style. Now, she is cementing her legacy even further by inspiring a new capsule collection with Kith. Created in partnership with the Aaliyah Estate and Aaliyah's brother, Rashad Haughton, Kith Women for Aaliyah honors the late artist and gives back 100 percent of proceeds to her alma mater, the Detroit School of Arts, and the organization I Support the Girls, which donates bras and hygiene products to homeless women.
9 Frame Launches Pure Denim
Who: Frame
What: Pure denim line
Where: Available online at frame-store.com
Why: In a market saturated with greenwashing, Frame is putting in the work to not wash their jeans—at all. Pure is a line of 10 denim pieces made with virtually no water. While a typical pair of jeans takes up to 80 liters of water to produce, Frame's innovative non-toxic washing system, made in partnership with SAITEX USA, utilizes just 1.25 liters per item. In addition to cutting down the exorbitant amount of water used in production, Frame Pure is 100 percent biodegradable, and each item is tagged with a unique QR code that allows the wearer to read more about the collection's impact (or lack thereof). The collection features what the brand does best (think: cargo overalls and distressed washes that don't sacrifice style). Look good and feel good knowing your jeans were made pure.
10 Pomellato Honors Women With New Campaign Video
Who: Pomellato
What: New campaign video for International Women's Day
Where: Online at pomellato.com
Why: Pomellato is celebrating International Women's Day in a big way—with a new video featuring trailblazing women including Alexandra Shipp, Jane Fonda, and Rebel Wilson as part of its Pomellato for Women campaign, which promotes female empowerment, inclusivity, equality, and change. In the video, each woman (dripping in pieces from the Milanese jeweler) speaks candidly about her journey and the obstacles they've faced in their respective industries. "The messaging women normally receive is that we need to be more, better, different," Pomellato CEO Sabina Belli says in a press release. "This year, Pomellato wants womenkind to hear and remember that we are enough." A very important message on IWD and every day.
11 La Ligne Plans Live Auction for International Women's Day
Who: La Ligne and the Lower East Side Girls Club
What: Live online auction to benefit non-profit organization
Where: Available via lalignenyc.com
Why: La Ligne and the Lower East Side Girls Club first began partnering in 2016, and ever since, the brand and community center have forged a relationship based on female solidarity. This year, for International Women's Day, La Ligne will hold a live online auction from March 8 to March 13 via its resale service, Re-Ligne, featuring items donated by celebrities. 100 percent of the profits from the resale of pre-loved items from participants like Nina Dobrev, Olivia Wilde, Nicole Richie, and Natasha Lyonne will benefit the Lower East Side Girls Club, which provides free programming in art, science, leadership, entrepreneurship, and wellness for girls and gender-diverse youth in New York City. Girl power set in motion—we love to see it.
12 Clhu Merges All-Gender Apparel and Resale
Who: Clhu (Clothes for Humans)
What: New clothing brand and resale community
Where: Online atclhu.com
Why: There are boundless opportunities for self-expression across the gender spectrum. Clhu, a new apparel brand for folks who don't believe in any set of rules or standards when it comes to dressing, aims to flip the script on how Gen Z can challenge traditional consumer practices with Clhu Redo, a platform where pre-loved Clhu products can be sold to others and traded in for store credit. Disposability is considered a thing of the past for Clhu founder Maria Borromeo, who creates genderless collections that are built to last. The time is up on binary fast fashion.
13 Susan Alexandra Drops Star Sign Jewelry Collection
Who: Susan Alexandra
What: New astrology-inspired jewelry collection
Where: Available online atsusanalexandra.com
Why: Hello, *insert star sign here*! Your fashion horoscope advises you to pay close attention to your jewelry box this month, because Susan Alexandra just revealed a brand-new collection of playful necklaces and bracelets inspired by (you guessed it) the zodiac. Designer Susan Korn's signature cheeky and eye-catching style plays on the symbols of whatever sign you're connected with the most—be it your sun, moon, or rising. A scorpion with eyelashes, a crab with its tongue hanging out, and a bull with a little daisy in its mouth are just a few examples of the quirky designs, which bring your chart to life in the best way possible.
14 Loewe and On Create a Sporty Capsule Collection
Who: Loewe and On
What: Limited-edition capsule collection
Where: Available online at loewe.com and on-running.com and at select Loewe stores
Why: A wardrobe made precisely for that pang of wanderlust that hits this time of year has arrived, combining On's high-performance technology with Loewe's unmatched craftsmanship. The new collaboration features the Spanish house's signature aesthetic imprinted onto On's most iconic footwear styles for men and women: Cloudventure and Cloudrock. Ready-to-wear boasts six technical pieces: weather-adaptable running pants, a moisture-wicking anorak, a customizable parka, and temperature-regulating T-shirts made from recycled polyester. Adventure is out there, and here's a way to dress for it.
15 anOnlyChild Debuts Hat Collaboration with Gigi Burris
Who: anOnlyChild and Gigi Burris
What: Collection of hats
Where: Available exclusively online at anonlychild.com
Why: Public School alum Maxwell Osborne founded New York-based brand anOnlyChild last year with the intention of creating one-of-a-kind pieces exclusively from deadstock materials. In order to emphasize form and function, Osborne designs in harmony with the body. His latest venture is a collection of sturdy and sleek bucket and baseball hats in sumptuous felt wool, part of a collaboration with the millinery brand Gigi Burris. The range of muted tones pair perfectly well with the pared-back aesthetic that Osborne achieved with his label's first drop. A match made in NYC.
16 Ami Joins Forces With Puma for Sportswear Collection
Who: Ami and Puma
What: Collaborative sportswear collection
Where: Available online at puma.com and amiparis.com, in Ami and Puma stores, and at select retailers
Why: Romeo Beckham and Mia Regan have made their first global debut as a couple in a new release from Ami and Puma. The looks sported by the young lovebirds offer a modern spin on streetwear: hybrid basics that hover somewhere between elevated and slouchy; friendly-looking, but with an attitude. Puma's classic silhouettes like the Slipstream Lo, Suede Crepe, and the newly released Suede Mayu are included in the footwear component. The apparel selection includes T-shirts, polos, jackets, hoodies, shorts, crews, pants, and bras that can be combined into infinite ensembles. And the collaboration wouldn't be complete without accessories: bucket hats, curve caps, shoulder bags, and grip bags, to be exact. The Parisian brand's signature symbol is merged with the Puma logo in a co-branded graphic that can be seen across pieces, a visual representation of the friendships that inspired the collaboration.
17 Dior Reopens 30 Montaigne
Who: Dior
What: Reopening of global flagship store
Where: 30 Montaigne Avenue, Paris, France
Why: The House of Dior is officially reopening its iconic global flagship housed at 30 Avenue Montaigne to the public. The unveiling comes after two years of renovations, which have been spent reimagining the original address for 2022. For the uninitiated, the historical fashion monument is where Christian Dior first started creating his collections over 70 years ago. And architect Peter Marino, who led the design for the new-and-improved space, has collaborated with the French house for over 25 years. His temple to the architectural, historical, gastronomic, and cultural sensibilities of the French capital are testament to Dior's wide range of impact.
18 Grand Collection and Veselka Show Support for Ukraine
Who: Grand Collection and Veselka
What: Ukrainian war effort initiative
Where: Available online at grandcollectionco.com
Why: Skatewear brand Grand Collection has teamed up with the iconic New York Ukrainian restaurant Veselka for a third time on a capsule collection, with 100 percent of the proceeds going toward providing food and humanitarian aid to those devastated by the war in Ukraine. Though the initiative was originally set to launch later this year, given the escalating situation abroad, the two decided to release a pair of T-shirts with all proceeds benefitting the World Food Programme and UNHCR's humanitarian efforts for Ukrainians displaced by the war. The bold yellow and blue of the Ukrainian flag seen on the tees is a small but effective way of signaling support from afar.
19 Barton Perreira Reveals Brand-New Frame
Who: Barton Perreira
What: The Vega frame for spring/summer 2022
Where: Available online at bartonperreira.com
Why: Though we firmly believe that sunglasses are a year-round accessory, luxury eyewear brand Barton Perreira is introducing a selection of very chic new styles for spring and summer. Done in sculptural, vintage-inspired shapes and colors inspired by nature, the latest collection is made to stand out. In particular, the Vega frame, featuring hand-engraved filigree detail and gradient lenses that go from indigo to a golden champagne color designed for all skin tones. As an added bonus, Barton Perreira is also debuting a second drop of the 007 Legacy capsule, which pays sartorial homage to James Bond, of course.
20 Dries Van Noten Ventures Into Beauty
Who: Dries Van Noten
What: Debut beauty collection
Where: Available online at driesvannoten.com
Why: Belgian designer Dries Van Noten is a known master of clashing concepts—and the announcement of the brand's beauty collection presents yet another opportunity for him to exercise his talents. Having hosted hundreds of fashion shows, Van Noten has personal backstage experience in creating makeup looks that complement his vision. The collection features vivid lipsticks in eye-catching cases formulated with rosehip oil as well as unique, genderless eau de parfum bottles adorned with patterns that reflect the duality of each fragrance. With Dries Van Noten Beauty, Van Noten cleverly finds an opportunity to insert his juxtaposing designs into each step of the beautification process.
21 Bulgari Teams Up with Casablanca
Who: Bulgari and Casablanca
What: New summer accessory collaboration
Where: Available at select Bulgari boutiques worldwide
Why: Bulgari has partnered with contemporary luxury fashion house Casablanca to create a seven-piece line of accessories made for summer travel plans. The collab, set to launch in two installments, is part of Bulgari's ongoing collaborative series "Serpenti Through the Eyes Of." For the first launch, dubbed "Après Tennis," French-Moroccan creative director and Casablanca founder Charaf Tajer drew from racket bags in order to create a chic contrast between white perforated leather, green accents, and a vintage-inspired wooden handle. The second drop, titled "Mosaic Story," is a direct call to the tiled architecture from the brand's Mediterranean origins. Crossbody bags, handbags, and totes featuring the iconic snakehead charm are all cleared for takeoff on your next flight to a tropical destination.
22 New Balance Introduces the Vegan Friendly MADE 990v5
Who: New Balance
What: Vegan sneaker drop
Where: Available online at newbalance.com and at select retailers
Why: You can now dress vegan down to your toes with the first Vegan Friendly MADE 990v5 sneaker from New Balance. The iconic 990v5 silhouette, which is now celebrating its 40th anniversary, has been recreated using all vegan materials, from embossed synthetic overlays and mesh plugs on the upper to ENCAP in the sneaker's midsole for support and an outsole made of rubber for extra durability. From top to bottom, the Vegan Friendly MADE 990v5 showcases the reliability of New Balance's trusted shoe, as well as the impact of the global vegan movement—all in one stylish, comfy sneaker.
23 Tory Burch and 1stDibs Team Up for Women's History Month
Who: Tory Burch and 1stDibs
What: Exclusive curated collection from female artists and makers
Where: Available online at 1stdibs.com
Why: Though it should be every month, March has been dubbed Women's History Month, and female titan of industry Tory Burch is celebrating the kickoff with a special curation of hand-selected pieces made by women of the arts, all shoppable online via the luxury e-commerce retailer 1stDibs. Through the partnership, 1stDibs is supporting the Tory Burch Foundation, which empowers women entrepreneurs by providing access to capital, education, and digital resources. Burch's picks feature craftswomen and designers including Clementine Hunter, Lucie Rie, Line Vautrin, Gabriella Crespi, and Claire McCardell. "I'm all about an unpredictable mix, whether it's in my home or in my collections: traditional and modern, vintage and current, high and low," Burch says. From mid-century makers to 20th-century trailblazers, ladies all over the map and timeline of female achievement are represented in her collective ode to girl power.
24 Nick Fouquet and Lucchese Head West with New Shoe Collaboration
Who: Nick Fouquet and Lucchese
What: Footwear and accessory collection
Where: Available online at nickfouquet.com
Why: French-American designer Nick Fouquet and Lucchese, the popular Texas-based boot brand, have come together to create a collection of footwear and accessories made in the spirit of the Wild West. On the surface, the collab may not be the most obvious pairing, but Fouquet's penchant for a collective of poets in the cowboy community moved him to design in their honor. Drawing from '70s-era relaxed fits and adding a modern twist, the collection of cowboy boots, silk scarves, and hats are equal parts classic and of-the-moment. Looks like the frontier of fashion has a new sheriff in town.
25 Malone Souliers Announces Bridgerton-Inspired Shoe Collection
Who: Malone Souliers and Bridgerton
What: Collaborative shoe collection
Where: Available at malonesouliers.com starting March 15
Why: Capitalizing on the Bridgerton craze, Malone Souliers is debuting a 14-piece capsule collection of shoes inspired by the lavish looks featured on the hit period drama. The exclusive collaboration in partnership with Shondaland and Netflix celebrates the fashion from the romantic Regency period with lavish pairs for both men and women. According to a press release, the designs will feature intricate jacquards, shimmering satins, and dramatic feathered plumes, reimagining the luxury brand's signature silhouettes as gentry-worthy footwear, just in time for the return of Bridgerton season 2.
This content is created and maintained by a third party, and imported onto this page to help users provide their email addresses. You may be able to find more information about this and similar content at piano.io