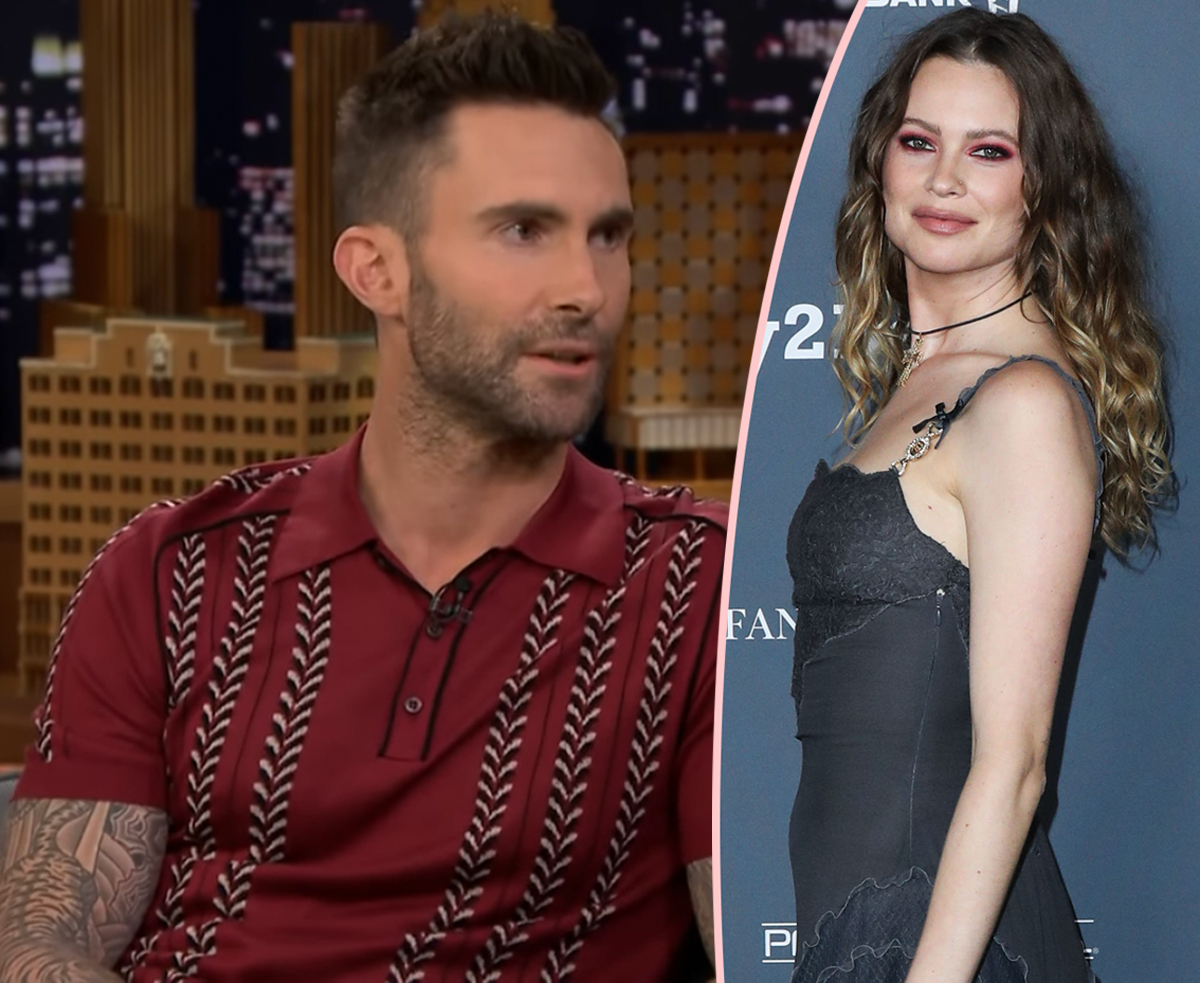 Sounds like Adam Levine wasn't so confident he was going to get away with it after all!
According to the latest sources, he's feeling a huge sense of relief that Behati Prinsloo hasn't given up on their marriage after those affair allegations!
By now, you've probably heard Adam has been in hot water ever since an Instagram model named Sumner Stroh claimed she was having an affair with the Maroon 5 frontman. More women shared their own accusations against Adam, claiming he sent them flirty messages on social media. One woman named Maryka even accused the Payphone singer of sending her a "naked selfie" during their many "sexting" sessions at one point. The singer pretty quickly released a statement denying the allegation of a physical affair but admitting he "crossed a line" with many women.
Related: Nia Long Is Prioritizing Her Mental Health Following Ime Udoka's NBA Cheating Scandal
Despite the drama, Behati — who is currently pregnant with the couple's third child — still has stuck by his side! Last Saturday, the 34-year-old supermodel proved her support for Adam as he performed with his band at the MGM Grand Garden Arena in Las Vegas for The Shaquille O'Neal Foundation's fundraiser — his first public performance since news of his alleged infidelity broke.
The whole situation must be awful for Behati, but she clearly plans to stand by her hubby during this scandal no matter what! And according to Us Weekly on Thursday, a source said Adam is feeling "beyond grateful" that Behati has allowed him to make amends after everything:
"Adam feels awful for what he's put her through. All he can do now is make sure he works on himself and doesn't mess things up again. He loves her dearly and feels beyond grateful and lucky that she's sticking by his side and giving him a second chance to prove himself."
He certainly has a lot of making up to do… But it sounds like she believed him when he said nothing physical happened. Sexting may still be cheating, but maybe her trust that it didn't go further than that saved them?
While "it hasn't been easy" for Behati and Adam to move on from the affair allegations, another source stressed to the outlet they are "working it out." In fact, the first insider noted that the Victoria's Secret angel "has no intentions of filing for divorce" against him and is just "trying to put the drama behind and focus on her pregnancy and having a healthy baby." This doesn't surprise us too much since the couple has been spotted still wearing their wedding rings!
As for how Behati has been handling the scandal behind the scenes? The insider said "she's getting a lot of support from her family and friends, and Adam," who "hasn't left her side." Of course he hasn't — he has to make sure she doesn't get on Google! LOLz! Seriously though, the insider added:
"Adam and Behati are trying to put this mess behind them and focus on the more positive aspects of their life together. They feel extremely blessed to have this baby on the way."
We'll see if these two can actually move past this situation! Reactions, Perezcious readers? Do you think Adam and Behati will be able to work it out, or will they soon join the long list of celebrities calling it quits this year? Let us know your thoughts in the comments below!
[Image via WENN/Avalon, The Tonight Show Starring Jimmy Fallon/YouTube]