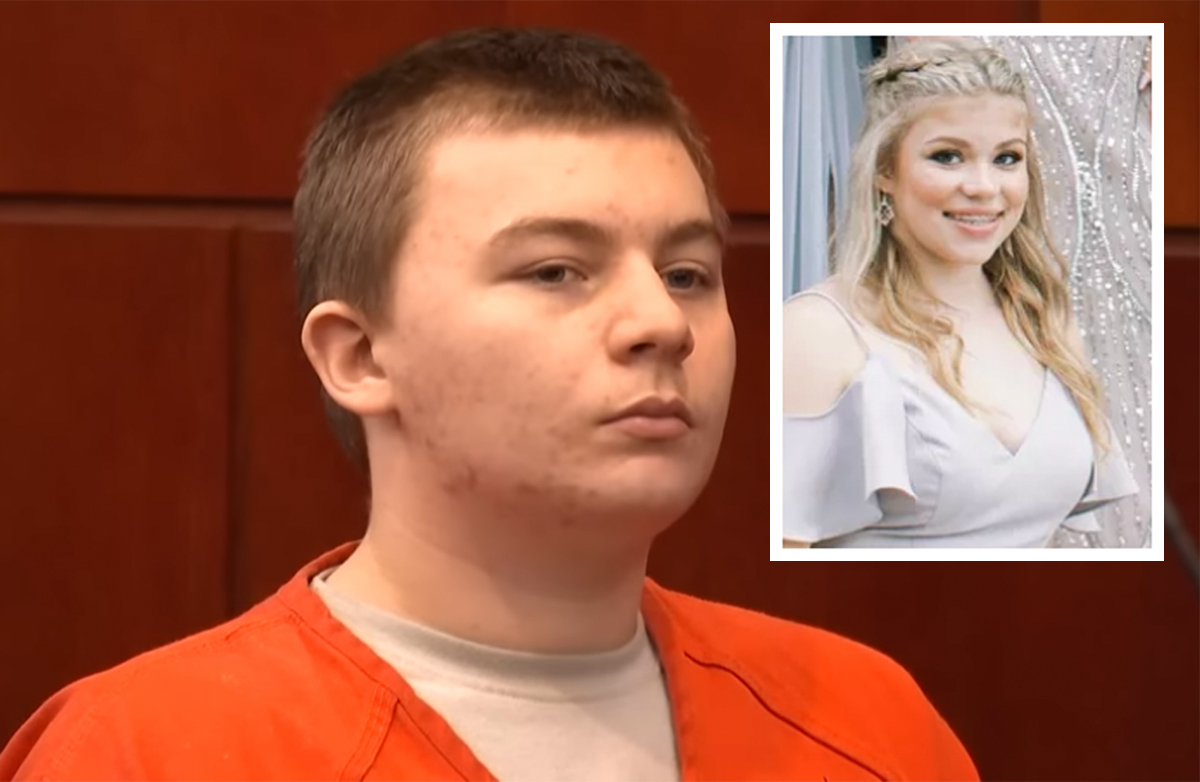 Disturbing details have emerged about Aiden Fucci's time in prison while he awaits trial for the brutal murder of 13-year-old cheerleader Tristyn Bailey.
In case you don't recall the horrific case, the now 16-year-old was charged with first-degree murder in May 2021 after he allegedly stabbed his classmate 114 times – with 49 of her wounds on her hands, arms, and head being defensive. There had been some chilling evidence stacked against him, including surveillance footage that showed Aiden and Tristyn walking together in a wooded area of their Florida neighborhood after midnight on May 9, 2021. He was then seen in the video leaving the area and returning home by himself.
Inside the house, footage recorded on a camera also showed his mom, Crystal Smith, who was charged with tampering with evidence, washing his jeans – which were covered in blood. Investigators also discovered the same knife used in the homicide in a nearby retention pond. The weapon was missing the tip, which was found on Tristyn's body.
Related: Louisiana Man Sentenced For 'Scheme To Kidnap & Murder Gay Man'
Police documents at the time revealed Aiden told a close female friend "he was going to murder someone… within the month" and that "he would find a random person walking at night, drag them into the woods, and stab them." The pals then allegedly told cops he was going to "act innocent after the murder and continue killing people," or just "run away, make people believe he was dead, and continue killing people."
During the investigation into Tristyn's slaying, his actions were terrifying, as Aiden seemed to brag about what he allegedly had done on social media. He posted a Snapchat in the back of a police car, holding up a peace sign and writing over it:
"Hey guys has inybody [sic] seen Tristyn lately?"
Just some sick stuff here. He has since pleaded not guilty to the murder and is being held at the Duval County Jail in Jacksonville, Florida. And while Aiden waits for the trial to begin on February 6, it has come to light that he has been a complete nightmare in jail!
According to documents obtained by First Coast News on Thursday, the suspect allegedly has been extorting and threatening other teen inmates. The report claimed he has been combative and a bully, fighting with a teen inmate and forcing others to give him items from the jail commissary. On Christmas Day in 2021, reports accused Aiden of getting into a physical altercation. He allegedly started the fight by hitting the other person in the face, and officers stepped in to break up the chaos by using a chemical spray. While Aiden eventually backed off, the other inmates allegedly "continued to strike inmate Fucci" and were hit with a taser. Following the altercation, Aiden was taken into solitary confinement. But a report from January 25, 2022, said:
"Since the incident, inmate Fucci has been relentless in his threats against [the inmate's] life."
One fellow prisoner told jail officials that he threatened to stab them and their loved ones, saying:
"Fucci been saying he gonna stab me up. He be telling everyone in the dorm that when he get out, he gonna find my people and stab them and take pictures. He go around saying we all p**** because most of us in here for shooting someone and killing them. He says he 'real' because he stabs a b**** face to face and take they life. It's like he get high off it or something."
Another inmate recalled Aiden threatening harm to someone:
"When he gets out of the box, he's going to stab him up."
Messed up. And it's not just inmates he was terrorizing. Another report from January claimed Aiden would make threats against the jail guards. Per First Coast News, the report stated that he "was found to be extorting commissary from [the inmate] by using fear," adding:
"They were not housed together but Fucci was able to manipulate and extort inmates by threats and intimidation. Inmate Fucci did not have a commissary receipt to explain the abundance of commissary in his cell. The victims provided receipts and [words redacted] it was verified whom the commissary items rightfully belonged to."
It continued:
"When officers entered his cell to obtain the commissary items back for the other inmates, he became highly agitated and made threats against the officer's lives. Inmate Fucci made threats to kill our families while beating on his cell door in a loud vicious manner."
OMG!
The document then noted that Aiden was placed into a restraint chair and in an isolation cell "for the safety of inmates, officers, himself and property." This is just some chilling and scary stuff!
Reactions, Perezcious readers? Let us know in the comments below.
[Image via First Coast News/YouTube, GoFundMe]