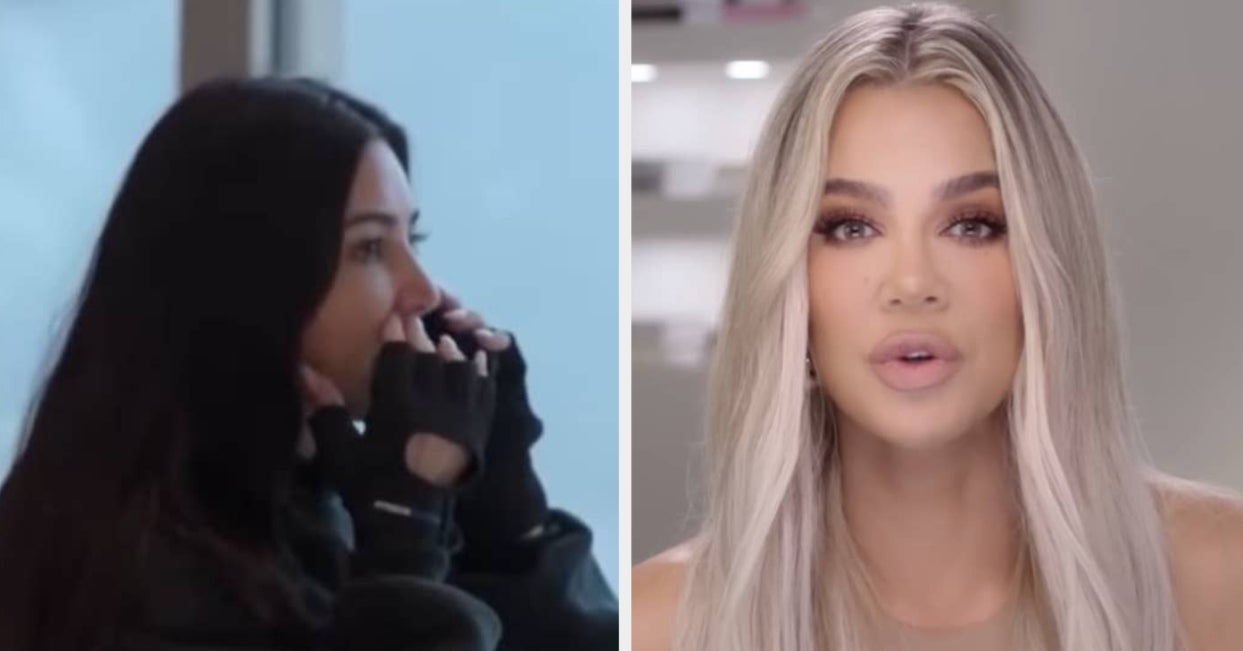 Incredibly candid footage of Kim, Kourtney, and Kylie being caught off guard by Tristan's latest infidelity aired in this week's episode of The Kardashians.
Posted on June 10, 2022, 1:14 pm
Tristan Thompson has been at the center of several cheating scandals since he started dating Khloé Kardashian in 2016.
Jerritt Clark / Getty Images for Remy Martin
Just days before Khloé gave birth to their daughter, True, in April 2018, videos of Tristan cheating on her with multiple women throughout her pregnancy emerged online.
Despite this, they remained a couple and Khloé even hit back at someone who criticized her decision to stay with him.
"You have no knowledge of what goes on in our household or the enormous rebuilding this takes to even coexist," she tweeted at the time. "I'm proud of my strength. I appreciate your opinion and I hope you hold that same opinion to everyone else who has stayed in situations."
@ChicBitchxo Not exactly Queen Persia, you have no knowledge of what goes on in our household or the enormous rebuilding this takes to even coexist. I'm proud of my strength. I appreciate your opinion and I hope you hold that same opinion to everyone else who has stayed in situations.
But in February 2019, Khloé was left devastated when it was reported that Tristan had been seen "making out" with her sister Kylie Jenner's then–best friend Jordyn Woods at a house party.
Michael Stewart / WireImage
Witnesses claimed that Jordyn was seen sitting on Tristan's lap and the pair were "touchy feely" before staying the night together.
Leon Bennett / Getty Images for BET
Jordyn later said that she regretted putting herself in a compromising situation but insisted they hadn't made out.
George Pimentel / Getty Images
Speaking on Red Table Talk, she claimed: "On the way out, he did kiss me. No passion… no tongue kiss, no making out, no nothing. I was in shock. I was like, let me just pretend that didn't happen."
"The last thing I wanted to do was be that person. I'm no home-wrecker," Jordyn continued. "I would never try to hurt someone's home, especially someone that I love."
Khloé lashed out at Jordyn on social media at the time, prompting backlash as followers pointed out that Tristan was the one to break up their family.
And in an episode of Keeping Up With the Kardashians, Khloé contradicted Jordyn's Red Table Talk statements and claimed that she'd told her she had made out with Tristan.
"[Tristan] already knew what was up and there was nothing else he could do but confirm it," Khloé added on the show. "And I got my questions answered. I was getting more details — that everyone left and Jordyn still stayed. That she was sitting on his lap in a chair, they were all over each other, they were handsy, they made out. It's disgusting."
Despite the repeated betrayal, Khloé revealed that she'd reunited with Tristan as she paid tribute to him on his 30th birthday in March 2021.
Sharing a series of photos from the party that she'd thrown for the NBA player, Khloé wrote at the time: "The ones that are meant to be are the ones who go through everything that is designed to tear them apart and they come out even stronger than they were before. Thank you for showing me everything you said you would. For the father you are. For the best friend I have in you. I'm thankful that I can do absolutely nothing with you and it feels like everything."
And her decision to take Tristan back has been referenced in her family's new reality show, The Kardashians, this year. Earlier in the series, Khloé said that Tristan was going to therapy and even suggested that they may marry after she'd been left impressed by how he has worked on himself.
However, anybody who keeps up with the Kardashians would be aware that Tristan was involved in a recent paternity scandal that first came to light in December — and this week's episode of the show finally revealed the family's raw reaction to his latest infidelity.
Jason Miller / Getty Images
In incredibly candid footage shot at 6:30 a.m. in Kim Kardashian's home gym, it is shown that the family was caught completely off guard by the publication of a legal declaration that Tristan had filed in December.
In the paperwork, Tristan stated that he'd had sex with personal trainer Maralee Nichols on his 30th birthday, which was nine months earlier.
Kim read the documents out loud in phone calls to her sisters Kourtney Kardashian and Kylie as she explained that she couldn't get a hold of Khloé.
"I, Tristan Thompson, met this girl in Houston, I slept with her on my 30th birthday," Kim recited. "It says: 'Petitioner initiated our [sexual contact] and never objected to having sexual intercourse. Petitioner insisted that she would meet me at my hotel and spend the night. She wanted to give me a special birthday surprise, which I understood to mean sex. When we got to my hotel room, we immediately had sexual intercourse.' This is Tristan talking!"
Kim shared her shock at the way Tristan had left the party that Khloé had thrown for him to have sex with another woman. "So he went home from the 30th birthday party, went to Houston to play on the road — we can check his schedule — and then slept with this girl," she said.
"I'm shaking for [Khloé]. My soul kills, dies for her," she added, also revealing that she'd messaged Tristan to ask if Khloé knew about the situation.
Meanwhile, Kylie asked her sister if Tristan is "the worst person on the planet," and Kourtney said it's "insane" that he wouldn't have even warned Khloé before filing paperwork that could be made public.
This was something that Khloé doubled down on when she spoke about Tristan on the Not Skinny But Not Fat podcast last month. She admitted that finding out about Maralee "with the rest of the world" was probably "the most offensive part" of the whole thing.
"I mean, all of it is fucked up, but I just like, can there be like a little respect, could you have let me know before I find out on Daily Mail? That would be nice," she added.
The full fallout from Tristan's scandal will air in next week's episode of the show, with the preview showing Khloé not attending a family meeting and telling Kendall Jenner via FaceTime that she has had so much anxiety that she fainted.
And unsurprisingly, the storyline was difficult to view for Khloé this week. She admitted that watching her family's raw reaction to the news was not a nice experience.
Tweeting while watching the show on Thursday, Khloé said: "Rewatching this part is uncomfortable but I love and appreciate my family more than I can express. Praise the Lord I have them for the [rest of] my life."
Rewatching this part is uncomfortable but I love and appreciate my family more than I can express. Praise the Lord I have them for the res for my life ️️️ #TheKardashians
She also shared her appreciation for the way that Kim handled everything, writing: "Awww my sweet Keeks in the gym scene. I love you Keeks."
Meanwhile, Khloé suggested that she regretted forgiving Tristan for his past scandals when a fan tweeted to her, "Can't believe I forgave him like that for him to break my girl's heart." The star simply replied, "Join the club."
And when it was suggested that she host a livestream to watch next week's finale, Khloé confessed that it'd be safer if she stuck to tweeting. "My mouth gets me in trouble," she explained. "I may need to stick with tweeting during the finale."
My mouth gets me in trouble. I may need to stick with tweeting during the finale lol https://t.co/tdEOOLPAnQ
While Tristan denied being the father of Maralee's baby in December, he confirmed in January that the little boy was his after a paternity test.
Writing on his Instagram story, the sports star said: "Today paternity test results reveal that I fathered a child with Maralee Nichols. I take full responsibility for my actions. Now that paternity has been established, I look forward to amicably raising our son. I sincerely apologize to everyone I've hurt or disappointed throughout this ordeal both publicly and privately."
In a separate post, he added: "Khloé, you don't deserve this. You don't deserve the heartache and humiliation I have caused you. You don't deserve the way I have treated you over the years. My actions have certainly not lined up with the way I view you. I have the utmost respect and love for you. Regardless of what you may think. Again, I am so incredibly sorry."
Despite his comments about coparenting with Maralee, she claimed in February that he still hadn't "made any attempt" to meet their son and had also failed to provide "any financial assistance."
Meanwhile, Khloé appears to hold no ill feelings toward Tristan, saying last month that while he is "not a good partner," he is still "a good person" and a "great dad."
She also said that things are "cordial" between them and they FaceTime every night so that he can talk to their daughter. "There's just not drama. Like to me, the facts are the facts. What are we continuously fighting about?" she added.
incoming
Your weekday morning guide to breaking news, cultural analysis, and everything in between