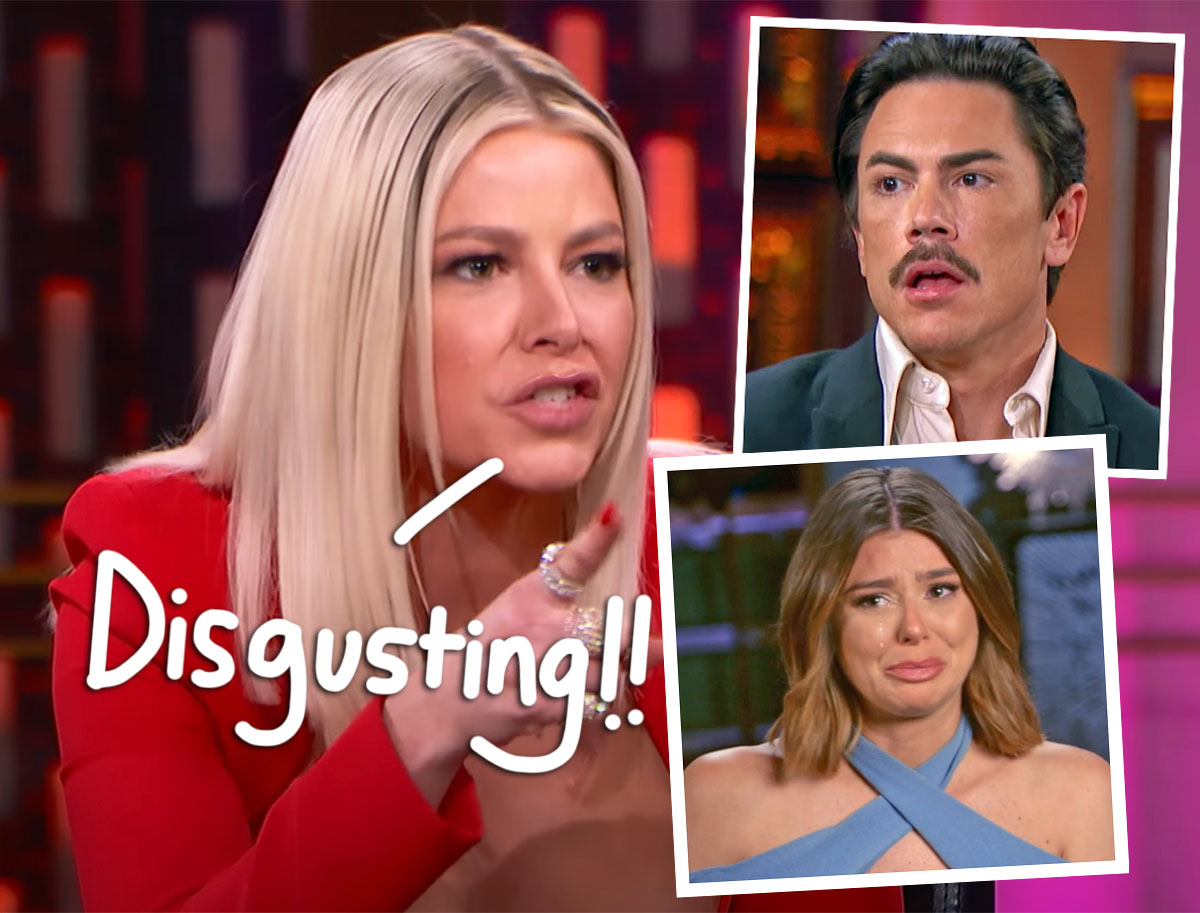 O.M.G.
It's the moment we've all been waiting for! The third part of the Vanderpump Rules season 10 reunion aired on Wednesday night — and YES, we finally got to see what the big plot twist was all about!
As if you needed a reminder, the VPR cast has been up in arms ever since March when it was revealed Tom Sandoval was cheating on his longtime partner Ariana Madix with their co-star Raquel Leviss. After weeks and weeks of tension, the two women finally come face-to-face to hash it out over the months-long affair. But it was the last five minutes of the episode that changed everything!!
Related: Fans React To Raquel's 'Scary' Lack Of Emotion During VPR Reunion!
Six days after the reunion was taped, Raquel sat down to film her final interview of the season — and she decided to drop a bomb! While speaking to a producer at one point, she was asked if she was okay since she looked like she was "in a lot of pain." The 28-year-old revealed she was struggling, explaining:
"I think it's important to me to tell the truth. I think that I've been lying and being so deceitful this entire time that I don't want to lie anymore. And it's all out there anyway. The worst is out. Yet I'm still finding myself having to lie about specific timeline things."
When called out for "maintain[ing] some untruths, some lies, at the reunion," Raquel blamed that on Tom:
"He feels like it would be less hurtful to say that this wasn't going on for so long."
Regardless of what her then-beau wanted, she decided to lay it all out for everyone. Discussing the timeline of the affair, the SUR waitress revealed she and Sandoval's cheating scandal became a regular thing while they were filming season 10 and that the second time they got together romantically was in Mexico for Scheana Shay's wedding in August 2022! She said:
"I was like, 'We can't see each other. This isn't going to be a thing.' But then that first night in Cancun, he was like drunk and like trying to find his room, and I heard him in the hallway. There was somebody who was working there and he was asking which direction the elevator was. And I was like, 'Wait, just come inside. Sorry sir, he's really drunk.' That was the second time we were physically intimate with each other."
She also confirmed they had sex multiple times in Mexico! Oof! So that's where they were disappearing to…
The former beauty pageant contestant went on to say she met Sandoval's mom, who "was aware of the situation." Jeez. Even the mom was in on it?! The producer then pressed where the meeting took place and Raquel insisted in Los Angeles, denying rumors she ever went to St. Louis. The only problem is she hardly looked like she was telling the truth! When called out on her TERRIBLE poker face, she eventually came clean:
"It frickin' happened, yeah… I definitely felt really guilty. A huge part of me wanted to tell her [Ariana]. Like, it ate me alive not to tell her… I mean, I even suggested, like, 'What would Ariana think of having me as an addition?' And he was like, 'No, no, no. She would not be into that.'"
Shocked, the producer asked, "Like a throuple?" She replied:
"Yeah. Because I love Ariana as a person, and also I'm in love with Tom Sandoval, so yeah. It didn't seem like that farfetched of an idea. But it was not something in question. God, he's gonna kill me. I just hate lying so much."
Holy s**t!!!
In what world did she think Ariana was going to want to be in a throuple with her?!? THIS IS INSANE!
Related: Ariana Will NOT Film Any More VPR Scenes With Tom & Raquel!
The producer then wondered what happened in the jacuzzi when Raquel was at Tom's house while Ariana was away at a funeral in September, but Raquel suddenly decided she couldn't tell the truth anymore because of the Schwartz & Sandy's co-owner, saying:
"He's asked me to not disclose all this information. Especially now, with being so isolated, I feel like Tom is like my one person I do have, and if I just went and betrayed him, then I'd really have nobody."
Yet she immediately decided to spill the tea! Confirming she was coached on what to so, the reality star completely broke down — the first time we've seen her do so amid this entire mess! She bawled:
"That's the one story that we've agreed on getting straight and I know that the reason why Tom wanted to lie about is because it's a really bad look to hook up with someone's boyfriend in their own house, when they've gone out of town. Especially for a funeral of all things. So I don't know, this is f**king killed my soul. I am so sick of lying. I hate it. I hate being deceitful. It's horrible."
Damn. You've GOT to watch her say it all out loud to get the full effect. Ch-ch-check it out:
Rachel admits to production that Sandoval told her to lie about a lot of the details of the affair. They were sleeping together the entire timeline AND slept together at Ariana's home when Ariana was at her grandmothers funeral. I did like her honesty #pumprules #VanderpumpRules pic.twitter.com/5LwkBADPdq

— Mark (@MarkJCampbell) June 8, 2023
Whoa…
We knew we were in for a bombshell, but a throuple wasn't on our bucket list! We REALLY wanna know what Ariana thinks about all of this now! Also, look at Raquel totally trying to throw her man under the bus! She was DONE taking the heat for the affair… though we don't see that cooling off anytime. Phew. Thoughts?! Sound OFF (below)!