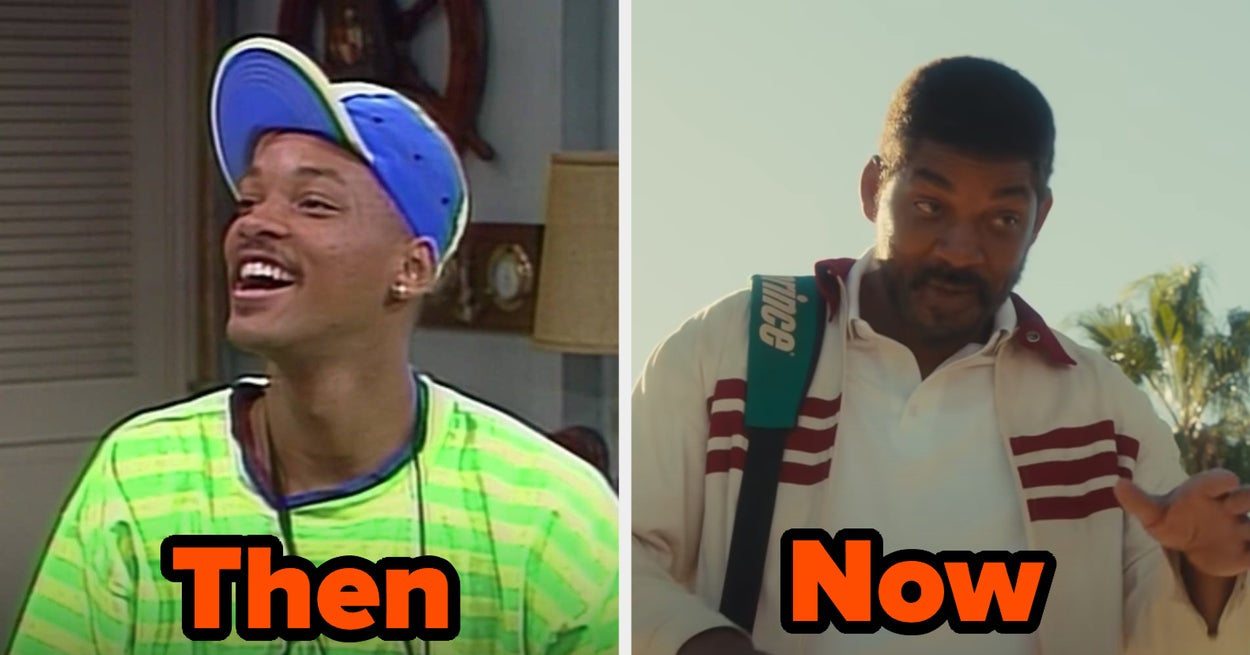 "I looked at my kingdom, I was finally there, to sit on my throne as the prince of Bel-Air."
The first four episodes of Bel-Air, the reboot of The Fresh Prince of Bel-Air, have aired on Peacock, and the show is taking a new approach to the original comedy series' plot.
Peacock / NBCU Photo Bank via Getty Images
This time around, the  Will's character's story of moving from West Philadelphia to California to live with the Banks family is told with a dramatic tone.
And even though Bel-Air offers a ~fresh~ take on the '90s sitcom, watching these episodes still made me think back to The Fresh Prince.
So to celebrate the treasure that is The Fresh Prince of Bel-Air, here's a then vs. now look at the cast from the show.
In the original series, Will Smith starred as…yep, you got it, Will Smith, a character from West Philly who brought some fun to the Banks' Bel-Air home.
Now, Will is scoring top Hollywood roles and recently played the father of Venus and Serena, Richard Williams, in King Richard. The movie has received six Oscar nominations, and Will was nominated in the Best Actor category.
He's also a producer of Bel-Air and kicked off its premiere with a new rendition of The Fresh Prince theme song.
Next is Alfonso Ribeiro, who played Carlton Banks. Carlton was the preppy, practical middle child of the Banks family. He was Will's opposite, but always remained by his side during his escapades.
Alfonso is now the host of America's Funniest Home Videos, which is a position he's held since 2015.
And he (thankfully) still busts out the famous Carlton dance from time to time!
View this video on YouTube
BBC / Via youtube.com
James Avery portrayed Philip Banks, or Uncle Phil, Will's strict but caring uncle. He was a wealthy Southern California lawyer who went on to become a judge during the series.
James sadly passed away in 2013. He is remembered as being one of TV's most famous and well-loved fathers through his role as Uncle Phil.
Paul Redmond / WireImage / Getty Images
Here's Karyn Parsons, who played Hilary Banks, Will's superficial (but fashionable) cousin who was the oldest Banks sibling.
Nowadays, Karyn is an author and recently released a children's book called Saving the Day, which tells the story of Black inventor, Garrett Morgan, creating the traffic signal. She spoke about the book on GMA3: What You Need To Know on Feb. 10.
@Karyn_Parsons/Twitter / Via Twitter: @Karyn_Parsons
She's also released two other books for children about African American stories, called How High the Moon and Flying Free.
Today, our library received a donation of three books from an alumni parent who is a fan of the author, @Karyn_Parsons, and work of her organization, @swtblackberry, that brings little known stories of African American achievement to children everywhere. #BlackHistoryMonth
@Karyn_Parsons/Twitter / Via Twitter: @GoodenSchool
She last acted in the film, Sweet Thing, in 2020.
Black Horse Productions, Twisted Holdings / Via youtube.com
Fans of the show will remember Tatyana Ali for her portrayal of Ashley Banks, Will's lovable younger cousin.
Tatyana recently played the dual role of twins in the Lifetime movie,Vanished: Searching for My Sister.
She was also a guest on Celebrity Wheel of Fortune in January.
Vivian Banks, or Aunt Viv, was originally played by Janet Hubert. She was Will's mother's sister, and a steady and nurturing leader of the Banks household.
Janet played Denise in Single Black Female, a 2022 Lifetime film. Here she is discussing the movie during an interview with fellow cast members:
View this video on YouTube
WhereistheBuzz TV / Via youtube.com
Daphne starred in the BET holiday film, The Business of Christmas 2, in 2021.
And she has a site selling hats, books, cards and masks.
The prim and proper, hilarious butler to the Banks family, Geoffrey Butler, was played by actor Joseph Marcell.
Joseph starred in the short, Folding, in 2022. He has another short out this year and an upcoming role in a thriller film called The Stranger in Our Bed.
Frazer Harrison / Getty Images
Will's closest friend, Jazz, was played by none other than DJ Jazzy Jeff. He was a fun, good-natured character, but would sometimes (literally) get thrown out of the Banks' house for acting up.
Jazz is running a music production workshop that will take place this month in Indiana, and he offers an online course called DJ Jazzy Jeff's How To DJ Right. He also records requested videos giving shoutouts to fans on Cameo.
Jon Kopaloff / FilmMagic / Getty Images
Last but not least is Ross Bagley, who played Will's adorable little cousin, Nicky Banks.
Ross is a realtor as well as an actor and DJ, per his Instagram bio. Some of his most recent credited roles were in films from 2015.
Shirlaine Forrest / WireImage / Getty Images
Believe it or not, he has a young son of his own. Here's a cute shot of the two of them from his Insta account:
You can watch The Fresh Prince of Bel-Air on HBO Max, and watch the first four episodes of Bel-Air on Peacock.
Make sure you head here for more of our Black History Month coverage!
TV and Movies
Get all the best moments in pop culture & entertainment delivered to your inbox.