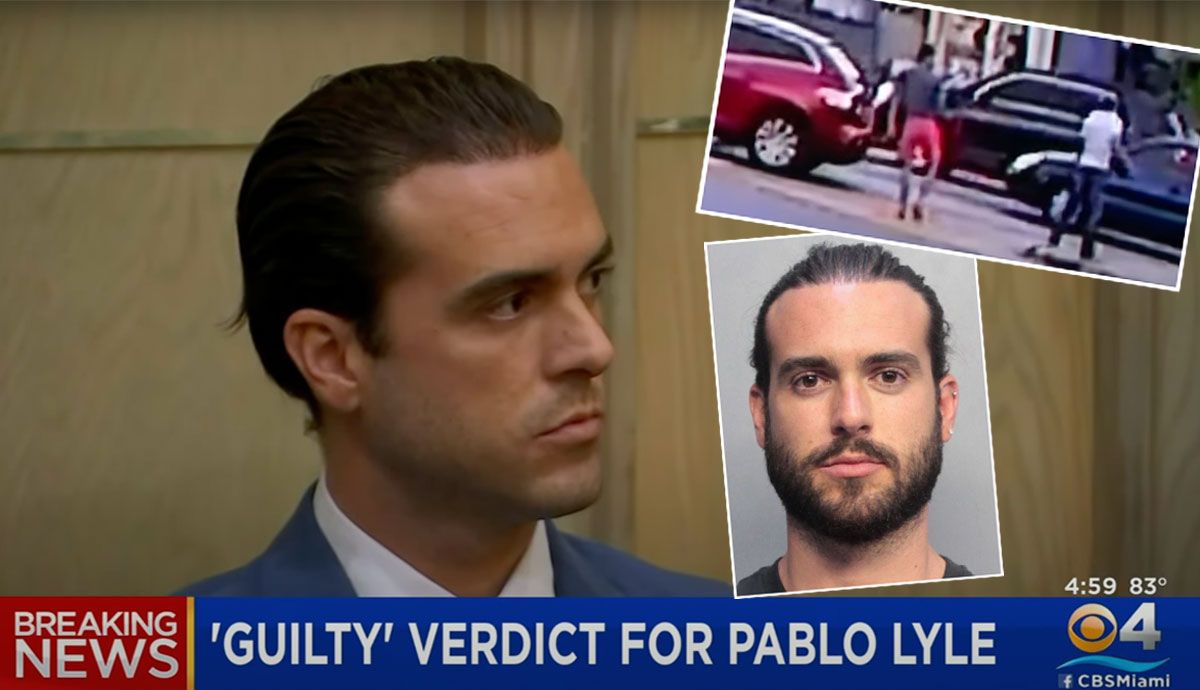 Telenovela star Pablo Lyle has been found guilty of manslaughter three years after a horrific road rage incident that ended with a man's death.
Back in 2019, the Mi Adorable Maldición star was arrested after punching a 63-year-old man named Juan Ricardo Hernández in the head during an altercation related to road rage. That part was undisputed — it was all captured on video!
Related: Pregnant Texas Woman Killed The Day Before Baby Shower In Road Rage Incident
In footage of the incident, you can see Pablo exit the passenger side of a red car before running up to Hernández and striking him down, leaving him unconscious in the street. See (below): 
Mexican celebrity @PabloLyle caught on camera punching 63 year old Juan Hernandez after apparent road rage. Lyle says he threw the punch fearing for his family's safety, Hernandez later died from head injuries. I've got a break down of surveillance video at noon @WPLGLocal10 pic.twitter.com/49jZ4htYNM

— p (@RexWalrus_) April 5, 2019
As we've previously reported, Pablo was initially just charged with battery, but in the coming days, Juan was found to have a traumatic brain injury which led to an internal hemorrhage and his eventual death. Pablo's charges were then upgraded to manslaughter.
Mexican Telenovela Star, Pablo Lyle, arrested after @MiamiPD said he punched a driver, knocking him unconscious during a road rage incident. The victim, 63 yr old Ricardo Hernandez, ultimately died. @WPLGLocal10 pic.twitter.com/CKNYsxlBcv

— Roy Ramos (@RRamosWPLG) April 4, 2019
Fast forward to 2022, when the jury came back with a guilty verdict on Tuesday. Miami-Dade State Attorney Katherine Fernandez Rundle responded to the verdict in an official statement: 
"Today's jury verdict finding Pablo Lyle guilty of the manslaughter death of 63-year-old Juan Ricardo Hernández shows the outrageous destructiveness of 'Road Rage' incidents. Two lives were destroyed by simple roadway anger, a situation we see far too often on our streets and on streets across the country."
She noted feeling:
"Very proud of the efforts and hard work by Assistant State Attorneys Shawn Abuhoff and Gabriela Alfaro that has brought a measure of justice to Mr. Hernández' surviving family."
Jurors deliberated for over four hours before reaching their decision, according to NBC Miami. Upon the verdict, Pablo's family shouted "we love you" and "stay strong" as he was taken from the courtroom, according to WSVN. He could face up to 15 years in prison.
Related: Purdue Student Faces Murder Charge Following Mysterious Death Of Roommate
The victim's sister-in-law later told NBC Miami: 
"[Juan] was an amazing person, always happy, everyone loved him. At work they loved him too."
She added:
"[Pablo] deserves more years, so he and his family suffer like we're suffering."
Juan's family attorney Zena Duncan explained to 10.com: 
"It has been and will be a very difficult world for them without Juan Ricardo. He was a joyous, caring man who loved his family and enjoyed life. No measure of justice will right the injustice that occurred on that street."
Circuit Judge Marisa Tinkler Mendez will decide whether or not some of the actor's sentence will be served via house arrest, according to the outlet. His pre-sentencing trial is slated for later this month on the 26th — it will take into consideration Pablo's two children, education, and employment history, as well as the fact that this was his first offense.
Rest in peace to Juan. Our hearts go out to everyone involved.
[Images via CBS Miami/YouTube & Miami Police Department]