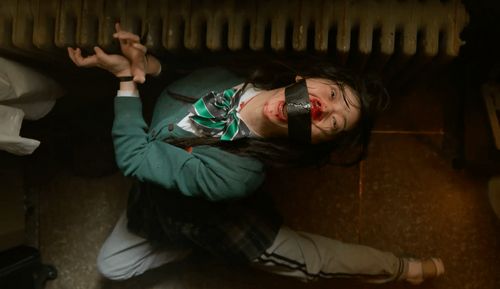 Otra serie de terror original está en camino en Netflix, con la serie coreana de zombies "All of Us Are Dead" originalmente anunciada hace un tiempo y que ahora finalmente esta en camino para el próximo 28 de enero.
En "All of Us Are Dead"…

"Un virus zombi se desata rápidamente dentro de una escuela. Los estudiantes en peligro luchan por sobrevivir y escapar".
El teaser tráiler es nada menos que épico, pareciendo uno de los proyectos de zombis más grandes y locos de los últimos tiempos.
La serie coreana fue creada por Lee JQ, Chun Sung-il y Kim Nam-su. Y está basada en el cómic digital de Joo Dong-Geun en WEBTOON, que debutó en el año 2009. La tenemos apuntadisima.
COMPARTE ESTE ARTICULO! – MIRA ABAJO LOS COMENTARIOS.
ADVERTENCIAS Y REGLAS antes de comentar en BLOGHORROR
• Comentar con respeto y de manera constructiva.
• No se permiten links de otros sitios o referencias a sitios de descarga. 
• Tratar de hablar de la pelicula en cuestión, salvo ocasiones especiales. Nada de interminables debates políticos, religiosos, de genero o sexualidad *
• Imágenes están permitidas, pero siempre con moderación y que no sean demasiado grandes.
• Los comentarios de usuarios nuevos siempre son moderados antes de publicarse.
• Por ultimo, las reseñas y criticas en BLOGHORROR pueden contener humor negro-ácido, que de ninguna forma debe ser tomado en serio! y que tienen como fin el puro entretenimiento satírico.
• Disfrute su estadía 😉
Continue Reading