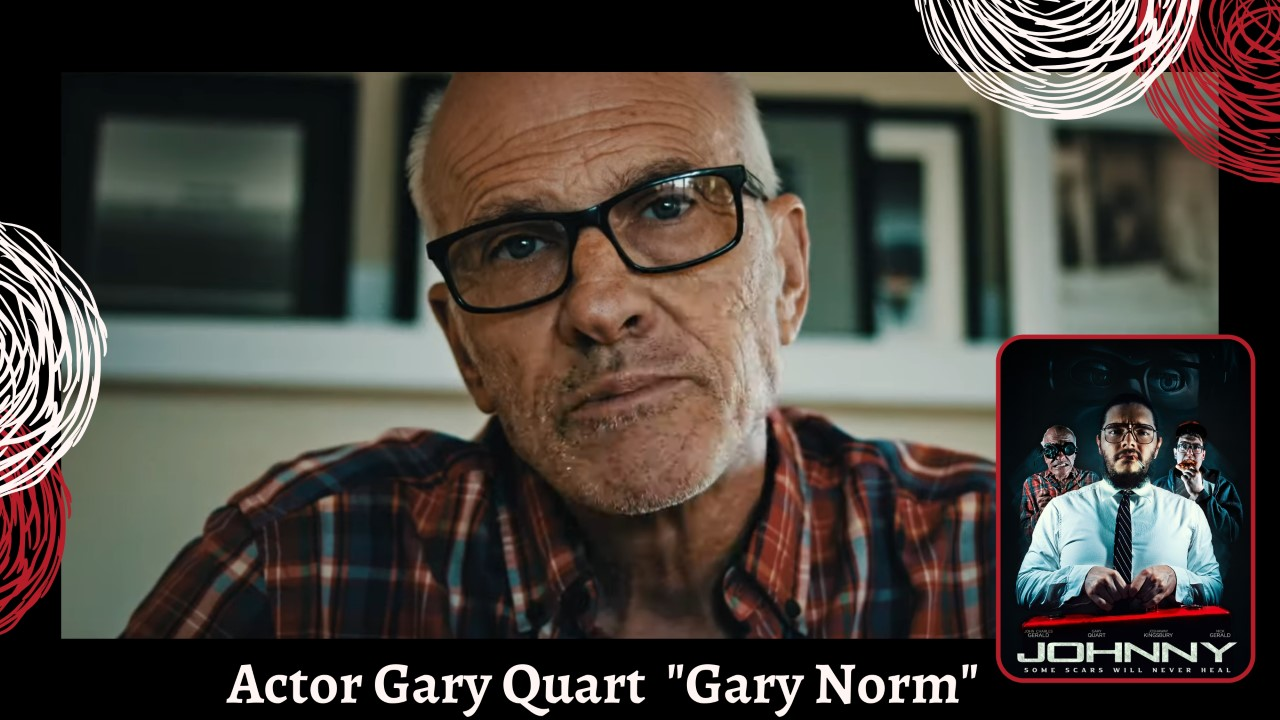 Exclusive Interview: Gary Quart (Johnny)
 https://midnightreleasing.com/filmcatalog/johnny/
How did you get attached to JOHNNY?
I became attached to Johhny when I was introduced to John through a mutual friend. He asked if I would be interested in playing a role in his film, as I had a look that he liked. I said yes.
Tell us a little bit about your character?
My character is a figment of Floyd's demented mind. I am that part of him that was twisted after his abuse.
How was it working with the director, John Charles Gerald?
Working with John was different for me as I had never worked with such a visionary and perfectionist.
What was your favorite scene?
My favorite scene is the where I am talking to Johhny inside the trunk, in Johhny's POV. That angle is used in film making to empower a character.
What was the most difficult aspect to making this film?
The difficult aspect to making the film was waiting, but that was good as it brought me back to my Have Patience and Slow Down Attitude. When you retire you think you have to do
so many things in a short period of time, not true. Sometimes waiting and watching are healthy.
What do you think makes this film stand out?
This film stands out from the rest because the puppet is controlled by Floyd's mind versus the cliche of a Possessed Puppet.
I understand you like old horror from the 20s and 30s, what makes that era so appealing to you?
I love black and white movies from the 20's to 40's. Black and white for me is the best. When I look at photos or movies I am not interested in pretty colors. I want to see what the image says.
There are a lot of people that think that way. Pretty colors for me take away from the message, if there is one. Boris Karloff, Bela Legosi, and so on, they look so good
in black and white. There is the lighting that was used in that era, you really don't see it today because very few movies are made in BW.
What made you want to get into acting?
When I retired I told myself to try different things. A friend of mine said I should try to get into commercials. I went to acting class, enjoyed it, but since I had already worked
for 30yrs, I though, naw, not standing in a line for 10hrs for a 10 second job. So when I started working with John, that changed immediately.
Who inspires your creativity?
I am inspired by individuals who shoot what they think is important to them. You have to get over the self destructive thinking of "Will everyone like what I do?" There is always someone
who will like your work. If you want to make a living at it, you have to work twice as hard. That's rewarding.
What's next for Gary Quart?
I am collaborating with John again on his next mentally disturbing project.
Check out me stuff at garyquartphotography.com
MIDNIGHT RELEASING is a premiere home entertainment distributor of quality independent genre films in North America. We release some of the best movies from all around the world with a focus on horror, thriller, sci-fi, and other dark genres.
Filmmakers with horror genre films that are complete or in post production are welcome to submit their trailer & poster to Sharry Flaherty, Acquisition Executive at SameraEntertainment@gmail.com