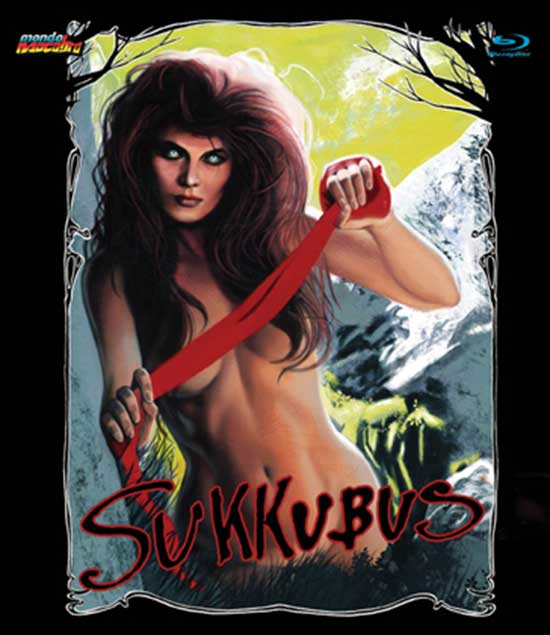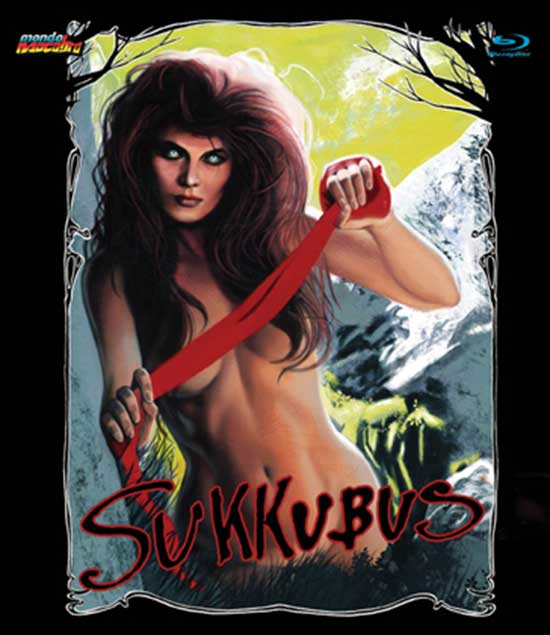 CAV Distributing Corp – New Releases Newsletter
Mondo Macabro and CAV present SUKKUBUS – The Devil in the flesh!
Sukkubus
1 Blu-ray disc
Label:  Mondo Macabro
Preorder:  1/21/22    Release: 2/8/22
MSRP:  $29.95
UPC:  843276024598
Catalogue #:  MDO245
Genre:  Horror
Color
80 minutes in German, with English subtitles
MPAA Rating:  NR
High Definition 1080p 1.66:1
DTS-HD MA 2.0 Stereo
Region code: A
Production year:  1989 in West Germany
Director:  Georg Tressler
Cast:  Peter Simonischek, Giovanni Früh, Andy Voß, Pamela Prati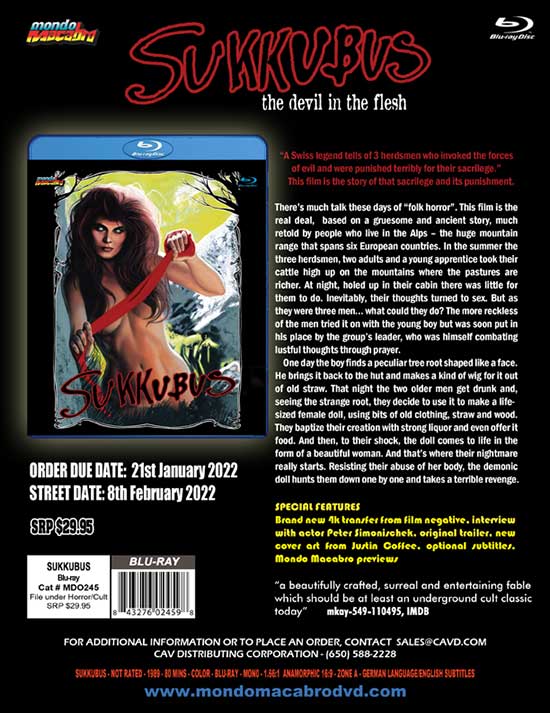 A Swiss legend tells of 3 herdsmen who invoked the forces of evil and were punished terribly for their sacrilege. This film is the story of that sacrilege and its punishment.
There's much talk these days of "folk horror". This film is the real deal, based on a gruesome and ancient story, much retold by people who live in the Alps, the huge mountain range that spans six European countries. In the summer the three herdsmen, two adults and a young apprentice took their cattle high up on the mountains where the pastures are richer. At night, holed up in their cabin there was little for them to do. Inevitably, their thoughts turned to sex. But as they were three men… what could they do? The more reckless of the men tried it on with the young boy, but was soon put in his place by the group's leader, who was himself combating lustful thoughts through prayer.
SUKKUBUS original trailer from Mondo Macabro on Vimeo.
One day the boy finds a peculiar tree root shaped like a face. He brings it back to the hut and makes a kind of wig for it out of old straw. That night the two older men get drunk and, seeing the strange root, they decide to use it to make a life-sized female doll, using bits of old clothing, straw and wood. They baptize their creation with strong liquor and even offer it food. And then, to their shock, the doll comes to life in the form of a beautiful woman. And that's where their nightmare really starts. Resisting their abuse of her body, the demonic doll hunts them down one by one and takes a terrible revenge.
Special Features:
Brand new 4k transfer from film negative, digitally restored.
Interview with actor Peter Simonischek.
Original trailer.
New cover art from Justin Coffee.
Optional subtitles.
Mondo Macabro previews.