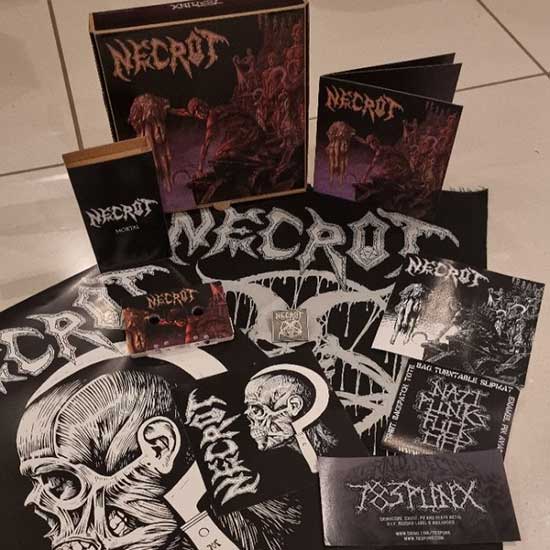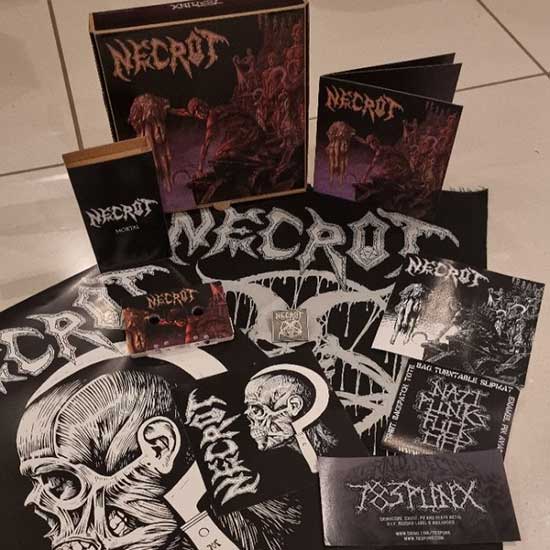 783punx' 'tape pizza boxset' series continues and next in line will be a true gem of death metal: "Mortal" by Bay Area death metal/punk trio NECROT.
Recorded and originally released by Tankcrimes Records in 2020, the follow-up to the band's critically adored "Blood Offerings" debut album is at once earth rupturing and memorable. Easily their most precise performance to date, "Mortal" foams at its mouth with destructive rhythms, intricate guitar leads, and guttural domination.
"Mortal" will soon be available in a 7 inch pizza box with all-over and under-the-lid artwork containing:
– cassette tape with special full-coverage UV on body print, packed in cardboard mailer with all-over artwork
– 2x 783punx sticker
– 2x Necrot sticker (Mortal & Sickle)
– A3 Necrot Sickle poster
– 8-pages booklet with all lyrics and info
– Necrot Demongram enamel metal pin
– Nexrot Demongram backpatch
Limited to 166.6 hand-numbered copies
Release date: 28.01.2022
Copy number #1 goes on auction to support West Oakland Punks With Lunch – specifically requested by the band!
Punks with Lunch (PWL) is doing a lot of much-needed good. Starting as a small operation out of one person's home, they have since expanded to a full-on warehouse for meal prep, a mobile outreach team, and a safe needle exchange program serving the homeless population of Oakland. The group provides basic necessities with a focus simply on "human kindness".
More information can be found here: www.punkswithlunch.org/
PWL are currently raising money for a van to distribute food, necessities and faith in humanity even more widely!
We encourage you to donate: www.gofundme.com/f/help-pwl-get-a-van
Auction for copy number #1 is taking place on the 783punx Facebook – bids only in comments under original post! Auction starts 5/01/2022 and ends 16/01/2022 at 10GMT.
783punx