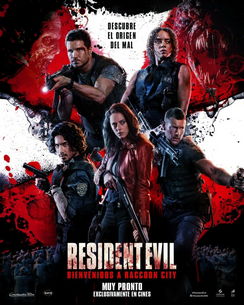 Resident Evil – Welcome to Raccoon City – Género: Terror – Accion – Ciencia Ficcion Pais: USA Duración: 107 minutos Director: Johannes Roberts Guión: Johannes Roberts Reparto: Kaya Scodelario, Hannah John-Kamen, Robbie Amell, Tom Hopper, Avan Jogia, Neal McDonough, Donal Logue, Chad Rook, Lily Gao, Nathan Dales, Stephannie Hawkins, Josh Cruddas, Marina Mazepa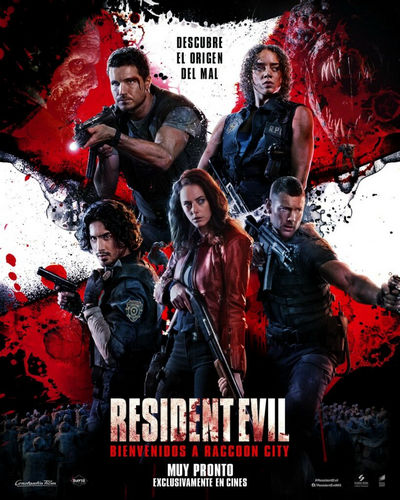 VALORACION: (72/100)


RESEÑA:
Raccoon City, antaño la floreciente sede del gigante farmacéutico Umbrella, es ahora una ciudad de mierda. El éxodo de la compañía ha dejado la ciudad convertida en un páramo en el que se está gestando un gran mal bajo la superficie.
Cuando ese mal se desata, los habitantes de la ciudad cambian para siempre, convirtiéndose en zombies con un perverso gusto por la carne cruda. Un pequeño grupo de supervivientes, liderado por los hermanos Chris y la despampanante Claire Redfield, debe colaborar para descubrir la verdad que se esconde tras Umbrella y poner el culo contra la pared, mientras hordas de zombis van y vienen, van y vienen.
Resident Evil – Welcome to Raccoon City
CRITICA: A los fans de RE no les gusta la saga con Milla Jovovich, no les gusta esta adaptación, no les gusta la saga de animación japonesa y tampoco les gusto la serie de Netflix. La conclusión, nunca vas a contentar a los fans de RE, así como nunca vas a contentar a los fans de cualquier saga de libros en una adaptación cinematográfica, porque hay que compactar la historia en 2 horas o menos y eso es imposible sin quitar cosas de encima.
Resident Evil: Welcome to Raccoon City es un intento de hacer una película fiel de Resident Evil, respetando los orígenes de los personajes, cosa que va a gustar muchos a los mínimos conocedores de las primeras entregas, pero también tiene falencias.
Johannes Roberts es un director que conoce el género, aunque su trayectoria es irregular. Así, te puede filmar un 47 Meters Down, como te puede filmar una secuela (Uncaged) que deja mucho que desear. En su labor como guionista, Roberts compacta dos videojuegos, RE1 y RE2 en una misma película. La decisión tiene sentido porque los dos juegos suceden con meses de diferencia y todas las piezas parecen encajar perfectamente en los papeles, aunque esta decisión es la que, probablemente, termino afectando a la cinta.
Aunque la película de Roberts logra funcionar en una gran parte del metraje, más o menos, hasta el segundo tercio, el último trayecto es donde se termina cayendo.
Hay que destacar el buen hacer a nivel de fotografía y de atmósfera que intenta transmitir Roberts. Probablemente, algunos de los mejores compases del film son los de los primeros momentos, cuando la amenaza comienza a hacerse palpable en algunos de los integrantes del pueblo, mostrando los primeros síntomas de enfermedad. Aquí tenemos algunas escenas inquietantes, como la de la mujer observando en el bosque luego de ser atropellada por un camión, o la del niño observando por la ventana, casi convertido en un zombie. Momentos de horror bien orquestados y que se alejan un poco de la acción reinante en la saga.
Los buenos momentos siguen con las escenas en la jefatura, la mansión y el orfanato, donde vemos algunas conocidas criaturas de la saga. Aunque hay que decir que su presencia no es explicada en la película, ni siquiera el virus se explica, dejando todo ese misterio para futuras entregas.
Se nota que Johannes Roberts estudió bien la saga para escribir el guion y también para el diseño de los zombis y criaturas. Hay momentos que recuerdan a puro RE, la dirección es correcta e incluso la musicalización es acorde. La sangre y los efectos visuales con los zombis son correctas también, aunque no es un film extremadamente gore.
Desafortunadamente, la cinta se cae en el último tercio. En su afán de compactar toda la historia, la película tiene un trayecto final apresurado y se nota mucho la falta de presupuesto para brindar un final digno de Resident Evil. Después de todo, Welcome to Raccoon City se hizo con un presupuesto de 25 millones de dólares. Para que se den una idea, ese dinero en producción es menor al de cualquiera de las entrega que dirigió Paul W.S Anderson, que rondaron entre los 35 y 60 millones de dólares (Paul W.S Anderson es productor ejecutivo de esta cinta).
De esta manera, el final se siente como de serie de televisión (Ay la vaca! xD), y además es corto. Sin embargo, eso no impide que sea una correcta película de terror y ciencia ficción, que no alcanza a ser buena, pero tampoco es 'malísima' como se lee por ahí.
Resident Evil: Welcome to Raccoon City aporta sus buenos momentos de terror, acción y tensión, con la historia más fiel a la saga que se ha hecho hasta la fecha, y no es poco. Sin embargo, peca de ambiciosa y de un reparto irregular, donde solo destaca Scodelario como Claire y Hannah John-Kamen como Jill. Sinceramente, creo que esto merece mínimamente una secuela con mayor presupuesto, luego ya veremos. Recomendable, pero hasta ahí. Un saludo a todos y nos vemos en la próxima.
TRAILER

FICHA TECNICA:
Calidad: 1080
Audio: Ingles



SUBTITULOS
****
—
COMPARTE ESTE ARTICULO! – MIRA ABAJO LOS COMENTARIOS.
ADVERTENCIAS Y REGLAS antes de comentar en BLOGHORROR
• Comentar con respeto y de manera constructiva.
• No se permiten links de otros sitios o referencias a sitios de descarga. 
• Tratar de hablar de la pelicula en cuestión, salvo ocasiones especiales. Nada de interminables debates políticos, religiosos, de genero o sexualidad *
• Imágenes están permitidas, pero siempre con moderación y que no sean demasiado grandes.
• Los comentarios de usuarios nuevos siempre son moderados antes de publicarse.
• Por ultimo, las reseñas y criticas en BLOGHORROR pueden contener humor negro-ácido, que de ninguna forma debe ser tomado en serio! y que tienen como fin el puro entretenimiento satírico.
• Disfrute su estadía 😉
Continue Reading