It's entirely possible that you're not going to run out, rent and line these up for Christmas day. And it's also pretty likely that quite a few of these titles are just simply beyond renting anyways. Most likely an old VHS rental local might do the trick. However, it's always nice to know what your options are…and for your viewing pleasure we have rounded up 20 of the best of the best and best of the worst Christmas themed horror films.
In fact, some of so bad, they might be just the perfect choice for Holiday cheer. I'd personally have to point you in the direction of the newer Christmas horror films as they have some truly decent story lines. "Black Christmas" will do the trick for great slasher films, though a cheesy film like "Elves" might be worth pulling the eggnog out for. One of my favs form the list is a discontinued title by the name of  "One Hell of a Christmas"..though I realize I may be the ONLY one who feels that way 😉
I've listed each below with their appropriate movie synopsis…..enjoy!
(not in ranking order)
01 Sint (Saint) (2011)
A horror film that depicts St. Nicholas as a murderous bishop who kidnaps and murders children when there is a full moon on December 5.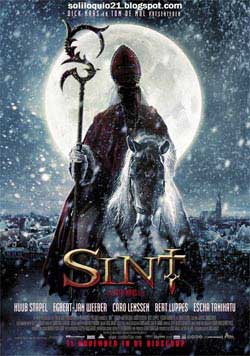 02 Black Christmas (1974)
A sorority house is terrorized by a stranger who makes frightening phone calls and then murders the sorority sisters during Christmas break.
03 Silent Night (2012)
Our newest entry! – This one just pushed out one of the other selections as it HAS to be on this list. You'll want to check my review for more detail though Silent Night easily falls into one of the nastiest, coldest (no pun intended) Christmas horror films ever created. Truly one for horror fans and not for those who love their Christmas

04 Silent Night, Deadly Night (1984) (and sequels)
After his parents are murdered, a young tormented teenager goes on a murderous rampage dressed as Santa, due to his stay at an orphanage where he was abused by the Mother Superior.
05 Rare Exports: A Christmas Tale (2010)
In the depths of the Korvatunturi mountains, 486 metres deep, lies the closest ever guarded secret of Christmas. The time has come to dig it up! This Christmas everyone will believe in Santa Claus.
06 Silent Night Zombie Night (2009)
A week before Christmas a viral outbreak turns the citizens of Los Angeles into the walking dead. On the brink of severing ties with both his wife and longtime partner, L.A.P.D. officer Frank Talbot finds himself trapped with them. As death closes in their survival is further threatened by the fact that both men love the same woman.
07 The Nightmare Before Christmas (1993)
Jack Skellington, king of Halloweentown, discovers Christmas Town, but doesn't quite understand the concept.
08 Elves (1989)
A young woman discovers that she is the focus of an evil nazi experiment involving selective breeding and summoned elves, an attempt to create a race of supermen. She and two of her friends are trapped in a department store with an elf, and only Dan Haggerty, as the renegade loose-cannon Santa Claus, can save them.
09 Don't Open 'Till Christmas (1984)
Somebody with very little Christmas spirit is killing anyone in a Santa suit one London holiday season, and Scotland Yard has to stop him before he makes his exploits an annual tradition.
10 One Hell of a Christmas (2002)
Tolo Montana stars as Carlitos, a man looking to make a fresh start and life with his young son.  nfortunately, when he's talked into "one last job," Carlitos soon finds himself embroiled in a situation far beyond anything he'd bargained for.
11 To All A Good Night (1980)
A group of teenagers at a party find themselves being stalked by a maniacal killer in a Santa Claus costume.
12 Silent Night, Bloody Night (1974)
A man inherits a mansion, which once was a mental home. He visits the place and begins to investigate some crimes that happened in old times, scaring the people living in the region.
13 Jack Frost (1997)
A serial killer dies, comes back as a snowman, and wreacks havoc.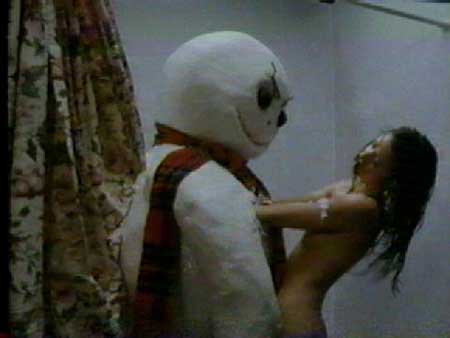 14 Santa's Slay (2005)
Santa Claus is actually a demon who lost a bet with an Angel, so he becomes the giver of toys and happiness. But when the bet is off, he returns to his evil ways.
15 Santa Claws (1996)
A B-horror movie actress is stalked by a deranged fan bent on claiming her for himself.
16 Feeders 2: Slay Bells (1998)
Aliens invade Earth over the Christmas holidays, and it's up to Santa Claus and his elves to save the world.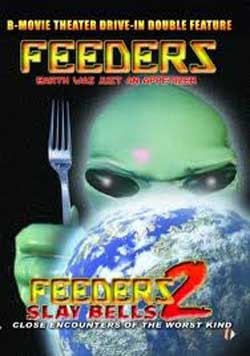 17 Black Christmas (2006)
An escaped maniac returns to his childhood home on Christmas Eve, which is now a sorority house, and begins to murder the sorority sisters one by one.
18 Gremlins (1984)
A boy inadvertantly breaks 3 important rules concerning his new pet and unleashes a horde of malevolently mischievous monsters on a small town.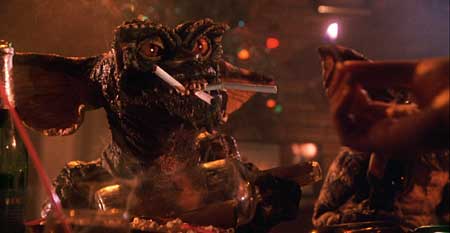 19 Christmas Evil (aka: You'd Better Watch Out, 1980)
A psycho in a Santa suit gets to decide who's been naughty and who's been nice.
20 Nixon and Hogan Smoke Christmas (2010)
Strangeville's famous stoners set out to help Santa finish his Christmas deliveries after he accidentally smokes some yule-tide zombie weed.
New Entry – just added 11/2014
Christmas Cruelty (2013)
This movie is definitely not for everyone. It's got brutality built in that surpasses many in that department. "Christmas Cruelty" belongs on this list but should not be played for crowds who are easily offended. You won't have to wait too long as you'll get the point in the first 5 minutes. The film is Norwegian-based which should give you a hint as to the extreme nature. Approach with caution  (and the fact that its just a film….)