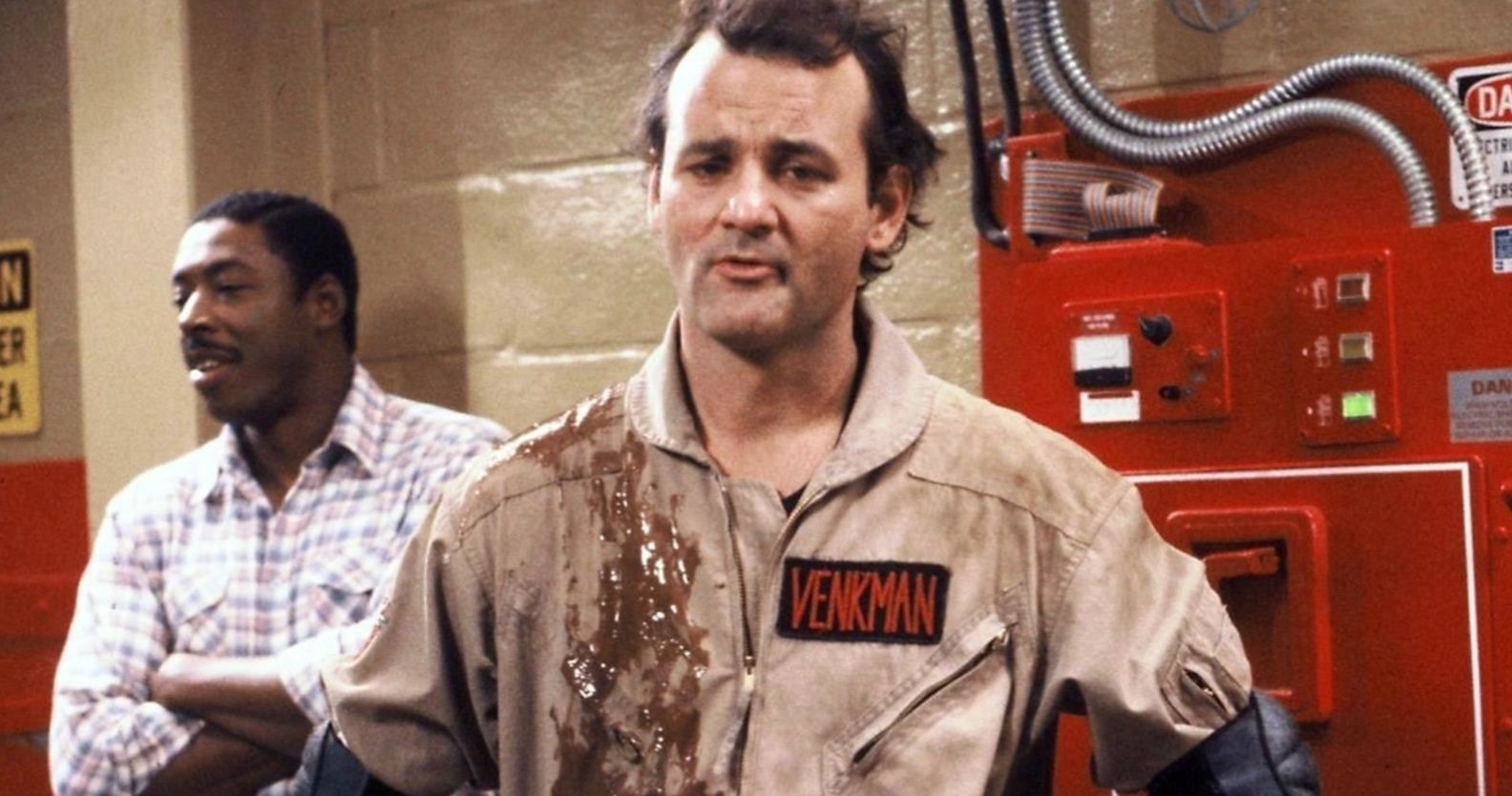 When you have a living legend like Bill Murray on set, there is always something to keep you entertained, and that seems to be no exception while working on Ghostbusters: Afterlife.
From the minute Ghostbusters: Afterlife was given the green light all everyone wanted to know was whether Bill Murray was back in the role of Peter Venkman. Having played hard to get for a long while, even claiming that he had no interest in returning to the franchise, thankfully as we all know he did sign on the dotted line and reprises the role of the sarcastic mouthpiece of the Ghostbusters outfit. Of course, with having a legend like Billy Murray on set means that everyone has a story to tell about working with him, and young actors Finn Wolfhard and McKenna Grace are no exception.
MOVIEWEB VIDEO OF THE DAY
During an interview with ComicBook.com the pair revealed what happened when Bill Murray celebrated his birthday during filming, which involved a serenade and bagpipes apparently.
"Imagine, we got to be there for Bill Murray's birthday," Mckenna Grace said. "And he hired a bagpiper to follow him around." "But he pretended like he wasn't behind him," Wolfhard added.
After the piper accompanied Murray wherever he went, Murray went on to sing an old Scottish song during lunch. This opened up the opportunity for Wolfhard to have a lengthy discussion with the actor about Wes Anderson movies and music.
"We were talking about music and I said 'Well, what's the lineup?'" Finn Wolfhard said about a Blues Festival in New Orleans that Murray was going to and they discussed. "And he said, 'Well, you know, get up on your phone.' And that was a really sweet moment and I just googled the lineup and we just went through the lineup and said who we liked and who we didn't know and it was really, really sweet."
Logan Kim also was happy to to recount their experiences of how when working with Bill Murray the comedy is never ending, even though he was "freaking out" at meeting a movie legend he had watched on screen for so many years.
"When I saw him, I was like, okay, this guy that I've been seeing since I was three years old is right in front of me so I'm going to go say hi. And he's like, 'Hey, what's up?" Just normal. I'm freaking out inside, I was like 'hey' so it was really, really funny because he was always joking and he was just… his comedy never stopped. He always has another joke and it's so good. His mind just worked some way that I don't even know how he does it."
Of course Murray isn't alone in returning in Ghostbusters:Afterlife, as he is joined by fellow Busters Dan Aykroyd and Ernie Hudson, as well as Annie Potts and Sigourney Weaver reprising their franchise roles. It is something that fans have wanted to see happen for over 30 years, and while all of the above returned for 2016's reboot in unrelated cameos, it did nothing for the fans of the 1984 movie and its sequel. This time around, Jason Reitman is delivering a dream that many have had for a long time, and if nostalgia be the thing that makes it a success, then so be it. This news comes from ComicBook.com.
Ben Affleck Says Matt Damon Influenced His Batman Exit
Ben Affleck was miserable filming Justice League and it was after a chat with Matt Damon when he was sure he didn't want to play the role any longer.
Read Next
About The Author

Anthony Lund (1454 Articles Published)
Anthony Lund is an author, songwriter and puppeteer from a small village in the U.K. with an avid love of all genres of TV and film. As well as keeping up with the lastest entertainment news and writing about it for MovieWeb, he works as a video editor, voice over artist and production designer. A child of the 80s, he is the owner of almost 2000 books, more toys than his children, three Warner Bros. Store Gremlins and a production used Howard The Duck movie script.