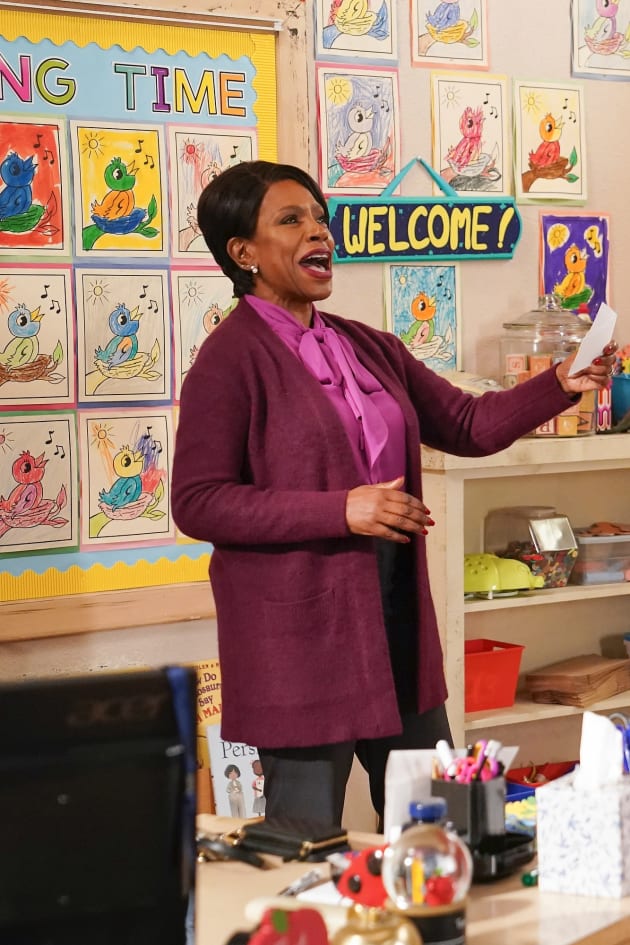 Fans have been waiting on the Charter School battle, and Abbott Elementary did not disappoint. The team confronted the oncoming vote for the school's future together, and it was a riot.
Draymond, a former student of Barbara's and their primary antagonist, was played by the astonishingly talented Leslie Odom, Jr. His character was sleazy and phony, but he carried it oh so well.
On Abbott Elementary Season 2 Episode 19, the staff banded together, and it further solidified Abbott's place in the community and on television.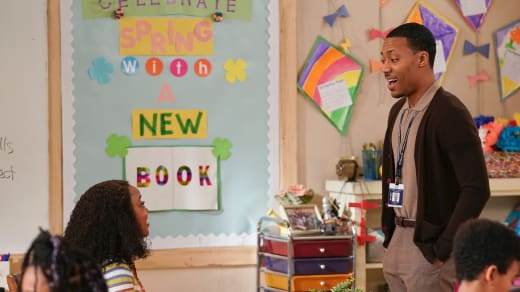 The writers had a field day because everyone was in their hilarious element. They even featured newer teachers who stole their respective scenes. This episode is undoubtedly worth the watch.
It had that feel-good vibe of knowing that a community could come together for more than just a good time. The show is building not only a community but a world, and it's engaging and exciting to get to know all the moving parts.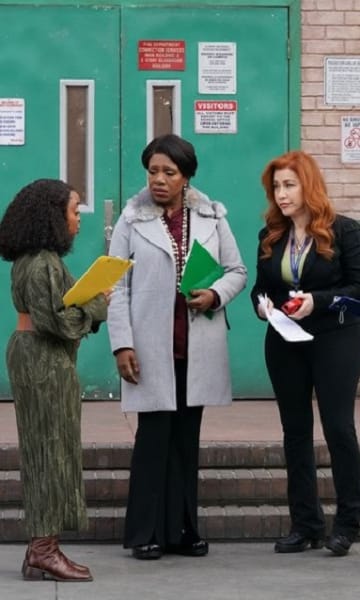 As the Abbott staff tried to find a solution, we met a few more staff members and saw a more cohesive view of what runs Abbott.
One in particular, Allie, was hilarious as she suggested ideas that weren't quite feasible. We are seeing more of the staff, and they are fighting for their school.
This is a dope change since Abbott was long since considered a failing school with high turnover rates.
Janine: What if we just focus on new ideas because what we've been doing isn't working?
Ava: No idea is too stupid to pitch.
Allie: How about we just lock all the doors in the school? Then they can't get in. Like Lean on Me?
Ava: In a rare turn of events, I was wrong. Please only pitch good ideas.
Jacob, ever the woke white guy, was out of his element as his peers name-dropped black celebs. He tried to google Lee Daniels and Jazmin Sullivan ( who got much-deserved credit despite not appearing in the episode) and was continually exposed for his ignorance.
It was one of those moments that is super relatable and embarrassing. It makes you wonder if he goes home and googles black celebrities to stay relevant.
Each staff member played their part — even Mr. Johnson offered to use his 75% completed treasure map and, later, sharpened the tip of a mop into a makeshift shank for some unknown reason.
Mr. Johnson is always a wild card, but I almost lost it when he scanned the festival attendees with a curling iron instead of a metal detector.
There was a slight change in the budding romance between Janine and Gregory, but fans who hoped to see progress will be pleased that he had a run-in with Erica, Janine's bestie.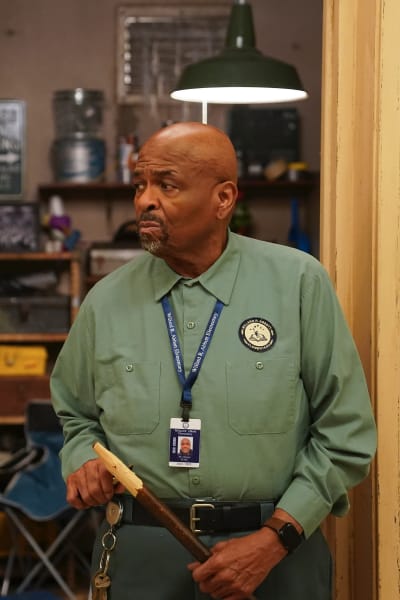 She intrusively questioned him on the nature of their relationship and if he was okay with just being friends.
Yes, Erica, inquiring minds want to know. Erica is such a beneficial character.
She calls it like it is and interacts with the staff like she's watching the show with us.
There's no beating around the bush with her. She is clearly matchmaking and living vicariously through their awkward romance. Fans will thank her for it later.
Although they didn't address the romance with each other, their exes both made an appearance.
Despite Gregory's initially resisting her calling Tariq, he booked the successfully struggling rapper to headline the event.
In the screener I watched, Tariq called Gregory "Tyler Manager" when he took the stage instead of calling him Gregory.
I thought my mind was playing tricks on me! It might have been a play on Tyler the Creator since the actor's name is Tyler James Williams, but it almost slipped right by me.
This is gonna be the best show in Philly since Dru Hill sold out the Wachovia Center in '03. They were like two hours late, but Sisqo did like thirty backflips

Ava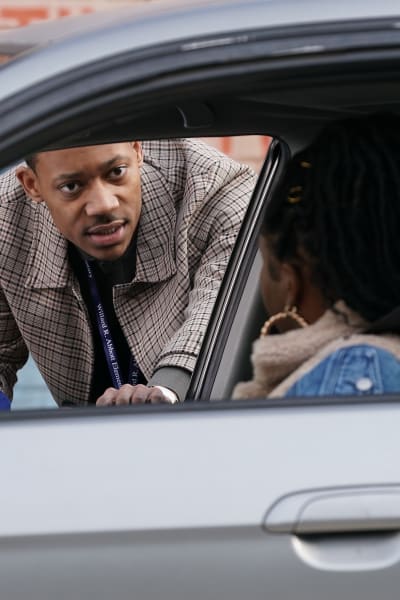 Tariq is pure comedy. He is a walking punchline, from his explicitly idiomatic lyrics to his loomingly narcissistic self-view.
But somehow, he was able to move the crowd — a crowd that was expecting Grammy Award-winning artist Jazmin Sullivan.
The parents immediately rejected Leslie Odom, Jr.'s character.
His sophisticated, charismatic appeal did not sway them, and Mr. Johnson swept him off the stage "Sandman" style.
Allie: We could bribe the superintendent!
Melissa: With what money? Would you get your head in the game, Allie!
Mr. Johnson: In my safety deposit box, I have three-fourths of what I think is a treasure map, now if we find the other quarter —
Mr. Johnson needs a whole episode; he is comedic gold. And that nostalgic homage to Showtime at the Apollo was perfection and made the entire episode worth the watch.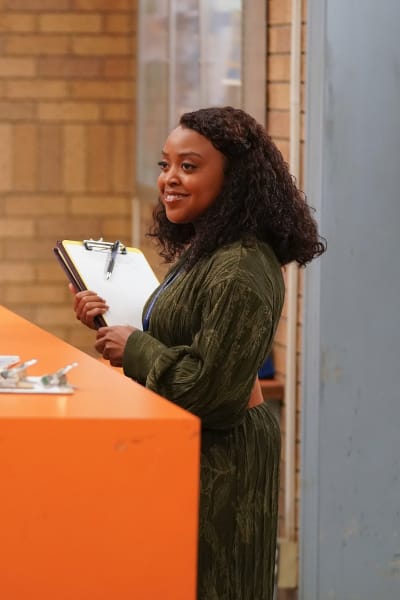 Janine is growing, and it looks good on her. Several times in this episode, she confronted Ava.
This differs from the Janine of old, who would have let her snarky comments fly.
Janine: So what, we throw a big festival during Open House and make people sign the petition to get in?
Ava: Now that's absurd. But it does give me an idea. We should throw a big FUN festival during Open House and make everyone sign the petition to get in!
And it appeared to have given Ava some semblance of respect for Janine.
Although she did high-jack Janine's idea, she cooperated with Janine's suggestion to meet with the staff. Ava is consistently selfish and seemingly vain, but she cares deeply for the school and its students.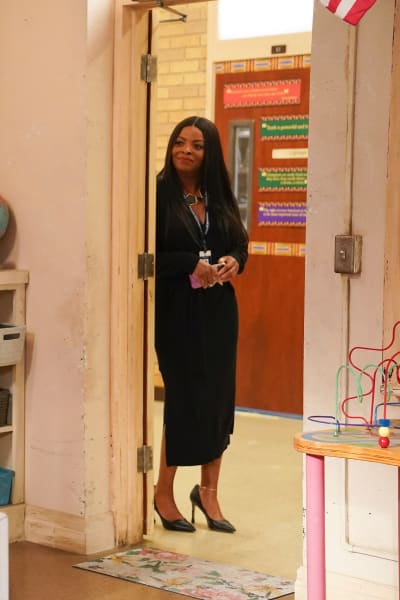 Gregory invariably stumbles into the most embarrassing double-entendre comments, and Tyler James Williams' facial expressions are always hysterical.
I could watch an hour of just him reacting, and it would be a side-splitting comedy. He could be this generation's Mr. Bean — someone needs to go ahead and jump on that.
Amber's appearance was a reminder that one — she's a parent, he probably shouldn't have crossed that line, and two — she solidified that it was over.
She has moved on incredibly fast, which may also persuade Gregory to move on.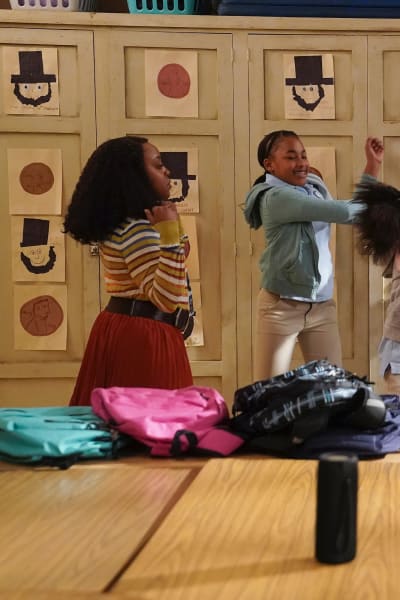 Fans are still rooting for him and Janine, and since he seems to be a serial monogamist, it would make sense.
But fortunately, romance is not the show's central concept. Creating other areas of tension or circumstances has served the show well.
Now that the charter school threat is resolved, we can look ahead. Although it seemed far-fetched that Draymond would give up this easily, we give them the grace of a thirty-minute situation comedy. They have funnier fish to fry.
Ava: So.. How'd that begging work out?
Janine: We're not begging, we are respectfully pleading… and not well. Where'd you go?
Ava: Job interview.
Janine: Ava!
Ava: I'll be the first one fired by Legendary. You know what they say, the finest one in, the first one out.
Overall, it was a great episode; every joke landed. The cast is a true ensemble. Every member played their part and gave us 30 minutes of laughter, good vibes, and family.
What did you think of this episode?
Do you feel the charter school threat is over?
Drop your thoughts in the comments.
Brandi Powell is a staff writer for TV Fanatic. Follow her on Twitter.