Detective Jet Slootmaekers (Ainsley Seiger) is in some serious trouble right now on Law & Order: Organized Crime.
Jet went undercover to get close to Seamus O'Meara (Michael Malarkey), who works for crime boss Eamonn Murphy (Timothy V. Murphy). But when it looked like her cover was blown, she identified herself… only to end up in Seamus' trunk.
Seiger teases what's ahead and discusses Jet and Seamus' complicated relationship.
Why did Jet drop her cover versus just saying she wore a wig? Or did she think it was the best time to try to get Seamus to surrender?
Ainsley Seiger: I had the exact same thought. Why don't I just say, "Oh, I got a bad haircut. I regret it. I wanted to see what I look like with bangs"? That's a perfectly good excuse, but it's also worth taking into account that this is the first time that Jet has ever done anything like this. It's a high stakes situation, high pressure situation. I think there's a little bit of feeling like none of this would've happened if she hadn't gotten involved and she saw an opportunity to try to save him, to get him out of the situation that he's in, and she took it.
Things got intense between Jet and Bell (Danielle Moné Truitt) in the last episode. Those scenes were so good.
We were super excited to finally have some stuff together that we knew was not going to get left on the cutting room floor. We've had a few scenes together where we have not gotten into it in the way that we have in these last two episodes, but we've done some stuff together that has just ended up not airing or it's B plot stuff, so it's not the most action-packed, important stuff in the episode. Both of us were really looking forward to actually getting to work together in a more intense and important way.
I think it's also great to see these two characters having kind of a struggle because Jet has always been the only one in the task force who listens to Bell without fail. Everyone else is always going rogue or deliberately disobeying orders and putting her in a really tight spot. It's been interesting to grapple with the feeling of "I know that she knows best and I want to listen to her because I want to make her proud" and also this driving force of "I have to prove myself. I have to show her somehow that I am capable of doing the things that she asks me to do and going above and beyond."
In that scene with Bell, Jet is in control and then she completely loses control in the last one with Seamus.
Yeah, it's a nice dichotomy for a character who is so eager to be in control. I think the entire aspect of the tech work that she does is she can sit behind the computer and stay safe and she's in a world that she knows, she's familiar with, she's comfortable with, and she is better at than certainly anyone else on the task force but most characters that we've met in the show. [She goes from that] to all of a sudden being thrust into this unfamiliar territory and having to figure out on the fly with no preparation beforehand, no script, no idea of how bad things could get, what she's going to do.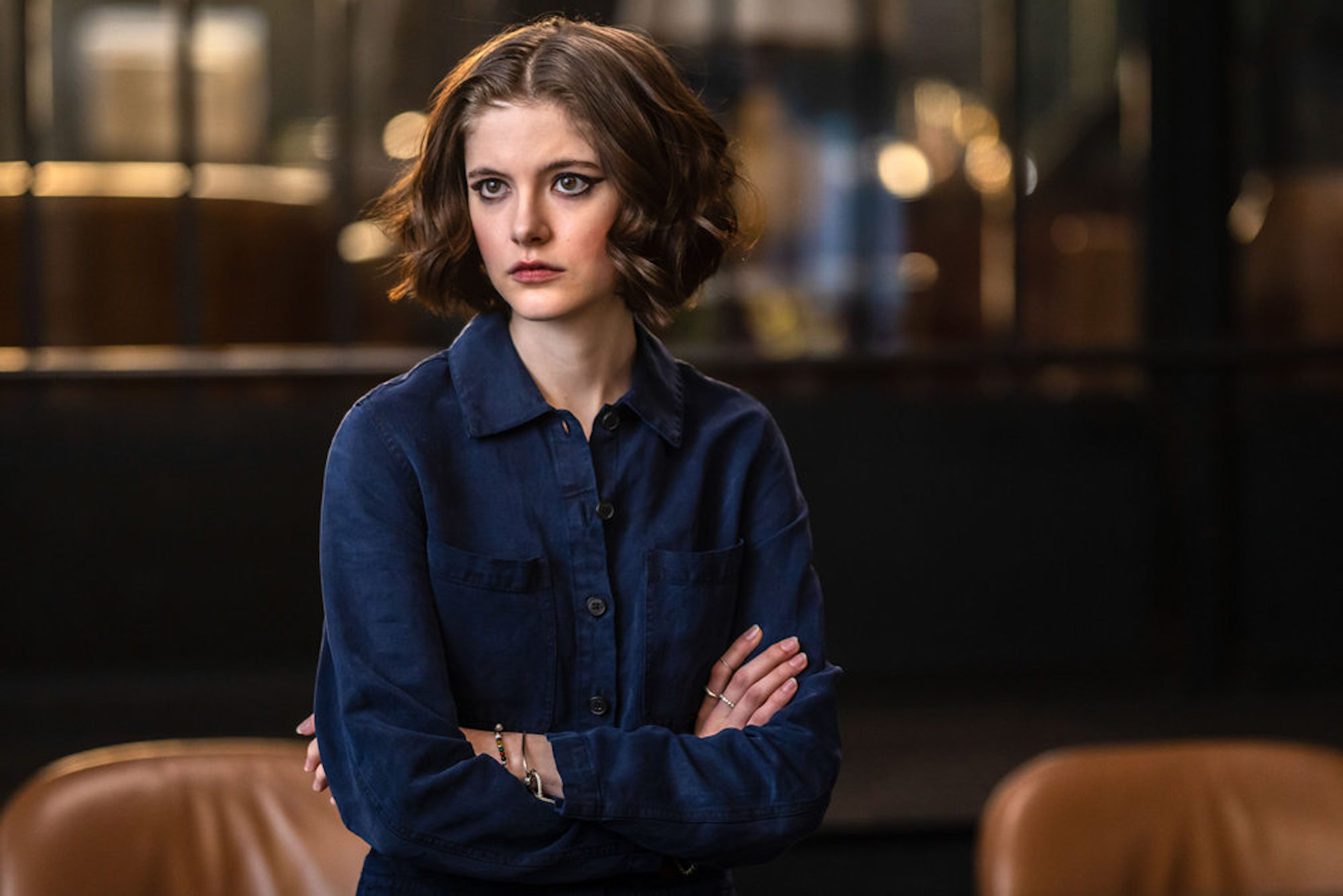 Zach Dilgard/NBC
Bell does question how Jet feels about Seamus. Before she ends up in his trunk, what does she think of him? Does she feel a little bad for him?
Oh, 100 percent. I think it's more than feeling bad for him. It's been funny to see everyone commenting on the episode being like, "Oh, good. She revealed her cover. I thought she was actually falling for him," sitting there thinking to myself, "Oh boy, how do I tell you guys? How do I break the news to you that Jet is definitely feeling things for him?"
I think that's what has made this so complicated. It's not compelling to me as the actor, as the viewer, for it to be so black and white. That's what has been so fun for me is that obviously if there's one thing that Jet's going to do, we know it's fall in love with a criminal. She's done it before and she'll do it again. But what's the most fascinating to me is that I really feel as though Jet has always had a very morally concrete view of the world and her job and her place in the task force and Seamus is the first person to come into her life and introduce this gray area of, oh, this is someone who does not want to be doing what they're doing. We're not just playing cops and robbers anymore. There's a whole lot more at play.
Jet is in the trunk, without her phone. How is she feeling about the position she's in? Does she think she can get herself out of it?
I think so, yeah. Jet — even if it's not top of mind, because there's a lot of other stuff going on — feels confident that she's going to be able to somehow get herself out of the situation. But I think the majority of the feeling is frustration: How did I get here? How did I wind up in this situation? It's a lot more than just, "this jerk knocked me out-ish and threw me in his trunk." It's a little bit more, "Oh my God, how am I going to show my face in the task force again now that this has happened?"
Seamus appears to bring her to her grave in the woods (as seen in the clip below). What can you tease?
I didn't end up getting to because we were a little bit rushed, it was my first night shoot that I've ever done, and it was cold in the woods, but I really wanted to get into the grave and take a picture in the grave. [Laughs] But as far as the scene goes, I think people will be intrigued to find out what the grave is for, what the purpose of it is, the significance of Seamus bringing Jet to that place after everything that has happened. It's not as simple as it would seem in the promo and given the context of what happened in the last episode.
What can you say about Jet and Seamus' dynamic in this next episode?
If it were a Facebook status, it would be "It's complicated." Building that relationship has been honestly some of the most fun that I've had on this show. It's so nuanced and weird and interesting to throw a character like Jet into that circumstance and see what she does, especially since Bell tells Jet, "Keep your emotions in check." I remember first reading that and thinking, "Well, I feel like out of everyone, Jet is very reserved, she's very guarded. She's not a particularly feely kind of person." And then for this person to come in and shake all of that up, and of course the moment of betrayal…
But my favorite thing about the dynamic between Jet and Seamus is that at the end of the day, these are two people who are lying to each other in an effort to save one another. Seamus lies to Jet about what it is that he does for work, even though he doesn't know that Jet is fully aware of what that is. Jet is lying to him about who she is and being a cop. But on top of that, there's an extra layer of, while they are both lying to each other, they see one another very clearly — who they are, who they want to be.
It was my favorite part of the script, the opening of this last episode where Seamus takes her hands and says, "You're an artist." I think it's such a huge moment that this guy sees a plot point that has not been addressed since the pilot episode of Season 1. I love them. I have a lot of care for that relationship.
There's also Seamus' feelings for Jet to consider.
Yeah, and it's a big betrayal what happens.
What else can you say about next week's episode?
I'm excited for people to see the small moments that do reveal — because this episode happens so fast and it happens over the course of what feels like very few days, and of course that's the magic of television, two characters falling in love over the span of a week of knowing one another — this has gone deeper than what we have seen taking place on screen. And I'm looking forward to people seeing Jet access a very deep emotional well for the first time.
Given how this is going, is Jet more likely to want to use this experience to go undercover again or take a step back from that at least for a little while?
In my heart of hearts and my dream of dreams, this would not get thrown away. It's important to me that it's important to her and I want to respect that and honor this little journey that she's been on. It's the most emotionally taxing thing that she's gone through in the course of the show, and I think it's important to pay heed to that and be aware that this is not something that just goes away — not even the trauma of it, but just the effect of, "how do I keep going to my job every day and pretending like I'm normal, like nothing happened?" And again, in my heart of hearts, the way that we would see this affect her would be for her to maybe have a little bit of an issue with the undercover stuff, not so much so that she is incapable of doing her job — obviously that doesn't intrigue me so much — but to see it take more of a toll on her than just being able to get up and go the next time that someone asks.
Law & Order: Organized Crime, Thursdays, 10/9c, NBC