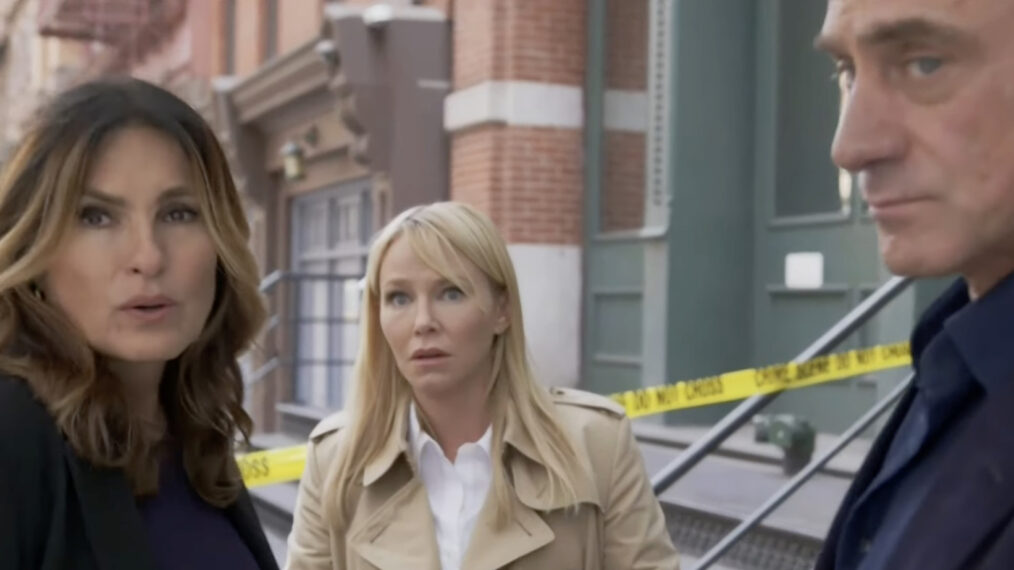 The next Law & Order: SVU and Organized Crime crossover is so big, it's going to take place over two weeks — and it not only brings former partners Captain Olivia Benson (Mariska Hargitay) and Detective Elliot Stabler (Christopher Meloni) back together, it also features Kelli Giddish's return as now Professor Amanda Rollins.
It all begins on Thursday, May 11, and the SVU promo shows, to tease the start of the crossover, Stabler telling Benson, "It's good to see you, partner." We'll have to wait to see if they address their almost-kiss from the January 26 episode of SVU.
The Organized Crime promo focuses on the case and shows Stabler bringing Rollins in. They're looking at revenge for hire, he explains, and she admits, "I'm intrigued." It also shows Benson remarking, "surprises all around," while standing with Rollins and Stabler. (Is she talking about Rollins' pregnancy or something else?) Watch both videos above and below.
In the next SVU, Benson and Carisi (Peter Scanavino) are baffled when a series of assaults have the same M.O. but different DNA at each crime scene, and as the promo shows, Muncy (Molly Burnett) believes she knows who's responsible.
Then over on Organized Crime, when DNA from an SVU rape investigation connects to an OCCB unsolved murder, Stabler and Benson uncover a revenge-for-hire scheme on the dark web. While Bell (Danielle Moné Truitt) and Jet (Ainsley Seiger) follow the money trail to expose the website's anonymous creator, Stabler asks Rollins for help with a key clue.
As for the finales on May 18, first on SVU, the case has spread globally. Fin (Ice T) and Bruno (Kevin Kane) help a rape victim assaulted a second time. Jet's plan to hack the dark web backfires and puts the team in danger. And it all ends on Organized Crime, in which the two teams close in on a callous and desperate suspect, but the US Attorney benches Stabler and Benson. Bell and Fin must lead the team on a perilous task. Plus, Rollins confronts a witness who refuses to cooperate.
Law & Order: SVU, Thursdays, 9/8c, NBC
Law & Order: Organized Crime, Thursdays, 10/9c, NBC