Euphoria's second season has delivered some seriously chilling moments and Nika King is just one of the many talents behind them.
Playing Leslie Bennett in the HBO hit, King's performance as Rue's (Zendaya) mother is certainly among the season's most notable. King's shining moment this season came in Episode 5, "Stand Still Like the Hummingbird," via an explosive fight with Zendaya's Rue who lashed out amid severe withdrawal symptoms. Their knock-down-drag-out fight made way for truth bombs and heartbreaking exchanges.
Leslie continued to support her daughter through addiction. Despite an apparent upswing in their home life as Rue worked on getting clean, a desperate call made by Leslie in Episode 6's final moments conveys just how tortured she is by the need to help her daughter. Below, King opens up about some of Leslie's most dramatic Season 2 moments, muses on her character's depth of understanding Rue's addiction, and much more.
(Credit: HBO)
There seems to have been a noticeable shift between the stakes in Season 1 versus Season 2. What has your experience of working on Season 2 been like in comparison to last time?
Nika King: Well, it's been a combination of things. Season 1 was amazing, I was super excited about how it went, how people responded to it. Then of course we had the pandemic and it went away for a while. When Season 2 came, we knew that the fans were going to love where Sam [Levinson] was taking the story. It was just so juicy and you had to sit on it. We had a table read on that Friday before the pandemic and we were supposed to shoot that Monday. It was like we were so excited, so ready to go, and then the world shut down. But I think it was definitely worth the wait.
Well worth the wait. And a lot is going on for the Bennetts right now. In the most recent episode, "A Thousand Little Trees of Blood," Leslie makes a phone call in which she tries getting Rue into an in-patient rehab. Does that desperation come from concern for Rue's health or is it partly to do with saving Gia (Storm Reid) from the drama of having Rue home?
I think Leslie has been down this road before, especially in Season 1 when Rue overdoses. I think she understands that she has to be in in-patient rehab. She can't do this being home and we see over the course of a couple of days, she's going through withdrawals. But I think her plea at the end, she's really grappling with the fact that Rue is suicidal because she's gone to an extent of stealing drugs from a drug dealer and going off the rails completely. Leslie understands that, she knows that, she wants to protect Gia at the same time and just keep their family safe. I think the best thing, in the show, is to remove Rue from the household so she can get the help she needs.
(Credit: HBO)
The vibes at home were definitely improved over the episode prior as Ali (Colman Domingo) came over to cook dinner with the Bennett gals. What has it been like getting work more with Colman this season, and is it a good thing to have Ali around so much?
Listen, life happens, right? Things can always go wrong. We hope for the best, but things can always go the other way. But first and foremost, Colman is amazing. He's a beautiful human being. We became really cool after shooting our scenes. But as far as the storyline between Leslie and Ali, he is an addict, and unfortunately, once you're an addict, you're always an addict. You're not active per se, but you always have that sensibility to maybe go and use again. So I think for now, within the story, it feels good to have someone who understands Leslie, someone she can talk to and confide in. If it goes romantic, we'll see. But I think just having that support system in place is important for Leslie's mental health.
Leslie certainly needs the support considering the severity of Rue's addiction. Do you think she understands how serious Rue's situation is with Laurie (Martha Kelly)?
Well, I think Rue is definitely going down the wrong path. Leslie understands that she's taking care of her daughter, she's looking at her body, she's bathing her, she understands that something went down. Now, whether they've had a conversation about it, I think Leslie just knows in her mind, my daughter is definitely on a path to destroy herself. So going back to Episode 6 is just that heart cry of a mother's last resort. I see that going a little deeper for the next couple of episodes and possibly Season 3.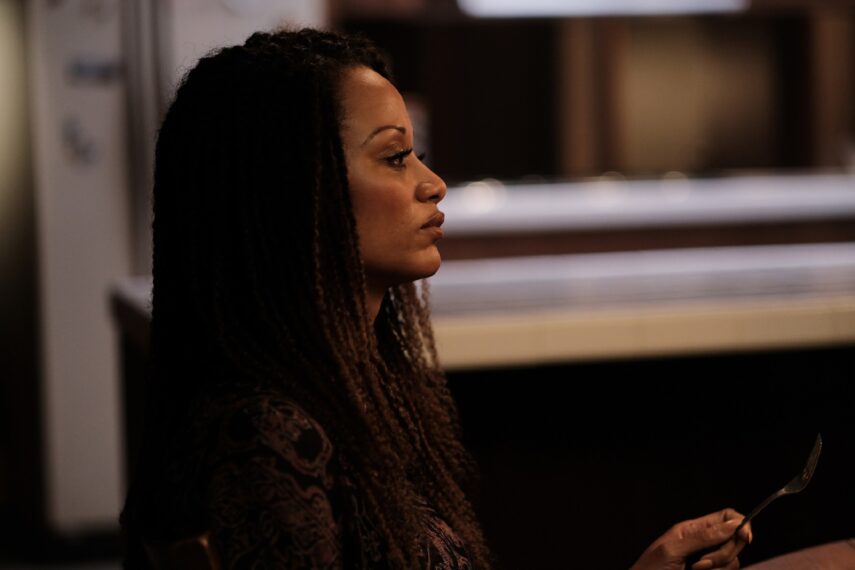 (Credit: HBO)
Considering these darker moments, it may surprise some people to know that you're more experienced with comedy. Do you approach drama differently from comedy? Is there more pressure involved?
Definitely different prep, different technique. It's interesting because I was on Twitter and Robin Williams was trending and I saw people just give him his props for being such a dramatic actor and a comedian. I thought, "it's nice to have both of those skill sets." I think it just comes from pain. You tell jokes and you be silly and you make people laugh because you know what it's like to hurt and go through things that are not good. But I think for me, it's just my natural ability to be funny and silly.
Drama actually was more challenging because I didn't want to expose myself. I don't want to cry in front of people. In my mind, before I started therapy in my twenties, crying was a weakness. So I'm glad I was able to do this role now as opposed to back then because I probably wouldn't have given the performances that I needed to bring Leslie's story to life.
(Credit: HBO)
Things can definitely get heavy on this show. Between intense scenes with Zendaya and Storm Reid, is joking imperative to lighten the mood? Or does that disrupt the process?
Well, I've learned from Season 1 not to do that actually. So I don't joke, I do my best not to. I kind of stay away from Z and Stormy because we're always being silly so it's like I need to have my blinders on and be in my meditation and not be laughing because it's hard to go back and forth between being in the character and then being myself. So for this season, I learned no laughing, no joking, I'm your mother. I'll be in character. I'll talk to them like I'm their mother. That's the best way to do it because I want to be ready when it's time to go. I don't want to have to spend so much time getting into character because I'm off on the side, playing with Z or trying to do a TikTok with Stormy.
When it comes to capturing those deeper moments, what's the collaborative process like with showrunner Sam Levinson? Is there room for improvisation?
Definitely, like the scene in Episode 5, when I say, "I raised you," I've heard my mom say that a million times to me as a teenager and even now as an adult. Moms have a way of bringing you back to reality like, "Don't get it twisted. I still raised you. I'm still your mom." So when I had my script the night before, I just had little one-liners that I could say throughout the scene that I've heard my mom say [and] other moms say to their kids. So I'll come in and check in with him. Sam is a celebratory being for other creatives. He wants you to feel free to do what it is that makes sense within the scope of the scene but it's all a collaborative process.
Is there any improv within those fight scenes at all or is it mostly choreographed?
Well, the bones are there, right? Sam gives us the structure of what's going to happen, how it's going to happen, and then we just put the meat on. Putting the meat on, it heightens every time. Because, yeah, she's kicking the door and as the audience, you see that, but it was so much more that happened at that moment. And the great thing is Sam knows how to use every moment to tell the story.
How much reset is involved in filming those sequences? There was a lot of destruction between the door bashing and Rue's room.
Yes. It's a hot set. It's always hot. Once it happens, it happens. I think we did that scene when she destroys the door one time. Once she did it we worked around it. And the resets for the fights are intense because it's a lot of people in that room. It's the boom guy. It's the DP, it's the this, it's the that, so there's always this dance of making sure that the boom isn't hanging down. It's fun though, because at the end of the day, it's like, "Okay, we did it, we nailed it."
I can't even begin to imagine where the final episodes will take us. What should viewers anticipate heading into the final episodes of Season 2?
I have watched Episode 7. I don't think anyone has watched Episode 8. Everybody is going to be in for a shock. When we were getting emails throughout production, we didn't get the whole script [for Episode 8]. I only got my scene, so I think Episode 8 is going to be a surprise. I know what I shot, but I don't think anyone has seen it in its entirety, so we're all going to be pleasantly surprised.
Surprised in a good or bad way? Should we be scared?
I don't know. We just have to wait.
Episode 7 is teasing Lexi's (Maude Apatow) play which looks like it will be an intense situation for certain characters. What can you tease about that event's impact on the characters?
It's going to be an intense experience for everybody. Let's just say that. Everybody. And I love how [Sam] wrote a play within a play and how he wrote it in a way [where] it's all happening in real-time. Yeah, I can't really say too much, but it's going to be drama.
Euphoria, Season 2, Sundays, 9/8c, HBO and HBO Max