I'll be the first to admit I don't recall the O.G. Fantasy Island with any real detail or continuity. Still, I don't believe Mr. Roarke and Tattoo had any narratives that carried over in a serialized fashion.
The weekly offerings were generally focused on the guests and their fantasies/lessons.
So it speaks to the evolution of the series that Fantasy Island Season 2 Episode 8 has a guest storyline that significantly furthers the season's long arc.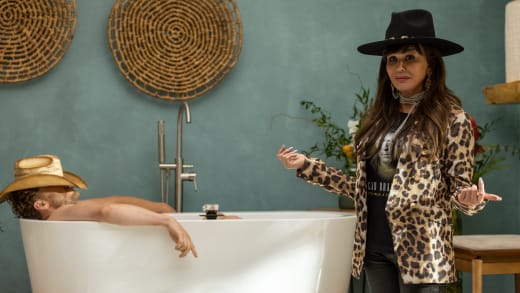 We haven't done a swap storyline in a while, and while it could be considered low-hanging fruit plot device-wise, it is an effective and humorous way of highlighting the differences in perspectives status can create.
No one's really in the wrong. Shay's just never questioned whether Beau enjoys his work, and Beau hasn't spoken up about the things he finds degrading because, well, he's a good assistant, and they don't complain.
In a way, both Shay and Beau are trapped in respective self-defeating echo chambers.
Shay's been surrounded by yes-people for so long that her sense of entitlement has taken her far from her hard-won roots.
Meanwhile, Beau's invested his entire life into Shay's career and the mechanics of her every day that he's lost any authentic sense of his abilities.
Like the inverse of Dumbo's feather, he feels like he can't fly without her blessing.
There are times like this when I'm curious about what it feels like to be Elena in the role of Island host.
Island magic has never been spelled out clearly.
Ruby: You have something up your sleeve, don't you?
Roarke: Always.
The Island seems to design the fantasies, and yet, Elena insists on the guests articulating the dream they are here to fulfill.
Does verbalizing the fantasy play into how the fantasy manifests? Or is it a verbal acknowledgment that they are there willingly and with consent?
And how much influence does Elena have over the fantasy? Her interaction with Beau would indicate that she has some.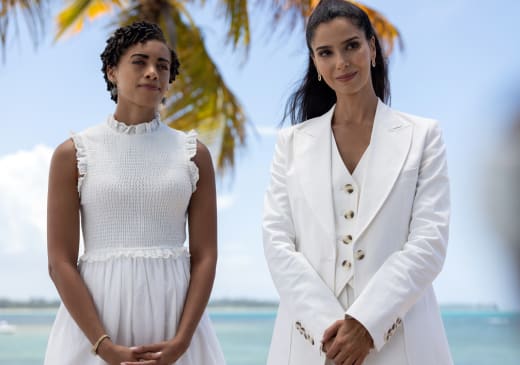 Sort of like when toy lines expand their offerings, it's been fun to see how much the writers can play with the formula of Fantasy Island.
On Fantasy Island Season 2 Episode 6, the guests arrived by jeeps, presumably after being flown into a dock on the other side of the Island where the storm winds didn't interfere with the landing.
Here, Shay insists on arriving by boat, which begs the question of exactly how far the Island is from the mainland that Javier can bring guests in with a small motorboat.
Ruby: What is the rush? I don't even see the plane yet.
Roarke: Oh, we're not using the plane today.
Ruby: What, no plane? Wait a minute, did Javier quit?
Roarke: No, Javier didn't quit. We're using the boat.
Ruby: Oh. We have a boat?
We never get a reason as to why Shay won't fly. Also, since Isabel on Fantasy Island Season 1 Episode 7 suffered from modern travel, couldn't she have arrived by sailboat? Or rowboat? Or are alternative travel options only available to country music superstars?
Shay's experience in the swap is predictably nostalgic.
She gets a holiday from being recognized and pursued while revisiting some of her early life skills, like waitressing a tray of drinks.
But the novelty of the experience doesn't unlock her creativity until Beau unloads his resentment on her.
Shay: You ever try sourcing decorative Stetsons on an equatorial island? I got a Panama. You like it?
Beau: Look, all I know is I need a fringed vest and remember, any vest is a fringed vest if you own a pair of scissors.
Shay: You want me to infringe something?
Beau: You have no idea of all the problems that I solve for you without you even knowing about them. I'm just asking for a little bit of fringe!
And she strikes back, knowing how insecure he is about his singing ability.
Shay: You still have to figure out how to pretend you have a voice.
Beau: I would rather not have a voice than not have a soul.
Finding her way back to her writing roots, prompted by her mother's letter and the presence of her dog Waylon via Javier's Silver Bullet, is a lovely moment of connection. These are the moments Fantasy Island as a show concept really shines with.
However, does anyone else wonder where Javier spent the night since his trailer was inaccessible?
We spend a lot of time reading Elena's facial reactions to Shay's romantic interest in Javier. She's hurting from the separation, and there's a lot of regret as she thinks she sees Javier moving on.
Using the song that emerges from her trip back in time and place to reconcile with Beau as well as the trigger for Helene's return to her normal life, is a masterclass in narrative multitasking.
Beau: I was trying something new / Figured I could blunder through / I guess I was always brave / But life is sometimes frightening / And the light can turn to lightning / When you step out on the stage / I was feeling rootless / Did I think that I could do this? / Couldn't get out of my bed / And I remembered what you wrote / The last time you left a note / And this is what you said: / I can tell you're loving your new home / It's awfully small but it's your own / And any time you feel alone / Please pick up the phone / Cause I'll always be home / I'll always be home / I was full of being empty / Didn't have a soul to tend me / I was truly all alone / Then you wrapped your words around me / Did everything to ground me / You're my roots and you're my home / You're my home.
Helene's resistance to Javier's offer is relatable. They're getting to know each other, but it's a new thing, somewhat fragile still.
But the fact she has Ruby to talk to when she's puzzled by her father demonstrates the bond she's formed with the Island's residents.
I love that they make music the catalyst for everyone's solution. One song can mean so much to so many in various ways.
For Beau, it dispels the curse of Shay's not-bad critique and his own insecurities.
Beau: I gave her a tape once. A demo. She said is wasn't bad.
Roarke: Well, that sounds encouraging.
Beau: In music, not bad means terrible. Not good enough. And honestly, I think that maybe a part of me wanted to hear that. Because it kept me from trying and failing which is the only thing that can really kill the dream.
For Shay, it's redemption for the cowardly way she wielded her power.
For Helene, it's a message of comfort and confidence.
Javier: You know you can always come back.
Helene: I know. That's why I can go.
Only Elena can't take solace in it as her position is one of both duty and choice.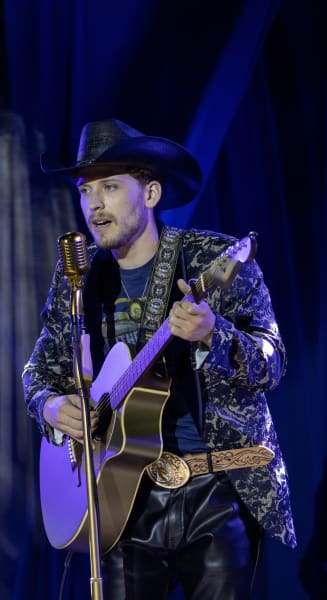 This leads me again to wonder how she identifies her connection with the Island. Is it an itch like Ruby's tattoo? Or is it a link in her brain? Is the Island a consciousness that she has to balance against her own? Like a spiritual parasite? Symbiont?
Meanwhile, OMG, Ruby and Isla.
Ruby: Pleasant dreams?
Isla: Too many eels. But you were there which was nice.
Ruby: Why were there eels?
Isla: Well, it was a party.
I'm still on #TeamMermaid in the betting pool. (See what I did there?) How else does the eels thing make sense?
My only question is why she's hiding from Elena. I suspect it's connected to the presence Segundo locked into that suite at the end of Fantasy Island Season 2 Episode 7 and possibly the missing cousin.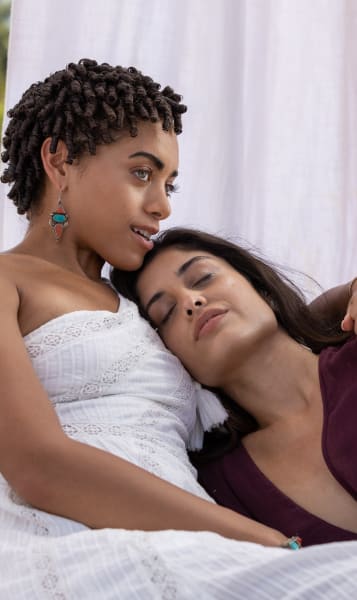 I'm not a fan of making Ruby a pawn or a victim, but she's definitely entrenched in whatever's going on and utterly clueless about it.
It comes down to whether she's loyal to Elena or if she'll follow Isla when the choice is presented to her.
When you watch Fantasy Island online, flesh out your own theories about Isla and drop them into our comments section below!
Diana Keng is a staff writer for TV Fanatic. Follow her on Twitter.