Bode is safe and sound after an intense and dramatic turn of events.
Fire Country Season 1 Episode 9 got us back into the Fire Country groove. After two or so weeks off the air, we were treated to a good episode, all factors considered.
I didn't particularly like the direction some stories took, and my hope, for now, is that they will be revisited in the next episodes.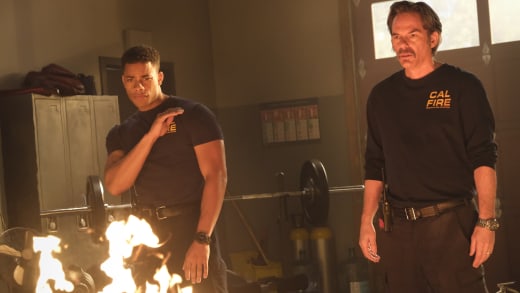 But after resolving all the minor storylines introduced on Fire Country Season 1 Episode 8, we should be back to the biggest plot points that keep us tuned in.
Spoilers for Fire Country Season 1 Episode 10 will have you wishing your life away without much concern waiting for the date.
Gabriella and Jake's breakup.
Fire Country Season 1 Episode 9 was a big episode for Jake. He finally realized that his instincts were not playing tricks on him and there might be something between his girlfriend and Bode.
Toward the end of the episode, Jake calmly asked to speak to Gabriella about her relationship with Bode. This will be one of those amicable mutual breakups that people have because it's not worth it prolonging the pain.
Gabriella will not put up much of a fight because she has been having doubts about this relationship for a while now. Bode's arrival was just the catalyst.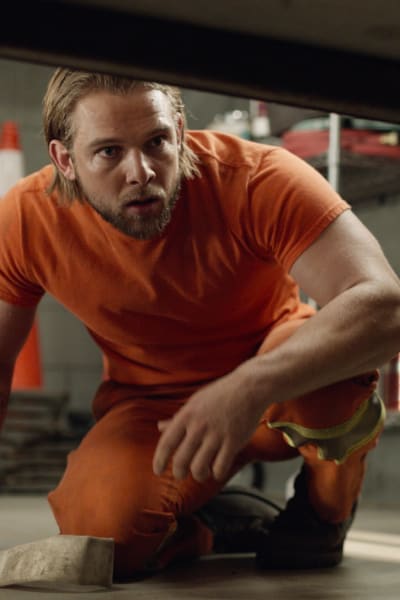 It will make for an interesting firehouse atmosphere when the two exes are working together in the aftermath.
Bode and Gabriella are not getting together … soon.
Remember Bode's ex-girlfriend Cara? Of course, you don't because we haven't met her yet.
For whatever reason, Bode's ex is in town, and all signs indicate she and Sharon have a great relationship. They have some catch-up time, but they keep getting into medical emergencies. Sharon has a lot on her plate already with her illness.
I hope they don't keep putting her in painful situations because Mama Bear doesn't need all that.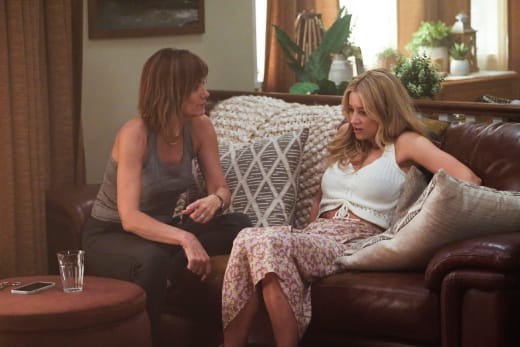 The presence of Bode's ex, who his mother likes, must give Gabriella pause because, well, competition. She was also hurt when Bode called them "just friends" in front of Meg, as evidenced by her visceral words.
If Cara sticks around, it could make for another exciting love triangle, now that the one with Jake, Gabriella, and Bode is over.
An inmate firefighter is in trouble.
The promo that CBS released for the episode and the subsequent images tease an emergency that comes knocking at their door.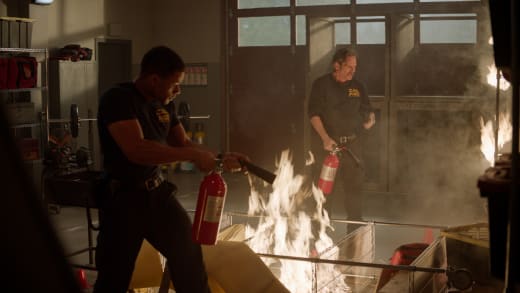 Eve opens the firehouse door just as a boxcar comes crashing through, wreaking havoc in the house.
Foremost, it starts a small fire inside, and if there is anything we know about fires from this show, the smallest of them grow to be the biggest.
We see Jake and Manny try to put it out, but there is no evidence that they succeed.
As the car comes crashing into the firehouse, everyone jumps out of the way to safety, but one inmate firefighter doesn't do it in time and ends up trapped under the wheel of that car.
What makes this even sadder is the firefighter is quite elderly, which stacks the odds against him. The car seems to have crushed his leg under its weight, rendering him immobile.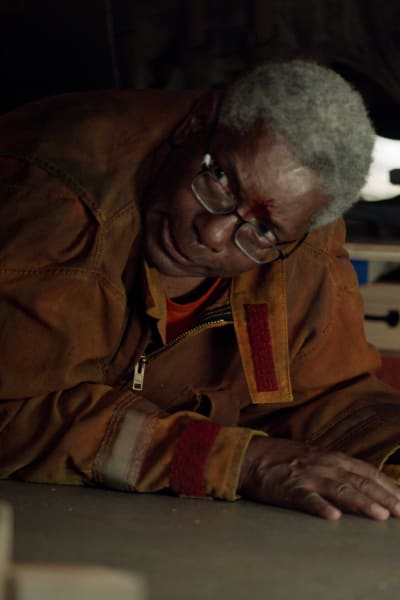 It might mean the end of the road if he survives the injury.
The whole house will be trying to save his life. Even if he survives, an injury gets an inmate returned to prison. It is pretty sad that this man, who has lived most of his life already, won't get a second chance at a do-over, despite trying so hard.
That emergency and those Sharon and Cara find themselves in should keep the firefighters busy.
Fire Country Season 1 Episode 6 and Fire Country Season 1 Episode 7 introduced or continued a few storylines that we would love to see explored more in the coming episode.
Foremost, how is Sharon fairing on the health front? She had agreed to do the trial Jake's mom suggested, so we might see how that goes.
Manny has not gotten out of his money problems yet, and we need to know if he's over his gambling addiction or if there will be a repeat of the events at the bridge rescue.
Remember when Luke kissed Sharon? They shouldn't expect us to sweep that under the rug, right? We might see how they got to that point, if it was something that has been building up for a while now, or if it was just in the heat of the moment.
Gabriella proved that she could hold her own when she jumped a high distance into the river to save Bode. But was that an isolated incident or has she finally caught the bug?
We see her back in the firehouse, so her abilities will be tested soon. Will she become a full firefighter soon after her probation ends?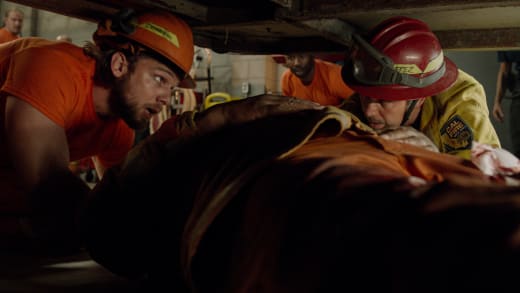 We should expect "Get Your Hopes Up" to be less dramatic and more action-oriented. For example, Bode is seen in the promo images assessing the vehicle to try and rescue the trapped man.
Which one of these spoilers are you most excited about?
Are you ready to meet Bode's ex-girlfriend?
Let us know what you think in the comments section. Check out the promo below, and watch Fire Country online if you missed the latest.
Catch an all-new Fire Country on Friday at 9/8c on CBS, and return for a full review on TV Fanatic after it airs!
Denis Kimathi is a staff writer for TV Fanatic. He has watched more dramas and comedies than he cares to remember. Catch him on social media obsessing over [excellent] past, current, and upcoming shows or going off about the politics of representation on TV. Follow him on Twitter.