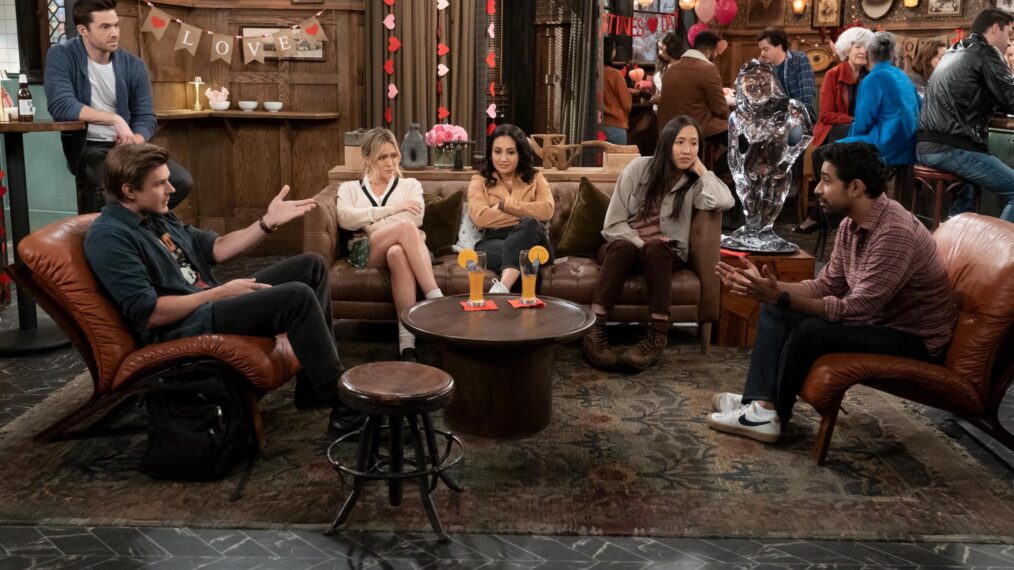 How I Met Your Father returns after a mid-season hiatus on Tuesday, May 23 on Hulu, and last we saw the gang, Sophie (Hilary Duff), after a run-in with HIMYM's Barney (Neil Patrick Harris) and thinking she might be dating her dad (John Corbett), has decided to find her father.
"I don't think that she would've ever found her father. I don't think there's that many people in her life that were pushing her to do that," Duff told TV Insider. "The Neil thing was, in perfect Isaac [Aptaker] and Elizabeth [Berger, executive producers] fashion, so funny, but so real and it provided growth for his character that no one saw, to know that he went along through his life to do the work and had some really lovely things happen to him like a daughter and tried to get rid of some of the predatory vibes of his past."
Christopher Lowell (who plays Jesse) added, "it's so brilliant that the character that inspires you to go find your father is a character that we associate with being the grimiest bachelor of all time. It's such a brilliant way to use that character and an unexpected way to use that character."
Continued Duff, "Sophie is just at a losing point where it didn't work out with the guy and she did something crazy and she's always doing something crazy and she's just like, 'Oh, it's time to dig in deep and get to the root of this issue.' And that is the question marks around her father."
But what about meeting other family members, like, say, one of Jesse and Ellen's (Tien Tran)? The actors are on board and even have a pitch for who should play one of them. "We haven't gotten to meet their family yet, but I have been pushing for Jennifer Coolidge to be our mom," Tran shared. "I would have a heart attack," Lowell added, completely on board.
The two love working together and playing Jesse and Ellen's sibling relationship. "Selfishly one of my favorite things to do on the show is anytime Tien and I have scenes together and oftentimes that's tied to the Jesse and Ellen brother-sister relationship. The more we can do it, the better," Lowell shared. "It's just a blast to work with both [Hilary and Tien], but with Tien especially when we have those scenes because Tien's such a comic marvel and just having the opportunity to play is a blast. I actually think a lot of the stuff we have this year is more heartfelt than it is silly. It's a nice way to see them exist in that space."
Agreed Tran, "I love acting across you, too, and we just have a wonderful little sibling relationship."
We have to admit: We're all for Tran's pitch for their mom!
How I Met Your Father, Season 2 Returns, Tuesday, May 23, Hulu