[Warning: The following contains spoilers for The Mandalorian Season 3 Episode 1, "The Apostate."]
Din Djarin reunited with many familiar faces in the first episode of The Mandalorian's third season, including Greef Karga (Carl Weathers), The Armorer (Emily Swallow) and Bo-Katan Kryze (Katee Sackhoff). But one of Mando's loyal pals from the previous 16 episodes was notably absent: Gina Carano's Cara Dune.
Here's a refresher on why she wasn't there — and how the show explained away her absence.
Why Isn't Cara Dune in The Mandalorian's Third Season?
Carano was fired from the role after she made multiple controversial posts on social media, including one that compared being a Republican to being a Jewish person during the Holocaust. Carano also made controversial posts about the 2020 presidential election and preferred pronouns.
In 2021, Lucasfilm released a statement to The Hollywood Reporter saying that Carano was "not currently employed by Lucasfilm and there are no plans for her to be in the future." The statement also called her posts "abhorrent and unacceptable."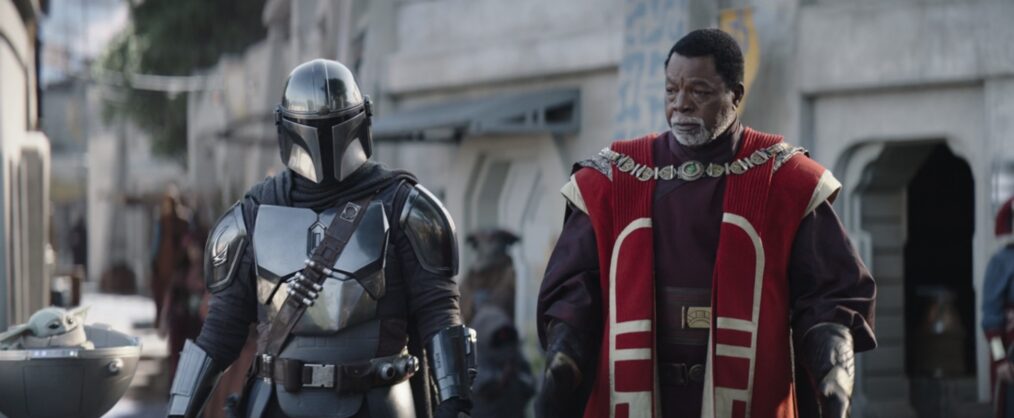 Lucasfilm/Disney+
How Did The Mandalorian Handle Cara's Fate?
With all of that considered, of the biggest stories with regard to The Mandalorian's third season — well, at least until Din reunited with Grogu in a completely different show — was how the program would handle the fate of Carano's character. Many expected the Alderaanian former shock trooper to be killed off offscreen, given the extreme unlikelihood of Lucasfilm working with Carano again.
Surprisingly, that isn't the direction the show took. After a tense scuffle with a band of pirates in the premiere, Greef Karga, now High Magistrate of a flourishing Nevarro, asks Mando to serve as marshal for the town. Din asks his friend why he hasn't made the offer to Cara, and he responds, "after she brought in Moff Gideon, she was recruited by Special Forces."
If you're wondering what New Republic Special Forces is, it's a subsection of the New Republic Army dedicated to taking on especially perilous, specialized, and top-secret missions. Given Cara's skill set, it seems like an excellent match for the character — and should we never see her again, it's also a fitting farewell.
The Mandalorian Season 3, Wednesdays, Disney+