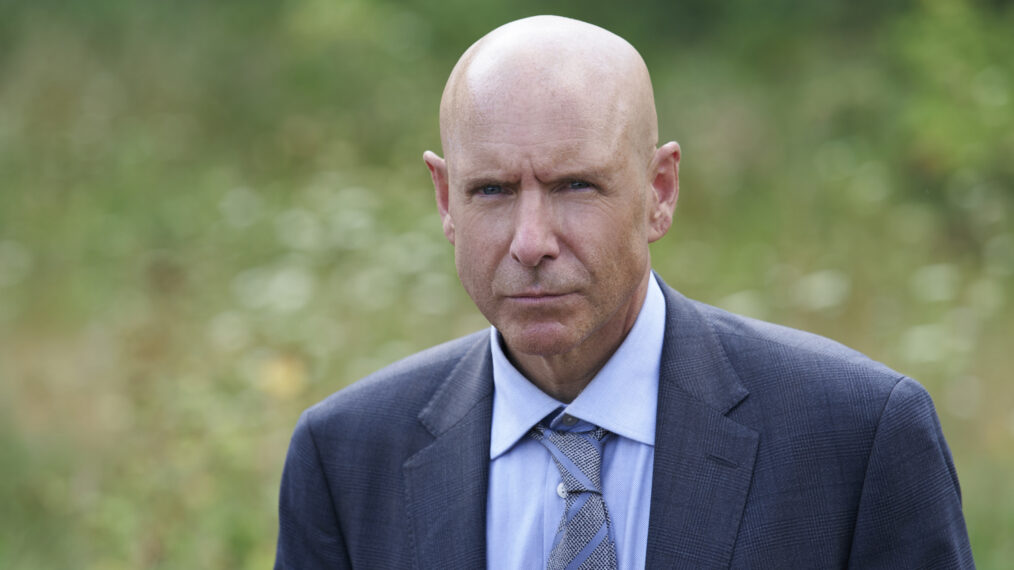 What's next after that prison riot that ended the first season of Mayor of Kingstown? In one word: chaos.
Can Mike (Jeremy Renner) find any semblance of control in the town? How will Ian (Hugh Dillon, who also co-created the series with Taylor Sheridan) and Kyle (Taylor Handley), who were in the prison, be affected moving forward? TV Insider spoke with Dillon about that and more ahead of the January 15 premiere on Paramount+.
Iris (Emma Laird) had asked the question, "What if your soul can grow back?" For which characters is that a major part of Season 2?
Hugh Dillon: It's a major part of all of these characters because they all have kind of been desensitized. In my world with Ian, there's an ethical drift that takes place that you are just — really what it is, is I'm fascinated with Taylor Sheridan. He's been my friend for so long. We created this so long ago. He is a force in nature and he has delivered the most dangerous show on television with heart and hope. And it's just a tsunami of realism that is just unheard of.
Yeah, it's very brutal, especially at the start of this season.
No, but that's why it's great. For me, it's just exciting because it's so unpredictable and Taylor's excited. He gets excited by the work and that's why the show works because everybody's passionate. Everybody cares. Dianne Wiest loves it. Jeremy loves it. Dianne Wiest cares about exploring this stuff. She goes out and protests on Rikers Island. She's invested. And to see all our actors and the cast and the crew and Taylor create this juggernaut and because we had so much time with it — he was my acting coach, this is the first thing he wrote.
I brought a printer over to his house and said, dude, you can write this. And he wrote the first one in two days. I'm from this town that has nine penitentiaries. So he'd be like, holy s**t, really? And so we've been able to bank all these ideas and the different pieces we've had over a decade. So to finally get here and be able to plug them in with Jeremy Renner, with Dianne Wiest, and with Taylor being this world-class authentic American voice at this stage in his career, it's profound.
When the season begins, there's a lot of chaos in and out of the prison because of the riot. But can Mike get any semblance of control over it? Especially because he also has to think about what's going on with his family.
He will. I mean, that's the crazy juggle. It's like, how do you pick yourself up and move forward? That's what the whole thing is about. Even when we are predisposed to some of our darker impulses, it's such an intimate look at how we function and why we function after season 1, where we're just presenting the world and these people in it. And now you really get to how do they have the heart to carry on or the hope or where do they find that? That's what's interesting because it's so unpredictable.
Dennis P. Mong Jr./Paramount+
Will Ian be showing any effects of what happened in the prison riot? Because Kyle was the one who was really affected while they were in it, but there could be a delayed reaction for Ian.
Yes, but I think he's blind to it because he's been so desensitized. And I've known guys like that, [who] have just been in the game so long that you become world weary and you're moving forward putting one foot in front of the other. And it is that desensitization that — there's an ethical drift with Ian where he can't help it, he's just moving to those darker impulses because that is a survival mechanism and it's really, how do these people cope? Is it humor? How does that manifest itself? And in it, there's that beautiful humanity of their family and their loyalty each other. And so how does this all play out? There's a realism that you can't help but watch.
I think the problem might be also that the coping mechanism for Ian has worked so far. So why would he change?
Yeah. And that's based on a real guy that I knew, too, Ian Goodfellow, when I grew up. He always had a sense of humor and I loved him for it. We could get into a fist fight on a — there's a thing called the Wolfe Islander, which was a ferry in real life that would take you from Kingstown to Wolfe Island. And he'd be in a fistfight. And then by the time we got back to the other side of the island, glasses are on, we're driving.
I used a lot of my real life experiences when I talked to Taylor about it, and that's what gives it life. This isn't an algorithm. This isn't a bunch of people sitting around a table, "Oh, you know, let's figure out a prison show." This is me and Taylor Sheridan, two guys zeroing in on what interests us and what is fascinating to us and what we're fans of and how can we tell this story about this on the surface, the ugliness, but there's the beauty in life? We're looking at the informal economy of drugs and crime. And it's a prison world, but it is a town that exists very much all over the world. They're the most brutal, unfair places on the earth in the 21st century. And they exist in our own cities and they're the penitentiaries. And it's fascinating.
What will we between Ian and Kyle this season after what they went through in the riot?
Again, that's based on reality. When I grew up, there were guys I played hockey with, and they are just bonded and they've played hockey, they've fought, they've grown up together. Ian feels like he has to look out for Kyle. He grew up with Mitch [Kyle Chandler] and Mike, and Kyle is the youngest and Kyle's one of them. They're on the same team. And Kyle's also more sensitive. To Ian, Kyle is his responsibility.
What's Ian and Mike's dynamic like this season?
Well, they're funny because they are like real life guys and guys I grew up with. They're on the same team, but they have different personalities and Mike is just a little intolerant. He just wants to get to the facts. He wants to get to the truth. And Ian f**ks around a little bit and doesn't mind doing inappropriate things because he will figure it out. And at the end of the day, it's not the end of the world and let's move on. I gotta f**king get from A to B. And Mike is like, do you not see what you're doing? Mike wants him to look at what motivates them and what they're really saying and doing. And Ian's kind of like, dude, you know, I'm doing my job.
Is Ian at all worried that any of that might catch up to him soon rather than later?
I think in the back of his mind. But also like I said, it's such an ethical drift where he's kind of so used to doing it this way that he kind of feels it's us against them and he is us. His brother is a union rep, so they're family. That's one thing about the families growing up together, they're positioned everywhere, you know what I mean? So I feel he's very confident.
Is there anything else people should keep in mind about Ian this season?
You're gonna see it all. Once you see [a shocking moment early on], you're gonna go, what?! And that's what makes this season awesome because there's a bunch of that stuff that I can't go into. But it is a great season for Ian.
Mayor of Kingstown, Season 2 Premiere, Sunday, January 15, Paramount+