For Star Wars fans, a drought has begun.
After seven weeks, The Book of Boba Fett concluded its season. There's no official release date for The Bad Batch Season 2. This leaves the only confirmed Disney+ Star Wars offering far, far away: Obi-Wan Kenobi, on May 25. Dank ferrik, what's a fan to do until then?
Well, you could re-watch the prequel trilogy in anticipation of the next live-action offering… but there's another piece of Star Wars media worth checking out before the end of May. Here's why we think now's the perfect time to watch Star Wars: The Clone Wars.
Disney+
It Gives Vital Context for the Live-Action Shows
If you were baffled by Cad Bane (Corey Burton) on The Book of Boba Fett or bewildered by Bo-Katan (Katee Sackhoff) on The Mandalorian, The Clone Wars clears up a lot of the confusion. Increasingly, Disney+'s Star Wars universe is pulling from the animated shows to bring beloved characters into live-action — and The Clone Wars, especially, is seeing both its good guys and bad guys appear.
Watching The Clone Wars not only helps viewers to know who these people are but also to understand why they're doing what they're doing. Clone Wars viewers knew how much of a Very Big Deal Cad Bane was in the bounty-hunting universe from the moment he appeared, and they knew to expect gray morality from Bo-Katan considering her complicated history on the animated show. The Clone Wars' Mandalore arcs, especially, are essential given The Mandalorian's seemingly inevitable Season 3 journey to the planet and focus on the Darksaber; and perhaps for Obi-Wan Kenobi, too, given that the noble Jedi has a surprising connection to Mandalore that fans might want to know about before the show premieres.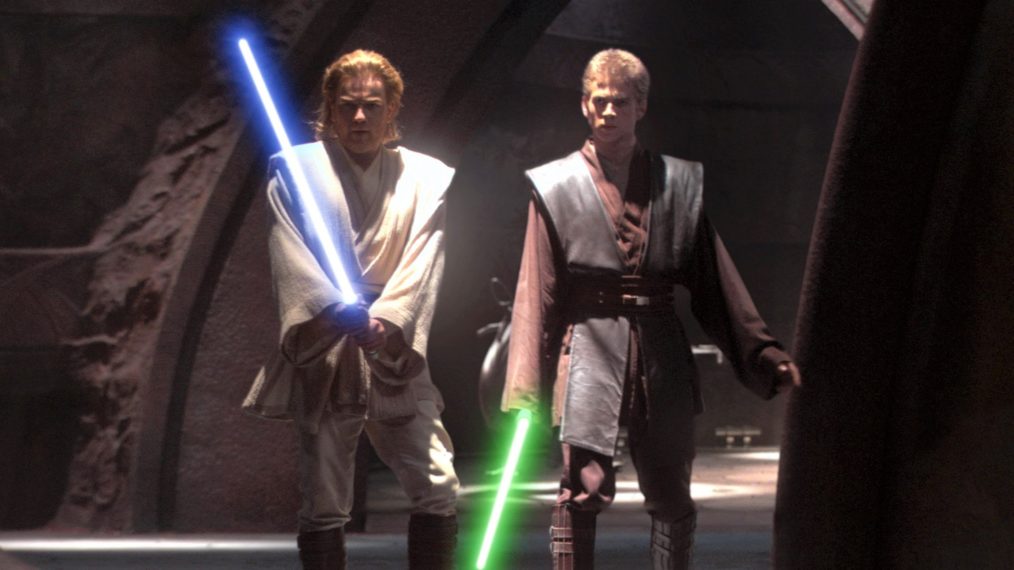 (Credit: Lucasfilm Ltd., courtesy Everett Collection)
It Adds Character Depth
On the subject of Obi-Wan (Ewan McGregor), The Clone Wars also adds depth to his friendship with Anakin Skywalker. The movies do what they can in terms of establishing the brotherly bond between master and padawan, but the animated show sends them on missions together, features them rescuing each other and offers plenty of friendly back-and-forth bickering that shows, rather than tells of, their closeness. And for fans of Obi-Wan's sarcasm and sass, there's plenty to enjoy. The Jedi Master has a wealth of laugh-out-loud lines, mostly in reaction to something impulsive or reckless Anakin has done. For Boba Fett fans, a teenage Boba appears several times on missions with a squad of colorful characters; there's also an arc where Obi-Wan goes undercover as a bounty hunter that features Cad Bane. It may or may not be relevant to the upcoming live-action show, but it's cool.
The Clone Wars excels in terms of Anakin's characterization, making it an excellent watch since Hayden Christensen is set to appear in Obi-Wan Kenobi. The show covers the period of time from the start of the war until just after Order 66, so it gives context for Anakin's turn to the dark side. It adds depth to his fall by illustrating the many factors that made him disillusioned with the Jedi Order — he wasn't just angry about not being granted the rank of Master! — and when he does switch sides, all that has unfolded in The Clone Wars makes his betrayal truly devastating. The show also explores his big-brother relationship with his padawan, Ahsoka Tano, who fans will also recognize from The Mandalorian and The Book of Boba Fett.
It's Not "Just for Kids" (Really!)
For some fans who've decided not to watch animated shows on the grounds that they're "for kids," The Clone Wars challenges that mindset. While some arcs, particularly the show's first season or so of episodes centered around droids, are more childish, some are violent and thought-provoking in ways that adults best appreciate. While the show doesn't have anything that would push it into an R or PG-13 rating, it doesn't shy away from exploring the horrors of war — particularly when it comes to the clones, who were given life expressly for the purpose of dying on the battlefield. The Umbara arc, in particular, stands out as dealing with subject matter best understood by adults; there's a reason many fans laud those four episodes as some of the best Star Wars content ever produced, live-action or animated. Even outside Umbara, "adult" topics like slavery, genocide and political corruption are discussed.
Don't like Jar-Jar? He's only in a handful of episodes. Don't want to see R2 and 3P0's adventures? That's fine. If a particular arc doesn't strike the viewer as enjoyable, nine times out of ten, it can be skipped. Especially in the case of the more lighthearted stories, if the humor doesn't hit or characters get on an adult fan's nerves, there's not much risk of confusion for simply moving ahead since the show operates in three-or four-episode, self-contained arcs. As such, one story ends after four episodes and another begins. And, as in live-action, there's always a pre-episode recap to explain what a viewer has missed.
So, even if you don't think you'll enjoy an animated show, it's worth giving Star Wars: The Clone Wars a chance. There's plenty to appreciate for audience members of all ages, and whether you watch every single episode or skip around a little, you'll gain a deeper understanding of the Star Wars universe and the unforgettable characters within it.
Star Wars: The Clone Wars, Disney+
The Book of Boba Fett, all episodes now streaming, Disney+
Obi-Wan Kenobi, Series Premiere, Wednesday, May 25, Disney+