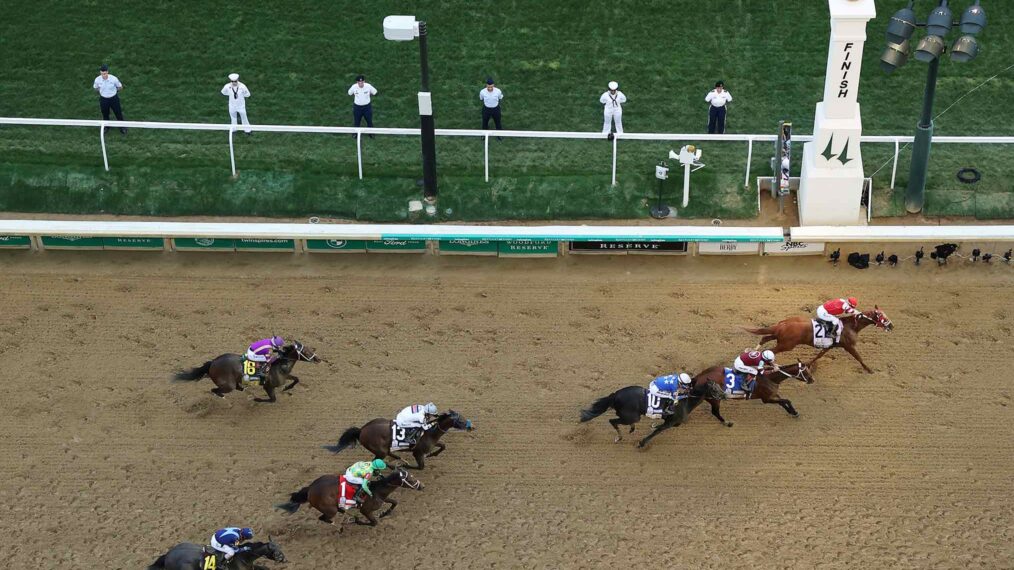 And they're off!
The first leg of horse racing's Triple Crown, the Kentucky Derby, takes place at famed Churchill Downs in Louisville on Saturday.
NBC and Peacock have coverage beginning at noon/11a c on Saturday featuring nine live races from Churchill Downs, and plenty of reports about the traditions (weird hats, mint juleps), pageantry ("My Old Kentucky Home") and celebrity sightings.
Favorites in the starting gate include Two Phil's, Tapit Trice, Angel of Empire, Forte and Derma Sotogake. Last year, Rich Strike became the second-biggest longshot (80-1) to win the Derby.
The 149th Run for the Roses telecast on NBC begins at 3/2c. Derby post time is 6:57/5:57c.
Mike Tirico returns as host alongside analysts Jerry Bailey and Randy Moss. Larry Collmus calls the race.
Tim Layden presents a commemorative piece on the 50th anniversary of Secretariat's Derby win en route to his historic Triple Crown in 1973.
1. Hit Show (34-1)
2. Verifying (22-1)
3. Two Phil's (8-1)
4. Confidence Game (17-1)
5. Tapit Trice (5-1)
6. Kingsbarns (12-1)
7. Reincarnate (15-1)
8. Mage (18-1)
9. Skinner (Scratch)
10. Practical Move (Scratch)
11. Disarm (31-1)
12. Jace's Road (37-1)
13. Sun Thunder (32-1)
14. Angel of Empire (5-1)
15. Forte (9-2)
16. Raise Cain (36-1)
17. Derma Sotogake (8-1)
18. Rocket Can (34-1)
19. Lord Miles (Scratch)
20. Continuar (Scratch)
21. Cyclone Mischief (45-1)
22. Mandarin Hero (29-1)
23. King Russell (44-1)
The 149th Kentucky Derby, Saturday, May 6, 3/2c, NBC & Peacock