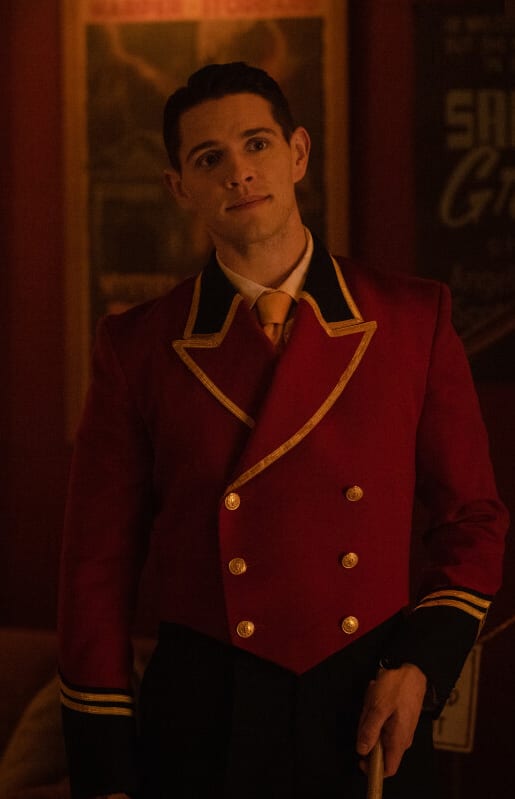 Halloween has arrived in our dark little town on Riverdale Season 7 Episode 11. Though from the way the adults dismissed it, you would think it was the town from Footloose.
Still, nothing could hold back all the spooky celebrations.
Costumes, a creepy cemetery, a murderous milkman, and a musical number were all on tap for the night. Is it a trick for Halloween? No, it's a Riverdale treat.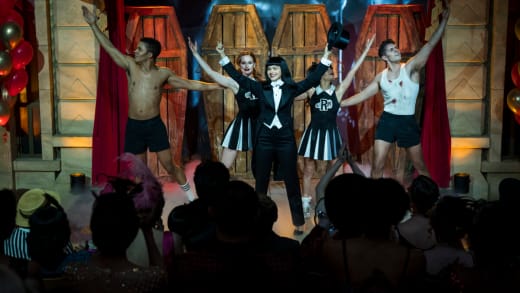 For a dark and creepy series like Riverdale, Halloween is the holiday most up their alley. Between the killers and the supernatural, most chapters feel like Halloween.
"Halloween II" embraced the fun-loving spirit of the season, and it reignited what the town sorely missed from the day. There was drama, but everyone seemed to get in on the tricks.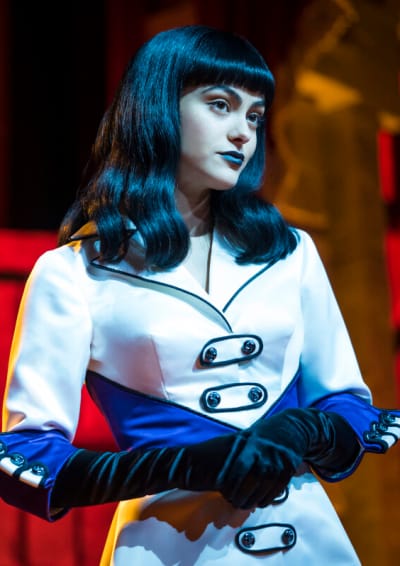 Like Veronica's ghost show event at the Babylonium.
Only Veronica Lodge could hear about the deaths of four Riverdale High students and use it for business gain. And let's not forget about the flashy musical number to a Rocky Horror Picture Show song with said ghosts singing about their urges.
Was it in poor taste? Maybe a little.
Did it get the job done? Veronica was singing all the way to the bank.
Musical episodes and singing has been a touchy area during Riverdale's seven seasons. Some love it, while others hate it with a passion.
We've had big musical episodes, like the Carrie musical on Riverdale Season 2 Episode 18, or one-off musical numbers, like Josie and the Pussycats on Riverdale Season 1 Episode 6.
Archie: Riverdale has a funny relationship with Halloween.
Veronica: Dare I ask?
Cheryl: Unfortunately, we don't embrace All Hallows Eve the same way Greendale does. We have rules in Riverdale.
"Halloween II" wasn't a musical episode; it only featured a song from a musical. With Riverdale Season 7 being the last, the musical touch was welcome.
If it was going to work, this was how to do it. Unless Riverdale is secretly planning an all-Grease chapter! (I could fully see that happening since the plot is currently set in Riverdale 1955.)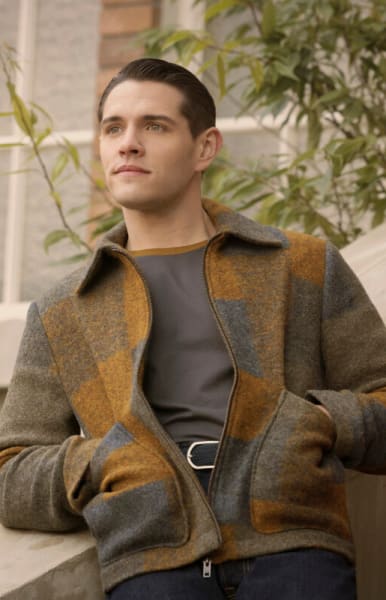 The big surprise of the hour was Clay and Kevin discovering Veronica's little secret.
She's put on a brave face, but Veronica isn't the type to share her weaknesses with others. She hasn't even told her BFF Betty yet that she's living at the Babylonium.
Hopefully, Veronica will eventually tell someone the truth. She misses her parents and can't keep living at the movie theater before someone notices.
Her looking at the old photo of her family was so heartbreaking!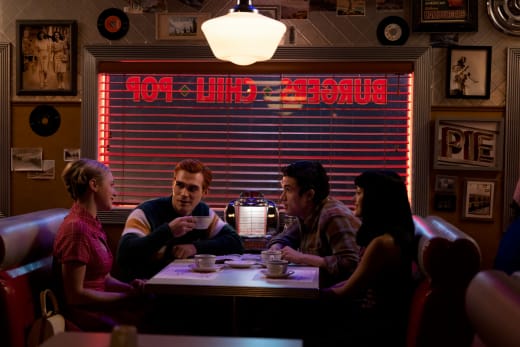 I liked how the ghost show was also successful in helping the other couples. Fangs/Midge and Cheryl/Toni are much stronger in their pairings because of the night.
It's great that Midge and Cheryl felt open enough to share their secrets.
When Riverdale Season 7 Episode 1 began, Cheryl and Midge fell into the classic trope of a popular girl and her reluctant minion. Cheryl was more of a rich girl bully than an actual friend.
Cheryl and Midge's growing friendship has been one of the sweetest under-the-radar growths of Riverdale Season 7. They felt like they cared about each other and would genuinely keep their secrets. It's the friendship we didn't know we needed.
Was anyone else surprised Cheryl felt so confident to kiss Toni in public?
It was a very bold move for her to instigate that kiss in the open. Sure, she will blame it on the performance, but it's still a risk she never felt comfortable doing. Her recent growth and self-acceptance have been a nice development.
Jughead: Jeepers!
[Jughead sees the dead body]
Ethel: I told everyone there was a milkman!
Hopefully, Evelyn doesn't let it all come crashing down.
It would be a shame for the social-climbing snob to ruin everything. She totally will, though; we're talking about Evelyn here, and she wants payback for Cheryl's treatment.
This will no doubt get ugly when she spills the beans. Penelope will make life hell for Cheryl when she finds out.
Elsewhere, Jughead and Ethel's investigation helped the main plotline move forward. I'm grateful for their scenes because this mystery needs new energy.
How is it that the main case feels like a C or D plot?
Even with Mr. Rayberry's murder on Riverdale Season 7 Episode 7, the killer milkman story has barely had a blip of momentum. Don't get me wrong, there have been a few scenes and twists here and there, but for the most part, the focus has been on the other characters.
With Ethel murdering the milkman, this twist could be what the plot needs to dive deeper into this case. Seriously, we can't ignore that she just butchered the serial killer trying to kill her.
Speaking of the killer, why do you think Ethel was the next in line?
There must be a reason for how his victims are connected. Mr. Rayberry, Ted Sullivan (the original writer), and Ethel's parents seem so random that the thread doesn't make sense.
Sheriff Keller: Mr. Rayberry killed himself. We have established that.
Jughead: No, you established that. I have not established that.
We could theorize that the milkman was originally after Ethel, and he killed her parents because they got in his way. But even then, he took his sweet time searching for her. Being trapped at The Sisters of Quiet Mercy made her a sitting duck!
I can't wait to see what twists will be arrived now that we have a body proving the killer milkman existed.
Sparks were flying between Betty, Archie, and Reggie. Steam radiated from them at every turn. Betty's little daydream didn't help matters either.
The Halloween events were the perfect backdrop to tease Betty's romantic choice.
It would be someone between Archie and Reggie; the inevitability was set during Riverdale Season 7 Episode 10. And I loved that Reggie and Archie both came to terms with backing off after Betty made her choice.
Their friendship has been a great highlight, especially since Archie and Jughead have barely had any scenes together. Like, I mean at all. Are they still BFFs?
But we can all agree about "#Barchie" in this scenario.
Finally! It took forever for them to get back together. The universe is starting to sort itself out.
Betty and Archie have chemistry, and their scene at Fred's grave was heartwarming. They have romantic chemistry, not just lust or passion.
Reggie: I might cut out of here.
Archie: You don't have to do that.
Reggie: Come on, Andrews. I saw you two in the cemetery holding hands. You don't need a seismograph to pick up those vibrations.
Archie: Okay, Reg, if you say so.
Reggie: I do.
Reggie has a good sense of self-awareness. He recognized Betty and Archie had an intimacy that he couldn't break; it saved him from trying, and we were spared chapters of a drawn-out love triangle.
It's the treat that keeps on giving.
Last Thoughts From Sweetwater River:
Reggie dying unexpectedly in a car crash would be shocking. He's a big character, so it'd be surprising for Riverdale to write him off. Anything is possible, especially since Julian seems to be on life support.
 
You go, Dilton! Set those clear boundaries!
 
Alice couldn't handle the power of Rocky Horror. She's not as brave and commanding as she thinks she is.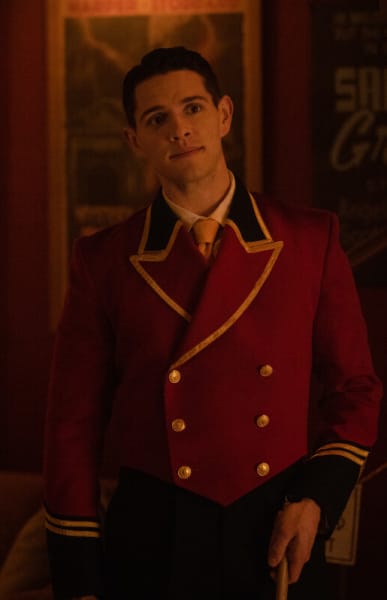 Now, over to you, Riverdale fans.
What did you think of "Chapter One Hundred Twenty-Eight: Halloween II"?
Who do you think will survive the car crash? Will Archie and Betty ever have an uninterrupted romantic moment again? What will Jughead and Ethel do next now that the milkman is dead?
If you missed the latest episode, you can watch Riverdale online via TV Fanatic. Come back here and share your thoughts in the comments below.
Justin Carreiro is a staff writer for TV Fanatic. Follow him on Twitter.