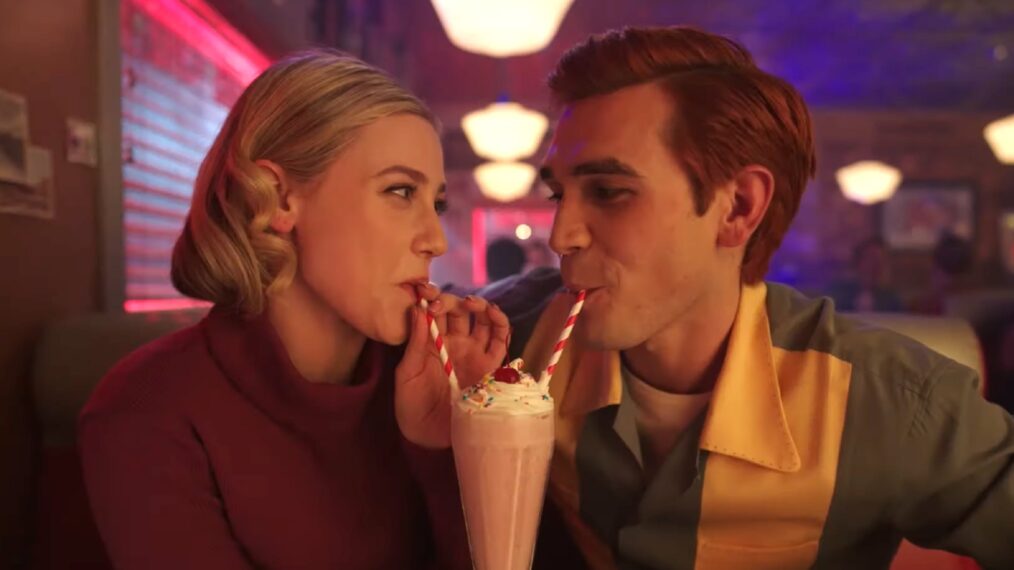 Riverdale is going big with its final chapter as Archie (KJ Apa) and the gang finds themselves trapped in the 1950s. The only problem? No one knows they're from another time except for Jughead (Cole Sprouse).
Set to premiere Wednesday, March 29, The CW unveiled the full trailer for the upcoming seventh and final season, offering fans a first look at what's to come. While Jughead has no idea how he got there, now how to get back to the present, his friends are no help and the trailer teases this much.
(Credit: Michael Courtney/The CW)
While they lead seemingly authentic lives, similar to their classic Archie Comics counterparts, Jugheads pals have no clue they've ever been anywhere besides the 1950s. In this reality, Archie is the classic all-American teen who is coming of age and getting into trouble while learning life lessons along the way. Betty (Lili Reinhart) is the girl next door who is starting to question her perfect life and controlling mom Alice (Madchen Amick).
Veronica (Camila Mendes) is a Hollywood heavyweight making a splash in the small town, although the reason for her presence there is shrouded in mystery. Cheryl (Madelaine Petsch) is the Queen Bee with a secret longing, Toni (Vanessa Morgan) is an activist fighting for Black students, and Kevin (Casey Cott) is a"square" who is wrestling with his sexual identity.
Meanwhile, Reggie (Charles Melton) is a basketball sta and Fangs (Drew Ray Tanner) is a greaser eyeing Elvis-type stardom. When Jughead is clued into their predicament by Tabitha Tate (Erinn Westbrook), will he be able to convince his friends of their true histories? In the trailer, above, he's trying. Only time will tell if he's successful.
Don't miss a single second, watch the trailer, above, and don't miss Riverdale's Season 7 premiere when it arrives later this month.
Riverdale, Season 7 Premiere, Wednesday, March 29, The CW