[WARNING: The following contains MAJOR spoilers for The Walking Dead Season 11, Episode 9, "No Other Way."]
The Walking Dead is back, and the 11B premiere of AMC's post-apocalyptic zombie drama was nothing short of explosive. To recap, after firing many fireworks at our favorite survivors' heads, Maggie (Lauren Cohan) officially ended the war against the Reapers with a slaughter. A lovelorn Daryl (Norman Reedus), Father Gabriel (Seth Gilliam), redemption-arc Negan (Jeffrey Dean Morgan) and a revenge-seeking Elijah (Okea Eme-Akwari) helped Maggie to obtain the food needed to save the remaining Alexandrians from near-starvation, despite some varying opinions on her little murder spree. Reapers leader and Daryl's former S.O. Leah (Lynn Collins) escapes.
Also, we finally learn the fate of the injured Alden (Callan McAuliffe) after many episodes away; and Negan abandons the group, walking off into the woods (more on that below). But the biggest reveal? Daryl removing a Commonwealth helmet from his head in a flash-forward six months into the future.
Needless to say, we have a ton of questions for showrunner Angela Kang who gives us the scoop on when we'll see Negan next, what's up in Daryl's love life, and yes, how deep we're going into the Commonwealth.
The fireworks in the opening moments were a great way to start off with a bang! Were there production challenges there? How much was VFX versus practical effects?
Angela Kang: So, it is almost entirely VFX, which is hard to imagine, but practical provided the smoke and atmosphere, and then they did provide practical light effects. They would have on the ground some of the [fireworks] that had landed and would provide almost a sparkler-effect as a reference and so, there was some practical mixed in there. But the [fireworks] whizzing through the air were not actually whizzing through the air until on the back end. There was a lot that had to happen in that scene simultaneously, so the production team definitely had their hands full juggling all the bits and the stunts and the effects into making that scene happen.
Josh Stringer/AMC
When I spoke to Lauren Cohan to preview the episode, she teased the standoff between Maggie and Leah as having "Sergio Leone vibes." What inspired you when shooting those moments? It felt extra cinematic.
We definitely wanted that scene to play like a Western. And so, while we didn't specifically go, 'We want it to feel like Sergio Leone,' that's obviously just a part of the cinematic language that we were hoping to draw upon, and then I think everybody in the scene did amazing work. In editing, we picked the stuff that really felt very Western, very kind of tense in that quiet way. We wound up actually even cutting pieces of dialogue, but we wanted that very sparse feel. I think it turned out really well.
I don't think I've ever cheered so hard for Gabriel when he showed up as the sniper at the end of the stand-off… but first, he has a tense reunion with Reaper Mancea (Dikran Tulaine), who he had spared earlier this season. Mancea challenges his connection to God quite a bit. Will we see the effects of that conversation play out on Gabe's psyche going forward?
I think with Gabriel this entire season, and even before this season, he's been grappling with where he's at with his faith, which I think is a very common experience. Just to wonder, 'do I believe the things I've always believed?' So Gabriel definitely continues to grapple with his faith. It's part of who he is. The next time we deal with it, it may be in an unexpected way, hopefully in a good way. And you know, we've just really enjoyed putting Seth in these situations where he's got to make these really hard, philosophical choices, and we really enjoyed the work that he did with [Tulaine], and we did want to rattle him and make the choice hard. And I think Seth just played it really beautifully, as he does with everything. But we love seeing Father Gabriel get a cheer after he started off the show so hated [Laughs].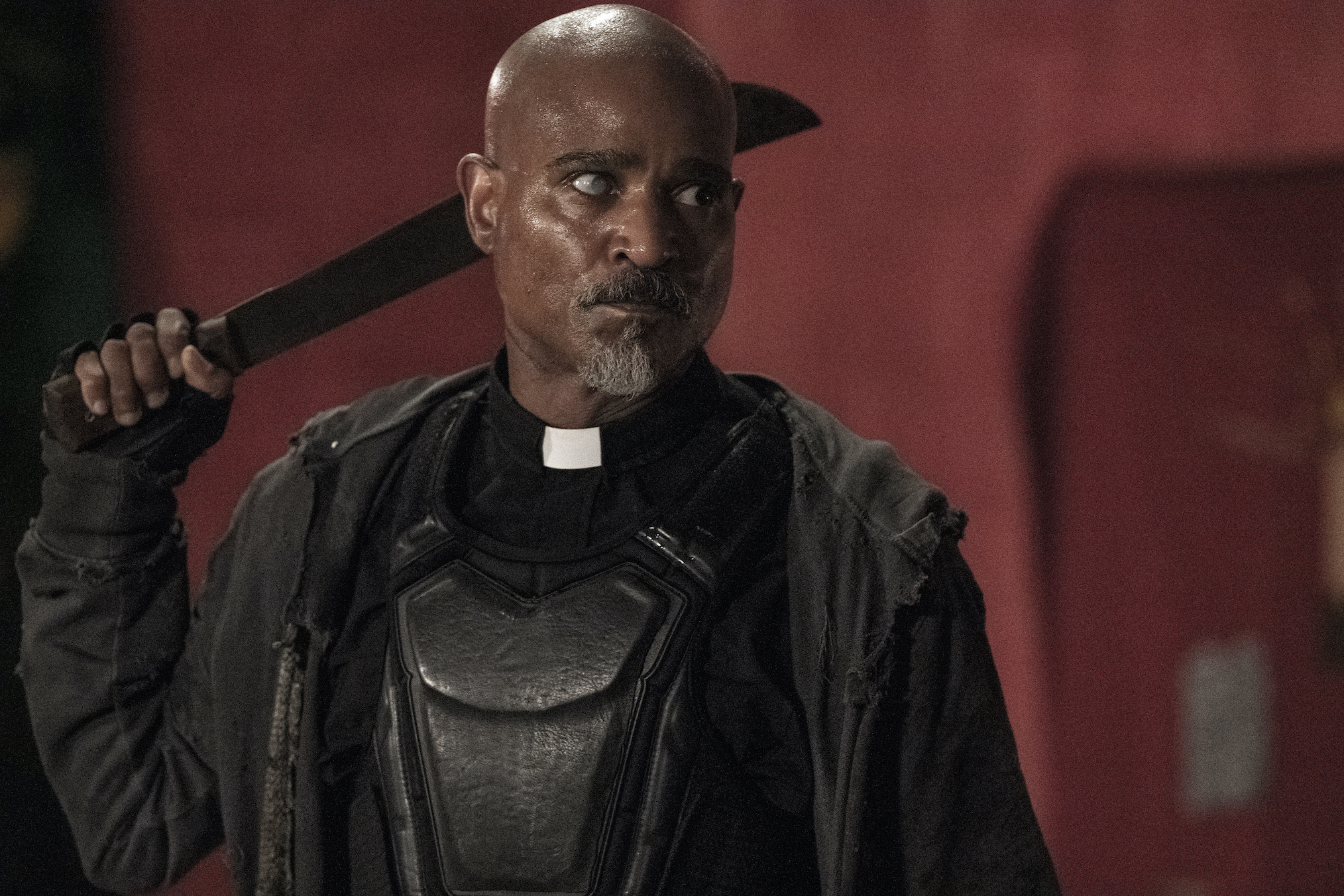 Josh Stringer/AMC
Absolutely! And another character, Negan, who started off very hated in a pretty different way, leaves the group at the end of this episode. I know that there's no way Jeffrey Dean Morgan just walked off this show. Will we see Negan again? What can you tease about your plans for Negan?
Yes, this is not any kind of like cliffhanger like, 'Will Negan come back?' Negan's coming back, 100 percent, but when we pick up his story, it will be in a different context. And so, we'll get to discover something new about what Negan's been up to. [Ultimately], he realized that he and Maggie can't live and be next-door neighbors. He's always going to be sleeping with one eye open and he doesn't want that. So, off he goes.
Why was it important for Maggie to find Alden's body after dealing with the Reapers? Why hold his possible survival over our heads all season?
We talked a lot about that — does she just leave him behind in the church and we know that he dies there, or do we hold it? We ultimately decided that from a story standpoint, that Maggie is a person who still holds hope and optimism, even though she's had to go to some pretty dark places in her recent history. And I think for her, when she's on mission, she's always in the back of her mind going, 'I know who I'm doing this for. And I know that I've got to get back because I made a promise to Alden.' And she's holding onto that as something that gives her some hope as she's going through this very dark experience. And so it's even more crushing at the end of it that she's lost even one more person along the way.
I think it would've been a real comfort to her to have him to go back to. Instead, the reality is that he was too injured, and it's a much more visceral reminder that this mission, it was a win and a loss in so many ways for her. It's knocked her down to a really low point as we head into this next group of episodes.
Josh Stringer/AMC
And then for Daryl, first, it was so heartbreaking to watch him let Leah go, but then he sees Connie again. Is 11B going to finally be the season of Daryl's happiness? Possibly? At least in that regard?
I think that with Daryl, you know, the relationship with Leah is really complicated. We always wanted to explore when people are thrown together in grief. And Daryl, in particular, [as someone] who struggles with intimacy and with trust, he clung to somebody who seemed like a really sweet person and who also was searching for someone. But, take them out of that context and suddenly what's actually really most important to them becomes very, very clear and it puts them at odds. So, there is this tragic element to it, but it's also because Daryl's trying to grapple with, 'Is this the right way to make our way through the world anymore? Are we destined to just repeat this cycle of violence, or is there something on the other side of it?'And I think that's really what he's grappling with as he is letting Leah go.
And with Connie, he didn't know if she was alive, and so they get to have the reunion and it was actually really fun to watch the footage because this is [an example of how] the actors can really make a big difference in how something comes out. [Reedus] happened to be carrying the basket of apples, and this is not scripted, he just drops it and runs to her! But I think it really captures how happy Daryl is that she actually made it out, because he felt so much torment about it. They'll have lots of scenes to come.
Obviously, the biggest reveal of the episode, is Daryl taking off that Commonwealth helmet. How deep into the Commonwealth are we going in the episodes ahead and what are you excited for fans to see in this new world?
We're going to delve pretty deep into the Commonwealth and we're going to learn a lot about what makes the place tick and how our people are navigating that. This is a society that's unlike anything they've encountered before. It's the biggest, by far. It is the most organized, the most regimented and the most like what the world was, for better and for worse.
One of the things that the Commonwealth really gets into is this theme of social class. What happens when you are put back into a society that is very openly stratified, where they're judged in ways they haven't been in the apocalypse because the value system has been different? A lot of our characters are just bumping up against things that they thought they didn't ever have to worry about again and that puts them in some pretty fraught situations.
The Walking Dead, Sundays, 9/8c, AMC (episodes release one week early on AMC+)