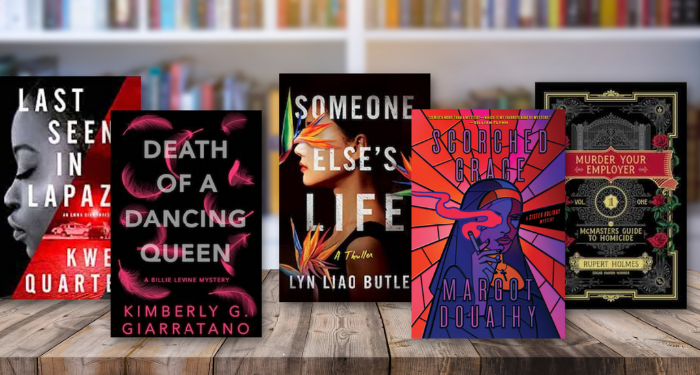 This content contains affiliate links. When you buy through these links, we may earn an affiliate commission.
Are you ready for the continued flood of great new crime reads? The beginning of the year publishes so many great titles it makes it easy for us all to believe that yes, we can in fact read every single book published ever. #Goals, am I right? Now, I know February is the month where everything is about romantic love, and there will be a million romance posts (yay for romance fans!), but whether you love, hate, or are indifferent to that, there are still great fictional crime books to look forward to! And I rounded up a bunch of great ones for you.
There are different moods and styles for all kinds of crime readers this month: a theology teacher/amateur sleuth solving crimes in the 1920s; Walter Mosley's new addition to his most recent PI series; a YA mystery at an elite school; a PI working at an agency in Ghana; a suspense novel with the classic should-you-let-a-stranger-into-your-home?! premise; a middle grade mystery for fans of quirky characters; a CIA thriller set in the '90s; a school for killers!; a New Jersey PI who takes over her grandfather's agency; and an amateur sleuth who's a queer nun. Can't choose? Number them, drop the numbers in a bowl, and pick one (or two or five or…)
Would you let a stranger into your home during a storm if you were alone? Annie Lin does because she actually welcomes having company after all the bad things that have been happening in her life — including the feeling that she's being watched as items from her past suddenly start appearing. But what if Annie is wrong about the stranger actually being a stranger…?
Looking for a YA mystery with an elite high school backdrop? Here you go! Chris Moore is killed in a car accident, leading to a lot of questions, including who was driving the car? Spencer Sandoval was there — along with two other teens beside Chris — but she has no memory of anything. Her ex is accused to have been driving and everyone involved is on the same honor roll list. Is that just a coincidence…?
Last Seen in Lapaz (An Emma Djan Investigation #3) by Kwei Quartey
Set in Ghana with a PI who works for an agency, this time around PI Emma Djan finds herself doing undercover work in Accra. Ngozi, a teenage Nigerian woman, goes missing just shy of graduation, and her parents suspect her boyfriend is involved. But her boyfriend, Femi, is found murdered, and Ngozi is still nowhere in sight. With the discovery that Femi was a sex trafficker, the list of suspects is incredibly long, and Djan still has to find Ngozi…If you want to start at the beginning of the series, pick up The Missing American. And if you want a completed series set in Ghana, pick up Wife of the Gods.
Unusual Suspects Newsletter
Sign up to Unusual Suspects to receive news and recommendations for mystery/thriller readers.
Thank you for signing up! Keep an eye on your inbox.
By signing up you agree to our terms of use
For fans of family drama, social mysteries, and murder mysteries! Markus Peña is a social activist and jazz musician whose murder brings his two estranged sisters into the search to unravel who murdered him. The list isn't small, considering he used his music for protests, hadn't treated women great, and one of his exes has a powerful uncle. But to get to the bottom of the mystery, the Peña sisters will have to deal with their own pasts…
This is a perfect read for fans of middle grade mysteries with quirky characters! Every Swift child is taken to the family dictionary and given their name and definition, with the idea they will grown into it. Sisters Shenanigan, Phenomena, and Felicity live in the grand old Swift house with a family reunion happening. Shenanigan is excited to meet all the relatives…until a murder occurs. And then another. She'll have to solve what is happening, while wondering if her name is by choice or design…
Nineties. Spy. Thriller. Yes x 3! CIA agent Melvina Donleavy lands in Soviet Belarus with three fellow agents. Not only is she on her first undercover mission, but her fellow agents don't know she's on two jobs. She's a secretary, but her facial recognition ability will be used to stop the movement of nuclear weapons. She doesn't have enough training for everything thrown her way, including the possibility of a serial killer as women keep disappearing in Minsk. Then she lands on the radar of the head of the KGB…
If you like dark humor and schools for killers, pick this one up! If there was a university you could go to that taught the art of getting away with murder solely to rid the world of someone whose demise would make the world better, would you apply? The McMasters Conservatory for the Applied Arts is just that place, and the mandatory graduation thesis is doing just that…
Billie Levine took over her grandfather's New Jersey PI firm when her mom got Alzheimer's, hoping it would give her the time and money needed to care for her mom. Naturally, a rich kid hiring her to find his missing girlfriend is a job she quickly takes. But nothing in life is free or easy, so her case quickly goes from missing person to murder, with her new client the suspect…
Double the Lies (An Annalee Spain Mystery Book 2) by Patricia Raybon
Here's a cozy historical mystery with an amateur sleuth who, at the start of the series (All That Is Secret), teaches theology at a Chicago Bible college. In 1924, Annalee Spain is dating a pastor and things are looking up — until she lends a handkerchief to a stranger and it's later found beside a dead body, making her a suspect. When the deceased's twin brother and Annalee's boyfriend go missing, Annalee has no option but to solve what is going on.
Every Man a King (King Oliver #2 ) by Walter Mosley
Mosley fans can rejoice: we have a new book! This is a great modern PI series that adds in a daughter trying to learn the ropes from her father, who isn't really keen on her becoming a PI. Joe King Oliver is a former NY police officer — with a hell of a good reason to be former — and current PI that ends up with a real tricky and icky case involving an imprisoned white nationalist. And that's just the start of his problems, which mount with Oliver's ex-wife needing help and his daughter continuing to want to work in his field. Then he hits a hornets' nest with this case, and now he's in danger. You can start here with no problem, but if you want to start with the first book, pick up Down the River Unto the Sea. Bonus: the audiobook is *chef's kiss* narrated by Dion Graham.
Ever wanted your amateur sleuth to be a queer nun? Here you go! Sister Holiday wants things to go back to the pre-arson days, and it looks like she'll have to be the investigator to do that. But sleuthing is hard — and New Orleans is hot! — so the further she gets into finding out who is behind the arson spree, the more she'll have to deal with her past, and the more she finds herself turning on students, sisters, and colleagues…
This one is for fans of boarding schools, past murder mysteries, and professor main characters. When Bodie Kane attended the Granby School, a New Hampshire boarding school, her roommate was murdered. At the time the murder was solved, convicting the athletic trainer. But not everyone was sold on that explanation. Kane is now a professor and podcaster, and not at all interested in the past until she's invited to teach a class at the school and things about the case suddenly don't make sense…
Need even more mystery books to peruse? We have you covered!
As always, you can find a full list of new releases in the magical New Release Index, carefully curated by your favorite Book Riot editors, organized by genre and release date.