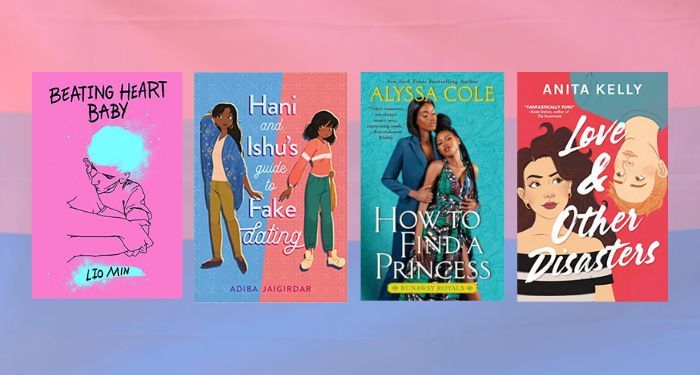 This content contains affiliate links. When you buy through these links, we may earn an affiliate commission.
Let's hear it for the romances that celebrate the diversity of bisexual romantic experiences. While searching my shelves, real and digital, for the best bisexual romance books, I enjoyed finding books across the YA and adult romance spectrum that just get it. There can be a tendency for outsiders to collapse a person's sexuality to their current relationships. Because of that, the very best bisexual romance books can look at past relationships and explore possibly evolving sexuality, all while telling a relationship-centered story.
Considering how many people don't understand the nuances of their own sexuality until later in life, YA books with bi characters are incredibly important. Younger readers deserve to see what relationships can look like for bisexual teens. Plenty of bisexual adults didn't have positive experiences with romance in their teens. They might also enjoy YA books as a way to process the complicated feelings that can accompany looking back on one's youth.
To cast a wide net, I wanted to take a broad approach as to which romances "count." That's why you'll find romances that pair people across a variety of sexualities and genders. At least one of the main characters in each of these books identifies as bisexual, or in some cases pansexual. I do appreciate the distinctions between these sexualities, but I suspect people looking for bisexual romance books will also appreciate pansexual romance books. Whatever you're looking for, there's a hopeful tale in each of these bisexual romance books.
YA Bisexual Romance Books
When Hani comes out as bisexual, her friends invalidate her because of her past dating history. In a moment of panic, Hani behaves as a proper romance main character and declares Ishu to be her girlfriend. The problem is she hates Ishu. Still, Ishu agrees to go along with the ruse for the popularity it might bestow upon her. And naturally, there's only so long two people can fake date before they realize it's been real the whole time.
The summer after senior year of high school is a weird limbo. That's why Isaac is trying to fit in all the best activities with his bestie Diego before they go their separate ways for college. Isaac has both a comic convention and Teen Pride planned for the two of them. The plans go awry thanks to distraction from Isaac's old crush. If you're in for a bit of a love triangle and love the trope of kissing for practice, you'll enjoy this authentic, fluffy, nerdy romance.
Kissing Books Newsletter
Sign up for Kissing Books to receive news, book recommendations, and more for residents of Romancelandia.
Thank you for signing up! Keep an eye on your inbox.
By signing up you agree to our terms of use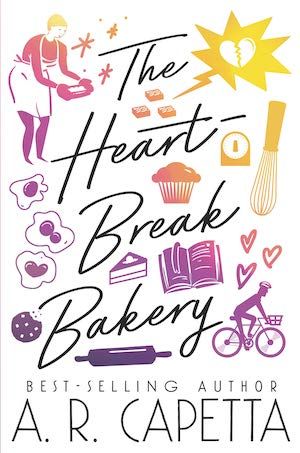 This is the perfect romance for people who love magic and baking. After a breakup, Syd (no pronouns) apparently imbues the brownies Syd bakes at a queer bakery with some magic, because everyone who eats them breaks up. Harley, the cutie bike delivery person, believes Syd can fix this mess with a different flavor of magic. Read this one if you're looking for something really warm and affirming.
Santi arrives at his new high school, ready to impress the award-winning marching band. He forms a tentative friendship with band member Suwa. As they get to know each other better, they begin to share some of their past pain. It turns out their pain is connected, and it puts their friendship in a whole new light. This one is for people who love dreamy language, lots of music references, and internet friendships.
Fans of Talia Hibbert's adult romances can feel great about putting her YA debut in the hands of young readers. Touching on bisexuality and neurodivergence, this story follows Bradley and Celine, former friends and academic rivals who end up together on a wilderness survival course. Fans of Hibbert's trademark banter will find much to love in this novel that truly is unfairly cute.
Adult Bisexual Romance Books
If you're looking for romances with trans characters written by trans authors, this one is an absolute gem. April is a woman who consistently takes care of others. She's created a wonderful community around her at the kink club she frequents. When new-to-town Dennis shows up and takes an interest in April, they start a "sex only" relationship that evolves over time. Watching April realize she deserves her own love story is honestly wholesome and lovely.
It took me way too long to finally read this book but I devoured it when I finally got to it. It's a hockey romance between two rivals, Shane and Ilya. Their story unfolds over years as their rivalry turns into something more. With rampant homophobia around them, their relationship could spell disaster for them both if everyone finds out, so it's high stakes. At the same time, the tender way Shane and Ilya interact when they're alone together is heartening to witness. There is a happy ending, and also their story continues in The Long Game!
Here's the sapphic Anastasia story you didn't know you needed. Beznaria knocks on Makeda's door to inform her that her grandmother's story about a fling with the runaway prince of Ibarinia is true. Beznaria and Makeda embark on a wacky journey to Ibarinia via cargo ship, and the two end up fake dating for Romance Reasons, obviously. If you've read other books by Alyssa Cole, you'll know she's interested in interrogating what royalty and leadership mean amidst the hijinks.  It's fun and funny and wholly original.
If you're looking for a childhood best friends to lovers story in which both characters are bi, look no further. I adored this book, and I think it's even better than You Had Me at Hola. Gabe is back in New York after leaving to escape his parent's burdensome expectations, and his old bestie Michelle is helping him market the opening of his new gym location. They are nerdy and messy, and their families are very invested in their lives. If you want sizzling chemistry in your romances, this is a great pick.
In the increasingly crowded realm of "apron tuggers," i.e. culinary romances, this one is a standout. London and Dahlia are both contestants on a televised cooking competition show. Each has compelling reasons for wanting the big prize. The angst within their relationship is not super intense, but I appreciate that they spend a lot of time together in the book. Also, they're super hot for each other. Those two factors are honestly what I want most in my romances, so I'm always happy to find a story that delivers.
The hits don't stop there. We have even more bisexual books for you. If you want to read about bisexual women, we've got more suggestions. And queer women in relationships with men get their own recognition, too. When it comes to affirming queer love, we won't settle until that bisexuality is visible from outer space.