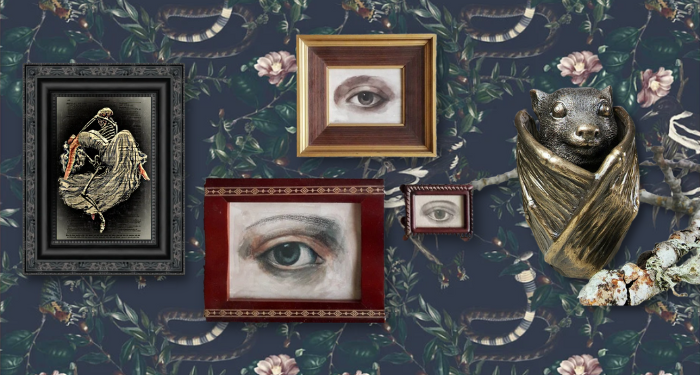 This content contains affiliate links. When you buy through these links, we may earn an affiliate commission.
Dark academia is having a moment, and book nerds everywhere are enjoying the hell out of it. After all, the genre combines two groups that already have significant overlap: the bookish and the gothic; while also encompassing the deep desire of all humans — yes, I said all — to own, fill, and decorate a giant library, probably 2+ stories, definitely with sliding ladders.
Whether your reading taste leans toward the dark academia vibe or not isn't necessarily relevant; here we are dealing with the room in which you do your reading, and a darkly academic theme lends itself nicely to your image as a Serious Reader with Highbrow Taste. With luck, it will make book thieves borrowers think twice, keep out nosy family members, and encourage those who know you best to bring a steady supply of snacks and tea.
While I can't help you with owning a space big enough for a two-story library, I can help you decorate your own dark academia space — be it a whole room or a tiny reading nook — and of course Book Riot as a whole is here to help you (over)fill said space. I've gathered some of my favorite items that will create the perfect mood for curling into a chair and reading for eternity.
Start decorating your walls with this impressive wall art triptych of skeletons printed on old dictionary pages, from ReImaginationPrints. $25.
This gorgeous, moody wallpaper from MarWALLous comes in stick-on or traditional. The sample is $19 and it comes in several widths, starting at 102″ x 102″ for $245.
Honestly I don't think I'm cool enough to own this fantastic raven desk lamp, but YOU are! Pick it up from ArtionCraft. $32 at time of writing.
Add some extra academia to your dark academia reading room with a real, mounted Death's Head Moth from Vinacreations4. Starting at $59.
Fill your reading room with the scent of cedar wood, vetiver, and patchouli using this room spray from GreenPactAlchemy. $15
Bats are a perfect accessory to a dark academia reading room. This one is a bronze cup — the head is the lid — to hold precious trinkets, and you can snag it from CreepyOdditiesShip for $37.
What is a reading room without plants?? Combine your love of growing things with the mystery of fungi with these precious bud vases from ChausettesdeComptine. $23 for two.
Let ShopOfTheCourtier scoop you some oddities to be displayed in your own unique oddities jar. $6–30
Make sure everyone knows who your books belong to with this custom embosser from PickledStamps. There are many different designs to choose from. It's $45 for the embosser, and stamps are also available.
Even dark academics need to let the light in occasionally. Hold your curtains back in elegant style with these curtain holders from GNTSDecor. $27 for two.
The Victorians loved to exchange tokens that seem very strange to the modern sensibility. Throw back to the 19th century with this original art from mrvtau. $97
What would a reading room be without mugs for your favorite beverage? Match your room's aesthetic with this gorgeous mug from CurioPopRelics. $22
Can't get enough dark academia? Also check out:
I hope you enjoy decorating your new reading space as much as I enjoyed researching things to put in it. Happy dark reading!