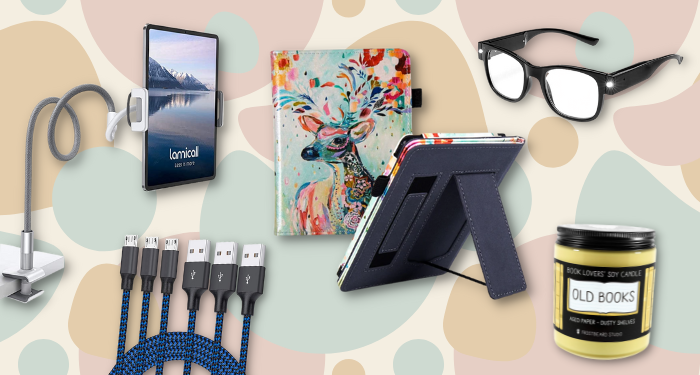 This content contains affiliate links. When you buy through these links, we may earn an affiliate commission.
Now that it's December, the end-of-year holidays are officially here. Winter gatherings often have two components: food and gift-giving. I love ebooks, and I treasure my ereader. While I know better than to put it in my "desert island" go-bag, it goes almost everywhere else with me, so I am always on the lookout for things that may make my ereading life flow more smoothly. It turns out there are a lot of ereader accessories!
Personally, I prefer an ereader that uses e-ink instead of a backlit one (the more tablet-style, like iPads, etc.). I find they're easier on my eyes, and I can read on them longer without fatigue. It does mean, though, that I need a separate light source, and I've found some of the best options below.
Odds are, there's someone on your holiday gift list who has an ereader. If so, they're likely also on the lookout for ways to perfect their reading experience.
I've organized this list of ereader accessories into rough categories so that you can easily choose the accessory that will best suit your recipient. There are holders, stands, chargers, lights, screen protectors, and more!
Ereader Holders/Stands
This pillow can either prop you up as you read, or it can be on your lap or a side table to hold your ereader at a comfortable height. $35 on Amazon.
This is a comfy stand for all kinds of e-devices, including a hollow in the center to hold other items — perhaps a power bank and cord. Available in a variety of colors. $28 on Amazon.
I am in love with this stand, which accommodates tablets, ereaders, and laptops. It would be perfect for working from everyone's favorite spot: bed. $40 on Amazon.
Another useful way to hold a tablet! This one would be especially great for following recipes. $25 on Amazon.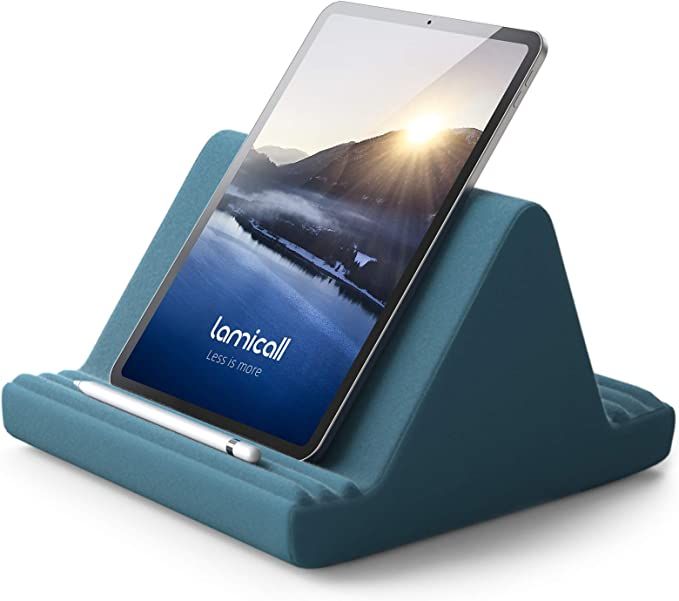 An alternative pillow-style holder with options to change the angle of your tablet. $21 on Amazon.
A minimalist tablet stand for reading in bed (are you sensing a theme?) or perhaps while you're crafting — I like to use this kind of stand for when I'm knitting and reading at the same time. $40 on Amazon.
While I love a good gooseneck with at clamp, I have to be honest: for my purposes, this is the most versatile stand. I use mine for reading, watching videos, following recipes: all the things where having a screen closer to eye-height is helpful. $20 on Amazon.
If your giftee tends to read on their phone a lot, this useful stand will come in handy. I especially like the card holder. Clever! $20 on Amazon.
In the spirit of hand-held tablets/ereaders, this strap seems more stable than many others I've seen. I especially like that you can attach it diagonally so that it makes a more natural angle for your hand and wrist. $12 on Amazon.
Last in the ereader/tablet holder category, we have a combo hand strap and stand. This looks extremely useful for reading both on the move (on a bus, train, etc.) or in place. Regularly $20 on Amazon.
Ereader Covers
FINALLY ereader cover designers have remembered that people like covers that are not only side-bound, but top-bound. This is my favorite style of cover; I've been using Velcro to put updated versions of Nooks and then Kindles into my 15-year old flip case. Time for an upgrade? I think so! $30 at Best Buy.
This side-bound combo cover/stand is excellently engineered. I like that the stand is on the inside of the front cover. Genius, and comes in many different color options. $15 at Light in the Box.
This cover is weatherproof, which is excellent as we head into winter in the northern hemisphere. Includes pockets for pens and and a larger pocket in back for a small notebook, in case you like jotting down hand-written notes about your reading. $28 on Amazon.
Technically this is a tablet case, but because I know a lot of us read on our tablets, I'm including it here. This is a catch-all case that will carry your whole tablet kit — very useful for readers on the go. $43 on Amazon.
The ever-popular Moko sleeve is a cozy and minimalist cover. $14–18 on Amazon.
Charging Accessories
Honestly? This might be the most useful gift on this list. The 3′ cords that come with most devices are basically useless. A 6′ cord is MUCH better — if you haven't made the switch, trust me on this. $9 on Amazon.
I know I said I wouldn't take my ereader with me to a desert island, but this solar charger might change my mind. Useful for all kinds of device charging, it's foldable and waterproof. So handy! Regularly $40 on Amazon; $32 at time of writing.
Miscellaneous
If your reader has a Kindle, I cannot recommend Kindle Unlimited enough. A wide variety of books are available, from self-published to major publishers, and everywhere in between. $10/month on Amazon.
Pair your ereader tablet with this aesthetically pleasing and rechargeable speaker-light combination. It could be used either for audiobooks (my favorite) or to play appropriate music for the book on deck. Regularly $32 on Amazon, this has a $10 off coupon available as of writing.
Another lighting option, clip-on book lights are always a good idea whether your reader reads physical books, ebooks, or both. $14 on Amazon.
For those of us whose readers are Of A Certain Age, these reading glasses with LED lights could be very helpful! $15 on Amazon.
My mom also uses her neck list for knitting while watching TV. $30 on Amazon, on sale for $20 at time of writing.
If you are getting a glare off of your ereader, whether it's a backlit tablet or e-ink, and anti-glare screen protector is never a bad idea. $13 on Amazon.
One of the things missing with ereaders is the smell of books — a specific scent of lignin, glue, and ink. You can fix that problem with an Old Books candle from Frostbeard Studio, starting at $8.
With that, I wish you and yours a very happy and book-filled holiday season! Don't forget the hot cocoa!