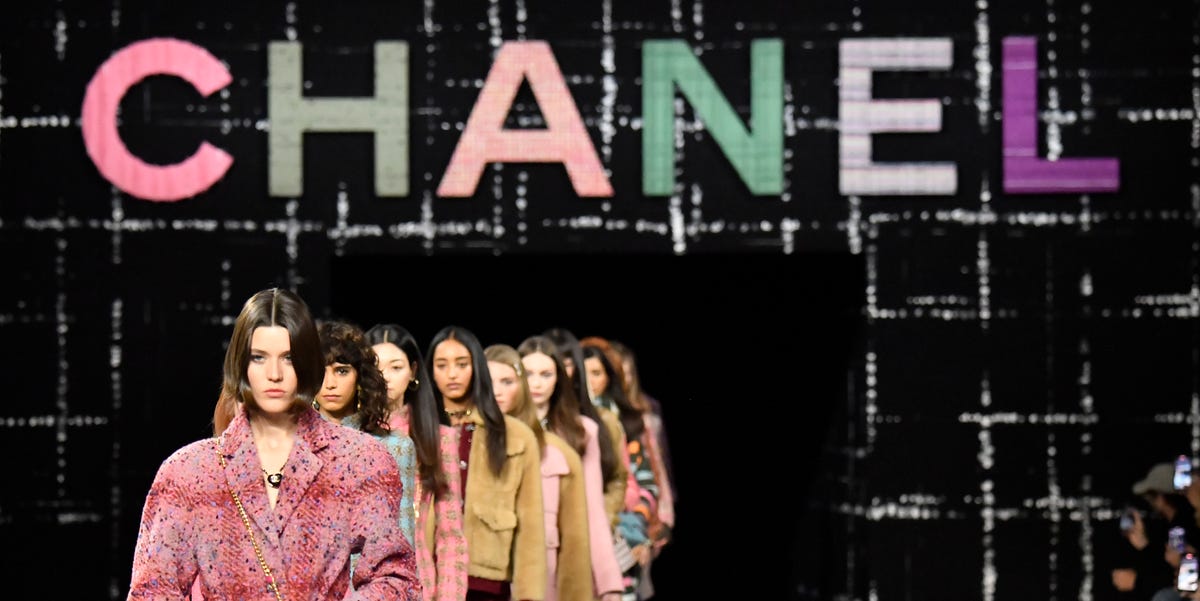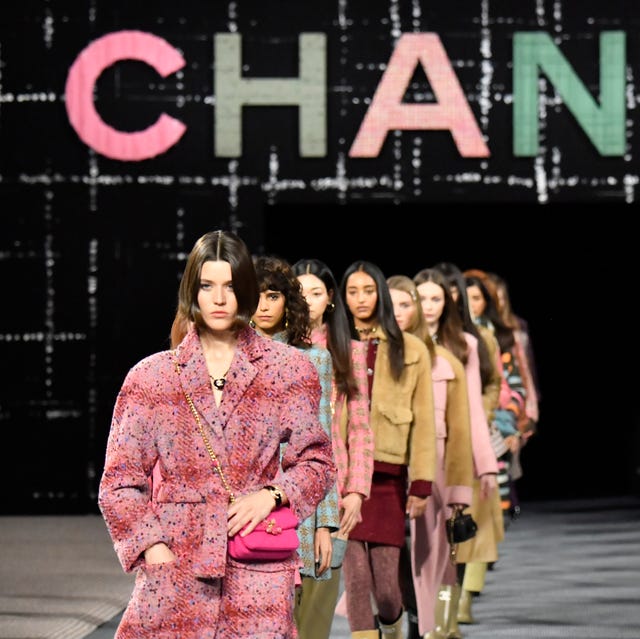 Victor VIRGILEGetty Images
Paris Fashion Week is taking the world by storm, and we're seeing top designers predicting the forecast for the fall/winter 2022 season. Chanel gave us an homage to tweed, Balenciaga's Demna Gvasalia addressed the harsh realities of war and climate change, Loewe played with irreverence, and Off-White presented its first posthumous show following Virgil Abloh's passing last year. See everything you should be paying attention to at PFW, here.
Advertisement – Continue Reading Below
Tweed is intrinsically woven into Chanel's DNA. Therefore, for the atelier's fall/winter 2022 collection, creative director Virginie Viard gave us an ode to its iconic textile. From the Grand Palais Éphémère upholstered in the colors of Scotland's River Tweed to a catwalk dedicated to the Scottish Highlands, tweed was everywhere. Models were swathed in cozy marled knits, suits were loose and topped with fleece jackets, and bar jackets were styled with over-the-knee wellies. The casual approach to dressing is one we welcome with open arms.
For Louis Vuitton, youth has always been a point of reference. But for this collection, it was the source. According to this season's press notes, creative director Nicolas Ghesquière aimed to capture the "special moment that belongs to the formative years, the ones that forge character […] The impermanence and beautiful volatility of adolescence." The idealism is captured in loose, unexpected silhouettes, as if you pulled each outfit from a pile of clothes found on the floor of a teenager's bedroom. There's careless mismatching of gowns with rugby shirts and ties you (probably) stole from your dad's closet. Beyond the clothes, the casting of SAG winner Hoyeon Jung drives the point home⁠—a prime example of the sartorial vision of tomorrow. As Ghesquière notes, "The collection is dedicated to youth, in hopes that it can keep the unresolved poetry of adolescence like a flawless garment."
At Valentino, creative director Pierpaolo Piccioli was thinking pink—specifically, Pink PP, the fuchsia hue that took over the Italian house's runway (and which will also be an official Pantone hue come fall). The monochromatic collection—peppered with moody black looks as well—was intended to bring focus to the clothes themselves: cutout mini dresses, sequined jumpsuits, and "Madonna meets the street" necklines, in reference to Mary in Renaissance paintings. But the bold tint is also meant to bring focus to the models wearing it, with a cast including icons like Penelope Tree and Kristen McMenamy. Thanks to Piccioli's visually stunning show, we suspect everyone will be wearing hot pink next season. Valentino's It-girl Zendaya already is.
Like many designers presenting this season, Demna Gvasalia did not intend to confront the harsh realities of war. Having fled his own country of Georgia in 1993, the current situation in Ukraine deeply affected the Balenciaga creative director, who questioned whether to present at all. Standing in unity with Ukraine, Demna chose to persevere. He stated in the show notes: "Fashion week feels like some kind of an absurdity. I thought for a moment about canceling the show that I and my team worked hard on and were all looking forward to. But then I realized that cancelling this show would mean giving in, surrendering to the evil that has already hurt me so much for almost 30 years. I decided that I can no longer sacrifice parts of me to that senseless, heartless war of ego." Showcasing his collection in a simulated snow globe, Gvasalia sought to address yet another global issue: climate change. Models walked in faux furs through harsh winds and snow, carrying bags made with Balenciaga's new, mycelium-based "leather." The runway closed with two final looks: a yellow tracksuit, and the last, a bright blue asymmetric dress, signaling to the Ukrainian flag.
Using a cadence of controlled chaos, Jonathan Anderson's Loewe was a feast for the eyes. Set amongst oversized pumpkins, models weaved around the sculptures in a blazing display of irreverent fashion. Never one to shy from three-dimensional proportions, breastplates were formed in the shape of lips injected with Juvaderm, turtlenecks were larger than life, and molded leather was cast as bustiers and mini dresses. Some looks explored the idea of trapped objects, with shoes encased in sheer mesh dresses, their heels poking out at the hip, and water balloons were stuffed between swaths of fabric and strappy sandals. Fashion doesn't have to be taken seriously, and at Loewe, that is a very good thing.
Olivier Rousteing did not intend for his fall/winter presentation to be so relevant to today's harrowing news of the ongoing struggle in Ukraine. A runway of Balmain-esque tactical gear, the designer's collection was inspired by the burn bandages he wore after experiencing a fire in his home last year. The armor he created for his show—part protective padding, partly ancient gilded shielding, and for some looks, motorsport padding—is his response to empowering oneself, while maintaining softness in delicate touches of frilly lace trim. The analogy is direct and, ultimately, successful in its execution, albeit unintentional. "These runway offerings were not designed as a direct response to the recent horrific invasion of our neighbors and I would never dare to even think of comparing the suffering that they are going through right now with the problems that I have had on social media," he stated in the press notes. "Still, as we watch the news, my team and I do keep in mind this collection's message: united in solidarity, we can rely on the power of hope and truth to push back against hate, lies and aggression."
For Anthony Vaccarello, Art Deco isn't just an aesthetic, but a vibe. He looked to the ethos of the era, pulling indirect references in the form of languid silhouettes, innovative faux fur coats, and the blurring of lines between masculine and feminine. As the brand's press notes state: "Nancy Cunard, the independent-minded activist publisher who dressed audaciously ahead of her time⁠—giving a masculine wardrobe her own indelible imprint⁠—served as a guiding template."
Virgil Abloh's passing in November 2021 was a blow to the fashion industry and the many lives he influenced. This posthumous collection read more like an ode to the designer who not only leaped beyond the limits he was given, but created an inclusive platform for others. In tow, his supporters showed up both on and off the runway. Naomi Campbell, Serena Williams, and Cindy Crawford graced the runway, while Rihanna and A$AP Rocky, Pharrell Williams, and designers such as Jonathan Anderson, Olivier Rousteing, and Matthew Williams sat on the sidelines. A man known for his quotations, Abloh's lasting legacy will always be his advocacy for others. This time, the words were waved high on a flag, reading: "Question Everything."
Maria Grazia Chiuri aimed to reinvent the codes of Christian Dior, marrying the past, the present, and the future. Large-format paintings hung in the gallery stage, featuring women from the 16th to the 19th centuries, signaling their societal roles as people to be seen, a feminist bent that Chiuri has addressed during her career at Dior. This exploration is further developed via crisply tailored suits, fluorescent jumpsuits ready for Speed Racer, and, most surprisingly, the designer's signature tulle gowns, offset with shoulder pads.
This content is created and maintained by a third party, and imported onto this page to help users provide their email addresses. You may be able to find more information about this and similar content at piano.io
Advertisement – Continue Reading Below